Biteable Review: What I Like And What I Don't
Biteable Video Editing Software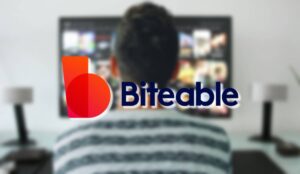 Biteable is a well maintained, frequently updated software with many, many features that will make your video creation process faster and easier. Hundreds of soundtracks, a vast library of video and images to use as well as thousands of animations will enable you to make professional looking videos. It's biggest drawback is that it is expensive. You can easily find software with similar functionality at 1/3 of the price
Operating System: Windows, Chrome, Firefox, Mac
Application Category: Multimedia
Pros
- Frequently Updated
- Unique features
- Huge library of assets (images, music, videos, animations)
- Very Easy To Use
- Free Trial
Cons
- Expensive
- Many Limitations on Pro plan
- Slow
You're considering Biteable for your video creation needs, aren't you? Well, you're in the right place. In this Biteable review, I'll discuss what I appreciate and what I find less favorable about Biteable.
Biteable is an online video maker that allows you to create stunning videos for your website, social media, events, and more. It offers a wide range of features including a library of templates, stock footage, and animations
From its usability to pricing plans, I'll cover it all. So, whether you're a beginner or a seasoned pro, you'll get the insights you need to make an informed decision.
So, let's explore Biteable together, shall we?
Why You Should Trust Me
With ten years of experience in affiliate marketing, blogging and content creation, I've gained valuable insights into the art of video production. I've reviewed over 100 software systems, developing a deep understanding of their capabilities and limitations.
Furthermore, as an owner of two YouTube channels, I'm not only a critic but also a user. This dual perspective allows me to understand not only what a video creator needs from software like Biteable but also how it performs in real-world scenarios.
My hands-on experience using various video editing software means that my reviews are based on practical knowledge, not just theoretical analysis.
This review of Biteable aims to be objective and provide you with detailed, clear, and precise information to assist you in making an informed decision. My goal is to ensure that you understand why I've arrived at my conclusions about Biteable's pros and cons.
What is Biteable?
But first, klet's take a closer look at what Biteable is and how it can simplify your video creation process.
Biteable is a video making / editing software. It's designed to assist you in quickly creating impressive videos, even if you aren't a technical expert.
One of the notable features of Biteable is its wide variety of animated, live action, and photo scenes in different styles. This provides you with numerous options to choose from when crafting your videos, allowing you to customize your content for your specific audience.
Biteable is user-friendly, which is advantageous if you're new to video creation or if you aren't particularly tech-savvy. Essentially, Biteable makes it accessible for anyone to become a video editor, regardless of their technical abilities.
However, it's not just about simplicity. Biteable also prioritizes quality. The videos you create using this tool can be visually stunning, helping you to stand out in the crowded online space.
If you want to see how Biteable works, visit this page. It has 5 Biteable demo videos (like the one above) that will help you better understand how it works.
Who is Biteable Best For?
Beginner Video Creators: If you're a beginner video content creator or a marketer on a budget, Biteable could be the ideal tool for your needs. It's a cost-effective option compared to professional video creation services.
Bootstrapped Brands and Startups: It's especially suitable for brands with limited budgets or specific video needs. With Biteable, you can add unique and original elements to your creations and easily share them with others.
Teachers: If you are a teacher or any kind of educator, you'll find Biteable's features to be most suitable for your training videos.
Freelancers: If you sell services on freelance marketplaces like Fiverr, Upwork etc, you can add video creation in your service portfolio as well.
Marketers of any kind: Whether you are an affiliate marketer, you work in a marketing agency or in your company's marketing department, you know that video is an essential part of your marketing strategy. Biteable can be a great tool for this cause.
However, Biteable may not be for everyone.
Long Buffering time: If you're not a fan of waiting for everything to buffer, you might find the tool frustrating.
Not interesting in collaborating with others: Biteable, may not be the best choice if you're not interested in collaborating on video maker projects or if you don't need to share your work with others.
You still find it's cost high: Moreover, the subscription prices can be high, compared to other video editing software in its category, so it's important to weigh the benefits against the costs. If you prefer alternative video makers or editors and are willing to invest in higher prices, Biteable may not be the best fit.
Biteable Pros & Cons
Now that we've got that ouf of the way, here's what I don't like and what I like about Biteable.
🤔 What I Don't Like (Cons)
Despite its many benefits, you may find some aspects of Biteable to be less appealing.
Pricing: One potential downside is its pricing. The PRO plan costs $49 per month, making it one of the more expensive options for video editing software in its category. This could strain the budget of small business owners or freelancers.
Key Features available only to Premium Plan: Additionally, certain key features are only available to Premium plan users, which comes with a hefty price tag of $99 per month. These features include the ability to add text captions to your videos, an essential feature for making your content accessible to a wide range of audiences. Another feature limited to the Premium plan is the option to add Text to Speech voice-over tracks, potentially saving you money on hiring voice-over artists.
Maximum Video Duration: Lastly, the maximum video duration may be a limiting factor for some users. The PRO plan only supports videos up to 10 minutes long, while the Premium Plan extends this to 20 minutes.
😁 What I Like (Pros)
While you may have some concerns, there are several aspects of Biteable that you'll definitely appreciate. Biteable offers a platform that's both easy to use and adaptable, making it a pleasure to use.
The features are numerous:
Video Quality and Formats: Biteable allows you to export your videos in HD and in various formats – vertical, horizontal, or square. Plus, you can even download a GIF format. It's the flexibility you've been longing for.
Custom Video Thumbnail: You can personalize your video's first impression to attract your audience.
Interactive Call-to-Action Buttons: Biteable is among the very few video editing software that allows you to add interactive call to action buttons to your videos.
Collaboration and Sharing: The platform isn't limited to just video creation. You can also host your videos for review, share them, track their performance, and even receive comments and feedback.
Commercial Usage Rights: You can use your creations for commercial purposes without any concerns.
24/7 Customer Support: No matter when you need assistance, Biteable has your back. Having a 24/7 customer support is definetely something I like.
Ai Video script writer and video maker: Biteable also provides an AI video script writer and video maker, streamlining your content creation process. It's like having your very own production team, ready to bring your visions to life.
Biteable's Favorite Features
Now, let's focus on some of my favorite features of Biteable
You'll be intrigued by AVA, Biteable's AI Video Assistant, which simplifies the video creation process.
Additionally, the thousands of pre-designed templates, ease of video editing, vast animation library, royalty-free music, and the extensive 24 million plus stock footage and image clips all combine to make Biteable a leader in the industry.
AVA, Biteable's Ai Video Assistant
One impressive feature you'll appreciate in Biteable is AVA, their AI video assistant, which brings a whole new level of convenience and customization to video creation.
AVA provides a variety of video types, from explainers to ads, and takes user suggestions to expand its repertoire.
You simply provide the topic or business summary, and AVA uses this information to generate your video.
Starting a free 7-day trial allows you to access AVA, and you have full control over editing the AI-generated video, from text to colors. AVA even automatically applies your brand's colors, fonts, and logos to the video.
Click here to learn more about Biteable's AVA.
1000s of pre-designed, customizable templates
Exploring Biteable's wide range of pre-designed templates, you'll discover an extensive selection that can be personalized to meet your specific requirements. This feature streamlines the design process, saving you valuable time and effort.
With a diverse collection of templates available for various video purposes, whether it's a promotional video or an educational one, there's a template that perfectly suits your needs.
Moreover, these templates offer the flexibility to be customized according to your brand or message, allowing you to modify elements such as color schemes and text styles.
This high level of customization, combined with the variety of templates, makes Biteable an adaptable and user-friendly tool for video creation.
Very easy video editing process
While you might hesitate to engage in video editing due to its technical aspects, you'll discover that Biteable's editing process is remarkably simple and efficient, even if you're not well-versed in technology.
Using Biteable's Script mode, you can construct your video within minutes. This feature simplifies the process, making it less overwhelming for beginners.
Additionally, Biteable enables you to easily make adjustments and modifications to your video content. The editing tools are user-friendly and designed to streamline the video creation process. You don't need advanced technical skills to produce videos that look professional.
Right Click Function
You may not understand how important this feature is from the first look, but, allow me to explain.
Biteable's innovative right click functionality, allows you to effortlessly copy, paste, and adjust the timing of video elements with a simple right-click.
This groundbreaking addition simplifies the entire editing process, making it more intuitive and efficient than ever before.
Keep in mind that no other video tool currently offers this capability, an dI personally found it very helpfull.
Huge Studio Quality animation ibrary
Despite the simplicity of the editing process, what sets Biteable apart is its extensive library of high-quality animations. These animations aren't ordinary; they're professional-grade visuals that will make your videos stand out.
The animations bring your content to life, adding a storytelling element that static images can't achieve. With Biteable, you'll have access to a wide range of exclusive animations, giving your videos a unique and distinctive flavor.
Additionally, these dynamic elements capture your viewers' attention and leave a lasting impression. Biteable's animation library is a valuable tool for creating captivating and distinctive videos.
Royalty-free music library and 24M+ stock footage and image clips
You'll find a vast selection of over 24 million stock footage and image clips in Biteable's impressive features.
Alongside that, there's a diverse royalty-free music library available, allowing you to choose the perfect soundtrack for your videos without any copyright issues.
The music library consists of various genres and styles, helping you enhance the mood and atmosphere of your videos accordingly. Whether you're creating a corporate video or a charming animation, there's a suitable soundtrack for you.
Additionally, these high-quality audio tracks help engage viewers.
Biteable's stock footage and image clips offer a wide range of visual options to complement your messages.
AI voiceovers
If you're not in the mood to record your own voiceovers, don't worry, as Biteable's AI voiceover feature has you covered.
It's a tool that offers many human-like AI voiceovers, so you can always find the perfect tone and style for your content.
Whether you're looking for a male or female voice, or even a child's voice, Biteable has a wide selection to cater to your needs.
What's more, these voices come with different accents, allowing you to create a more localized or global appeal depending on your target audience.
By choosing the AI voiceover feature, you're not just saving time, but also adding diversity and inclusivity to your content.
This feature ensures your presentation or video stands out, resonates with viewers, and effectively delivers your message.
Screen recorder
Another useful feature offered by Biteable is the screen recorder. This tool allows you to visually demonstrate information to your team, adding a personal touch to your messages.
With the screen recorder, you can capture both your screen and your face simultaneously, creating a more engaging and personalized interaction.
There's no need to worry about complicated file transfers since you can respond directly in Biteable.
This versatile feature is beneficial for various purposes, including recruitment, onboarding, company updates, and even special occasions like birthdays or farewells.
Here's a video made from Biteable's team that shows how the screen recording feature works.
Auto generates captions
A feature that no video editing software affords to not have.
In addition to the screen recording feature, Biteable also offers an automatic caption generation tool that's a game-changer for your video projects.
This tool generates closed captions for any video with audible spoken content, such as voice-overs or direct-to-camera speech.
To activate this feature, go to the 'Publish' tab of your project, build or update your video, then click the 'Create captions' button above your video preview.
Instantly, you'll see captions generated and applied to your video in the language you're speaking.
Biteable's automatic caption generation tool isn't only user-friendly but also helpful in making your content more accessible and inclusive.
It ensures viewers can understand your video, even in noisy environments or when audio isn't available.
Biteable pricing plans
Considering Biteable's pricing plans, you'll find two main options: the Pro plan at $49 per month, billed yearly at $588/year, and the Premium plan at $99 per month, billed yearly at $1,188/year.
It's worth noting that both plans are billed annually, not monthly. This upfront payment might be a bit steep for some, especially small businesses or startups.
If you choose to pay monthly, you'll be $99 per month for PRO plan and $199 per month for Premium plan – which I found it outrageously high – compared to what other video editing software charge.
The Pro plan is designed for a single publisher, ideal for individuals or small businesses. The Premium plan, on the other hand, caters to larger teams with up to three publishers.
You'll appreciate that Biteable offers a free trial without requiring a credit card, a great opportunity to explore its features before committing financially. Moreover, they provide a 30-day money-back guarantee, ensuring you're not locked in if it doesn't meet your needs.
Notably, Biteable also offers an Education plan for teachers in approved institutions at a reduced cost, a thoughtful inclusion supporting the educational sector.
Biteable Reviews on Other platforms
Now let's take a look at what others are saying about Biteable on different platforms. To give you a comprehensive view, I've gathered data from Software Advice, Capterra, and Trustpilot.
Here's a table to help you quickly compare the overall ratings:
(Links open in a new window and will take you to the Biteable reviews of each platform)
Biteable Reviews on various review platforms.
Let's take a deepr dive on what users in each platform say about Biteable.
Biteable Reviews on SoftwareAdvice
Users on Software Advice praise Biteable for its user-friendly interface, scoring it an impressive 4.5. They appreciate the ability to create professional looking videos and the availability of pre-designed templates.
However, these reviews also highlight some limitations. The web interface may cause frustration with irreversible errors, and the editing features are limited compared to other tools.
Additionally, users suggest that the font and music libraries could offer more options. While customer support receives praise for their prompt responses, there have been reports of occasional delays.
Despite these drawbacks, Biteable remains a popular choice for video creation due to its affordability and suitability for beginners.
Biteable Reviews on Capterra
On Capterra, Biteable holds an overall rating of 4.3 out of 5, based on 37 reviews. Users praise its ease of use, with a rating of 4.5, and its customer service, rated at 4.2. Its features and value for money earned a 4.0 and 4.1 respectively.
Positive reviews highlight its wide range of templates, responsive customer service, and effectiveness for marketing.
However, some users express dissatisfaction with the web interface and the removal of Biteable Lite.
Despite these criticisms, many find Biteable a cost-effective solution for high-quality video creation.
Be aware, some users have noted slow software updates and less responsive customer support.
Biteable Reviews on Trustpilot

Users on Trustpilot, again, appreciate its user-friendly interface, evolving features, and excellent customer service.
However, there are also some criticisms, including the lack of an undo function and limitations in functionality.
Users express frustration with the slow loading of stock video clips and the limited selection of soundtracks.
While educators find it satisfactory, they recognize its potential for improvement.
The platform's customer service is praised for its quick responses and personalized approach.
Biteable Alternatives
If you are not completely sure whether Biteable is the right video editing software for you, here are some notable alternatives to Biteable that you might want to check.
Pictory
To start, Pictory is a strong contender. It offers a range of AI features that are comparable to Biteable, but at a more affordable price. This makes it a practical choice for those on a budget who still want high-quality results.
InVideo
Another excellent alternative is Invideo. It not only mirrors Biteable's capabilities but surpasses it with additional AI features. Moreover, it comes at a significantly lower cost, making it an appealing option for those seeking more value for their money.
If you are interested, check my full InVideo review
Synthesia
On the other hand, Synthesia takes a slightly different approach. It allows you to utilize AI-generated human-looking avatars, including the option to clone your own.
This customization level is unique and sets it apart from Biteable. Although it lacks the animation functions of Biteable, Synthesia offers a cost-effective balance.
However, it's worth noting that Synthesia may not meet your expectations if animation is a crucial feature for you.
Check my full Synthesia review to learn more about it.
Frequently Asked Questions
Bottom Line: My Take on Biteable
After examining all these aspects, it's evident that Biteable has several strong points, but also areas for improvement.
Its strength lies in the simplicity it offers, which is perfect for beginners entering the world of video creation.
The cute and diverse animations available add a unique touch to your content. With an upgraded account, you have the option to remove the watermark, enhancing the professionalism of your videos.
However, Biteable isn't flawless. The time it takes to preview and build videos can be time-consuming.
You'll need patience and planning to make the most of it.
Additionally, its pricing might discourage some users.
Compared to other options, it may seem expensive.
However, you should consider the potential return on investment it offers for businesses. Hiring a professional video creator could cost significantly more.
The 30-day money-back guarantee is a reassuring feature, making your initial experience with Biteable risk-free.
Having said that, what's you take on Biteable? Leave your Biteable Review below and let's start a conversation.
– Advertisement –
Pictory Ai – The #1 Text-to-Video Creation Tool
Pictory is the most value for money Ai video tool currently in the market. Just copy-paste any text into the editor, hit the generate button and BOOM. You video is ready. Add voiceover and make any edits based on your. Click the button to start your free trial.
Save 20% on your subscription. Use discount code pavlos23
Read Next
👉 Follow CS on Facebook to receive notications on new articles I publish.
ℹ️ This blog is reader-supported. When you buy through links on this site, I may earn an affiliate commission without any surcharge to you. This helps me continue offer free and qualiy content for the community.