My Honest Pictory AI Review: Here's What I Like And What I Don't
Welcome to my Pictory Review. This review is not like the others you've probably reading online. It's not filled with "fluff" to please the search engines. This is a straightforward and honest review about Pictory – the AI text-to-video software that is taking the internet marketing world by storm.
I tested this text-to-video software for a week and I created 3 videos – as many as the free trial allows you to create.
I heard one of those make money online gurus on TikTok mentioning it and I decided to take a look as it, as I am thinking that I am leaving money on the table by not utilizing YouTube for affiliate marketing.
Anyway, In this review, I am going to quickly summarize what I think about it and after that I am going to tell you what I like and want I don't.
So Let's begin..
Pictory Review – Summary
Review of: Pictory AI
Best For: Video Creators, YouTubers, TikTokers and affiliate marketers.
Use For: Turning any text or article to video.
Pictory Pricing: From $19/mo
SUMMARY: In my honest opinion Pictory is THE must have tool for anyone who is dealing with video production. The reason is simple. It saves you time. With a click of the button, you literally get you video done and with another you get a human sounding voiceover. Export and done. Plus. the cost is NOT prohibitive. If you are serious about making money on YouTube or with video, $19 per month is nothing compared to what you get.
Use my Pictory referral code "pavlos23" to get 20% OFF discount for Life.
Pictory AI: Pros And Cons
First let's start with what I don't like about Pictory and then move to the things I like about it.
☹️ What I Don't Like
Sometimes it gets a bit slow
I've noticed that the software gets slow sometimes which is a bit frustrating for me who I am person who values speed more than anything.
I guess this has to do with the fact that they are a cloud based platform and their software executes many functions (it is making videos after all) which are draining resources from their server and stuff. They're also onboarding many new users on a daily basis, so..
But anyway, this is non of my business, they should look into it and upgrade their systems in order for their users to have a smooth experience.
Dashboard needs some fine-tuning
Now that's a really minor thing but, I've noticed it, so I am mentioning it. Upon joining Pictory you will notice that they need to get some fine-tuning on their CSS.
For example, some words may overlap an icon and stuff like that, which personally, don't bother me, but someone else might..
😁 What I Like
Free Trial
First things first. I always love and praise software that offer a free trial and allow you to test the software and see if it covers your needs.
So kudos to that.
Simplicity
First of all, I like the fact that Pictory doesn't have 20 different video creation tools to use. Platforms that offer all these kind of tools often get me confused and since I am a guy that values time and speed, I want a platform that I can navigate relatively quick.
Pictory offers four "modules" – that are far from what I am asking from a text-to-video software. Here they are 👇.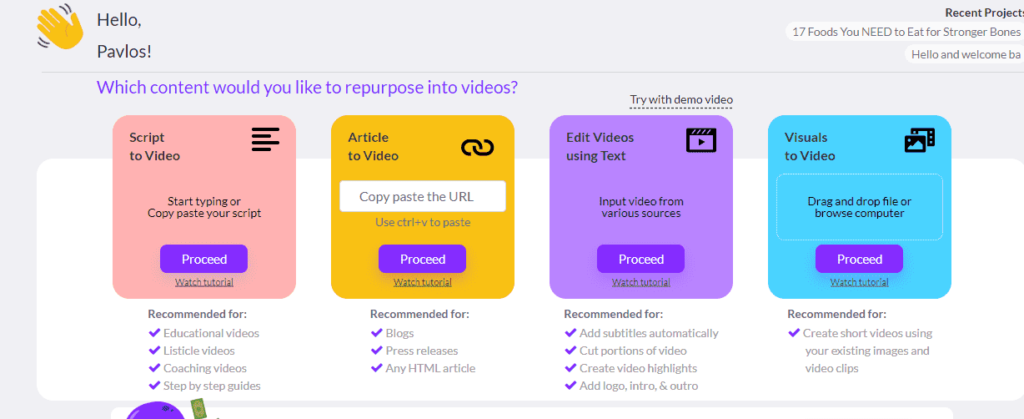 Personally, I am only interested in the "Script-to-video" module since I find it the easier and fastest way to create videos.
Straightforward and Friendly UI
Moving on, I like that Pictory is straightforward. As you can see in the next screenshot, after you copy and paste your text (which I generate with my AI writing assistant) to the script editor, everything looks easy and straightforward.
You can do any edits and highlights to the text yourself OR you can choose the Auto Highlight keywords and Auto visuals selection option and Pictory will do everything for you.
This is the fastest way to create the video.
Now, I have to admit that NOT all the times Pictory gets the visuals and highlights correct, but, it makes 80% of the work. On the next step you can make any edits you want, change any visuals you don't like, highlight other words or even add new sections to your video.
Extended Customizability
Although Pictory simple to use and pretty straightforward, that doesn't mean that it lacks customizability features.
As you can see from the next screenshots, it has over 40 ready-to-use templates that save you even more time or if you have some time to spend you can customize any of the ready-made-templates to your liking and save them for future use.
Now, as soon as you hit that continue button the magic happens. The video is being produced and you can simply download it and you are done or you can customize it to your liking.
Check how many customizations Pictory has: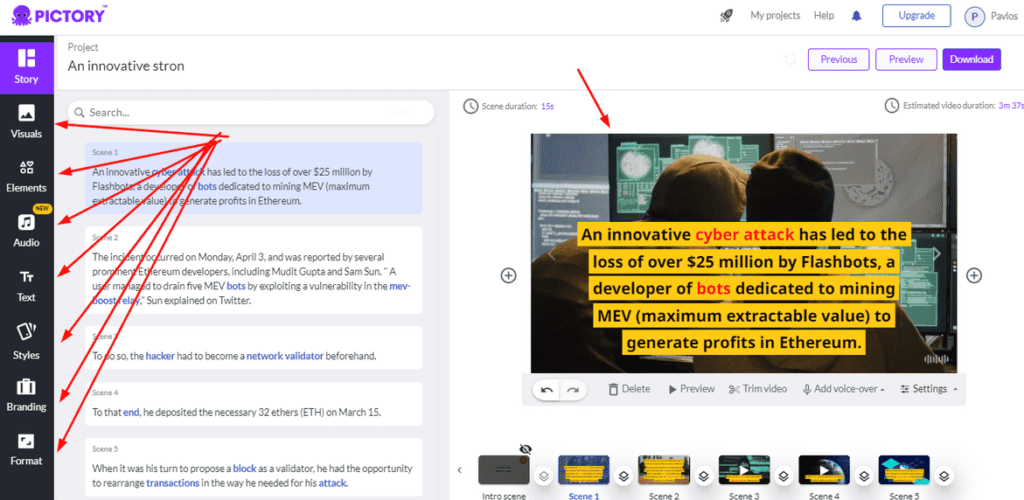 I mean you can literally:
Edit the captions colors.
Delete, move and scene.
Add transitions between scenes with the push of a button.
Add elements like stickers, emojis and gifs
Add audio – like you do on social media apps like TikTok
Add a human sounding voice over (more on that later).
Add, change visuals from their VAST database (more on tha later).
You can change your template style
You can add your own logo, set its position, its opacity
Add you own intro, outro scenes
Change your video's format from horizontal to vertical or square.
All in a simple and easy to navigate vertical menu.
Voiceovers
What got me really excited about it, is that Pictory has its own text-to-voice functionality embedded in its system. That means that you probably don't need to purchase a separate text-to-speech software.
The best part is that their AI voices, sound very humane. That means not robotic.
The drawback to this feature is that voiceovers are only in English, so if you were looking to make a video with a voiceover in another language, you should get a text-to-speech software. Text-to-speech software support hundreds of languages including Greek, Indian, German, Africans – even Japanese..
Anyway, upon choosing the voice-over of your liking, Pictory starts populating it to your video and voila. Your video has become 10X more engaging than before.
Huge Selection of Visuals
This is another feature I really like.
Pictory allows you to search from a vast database of free stock footage and images to use on your videos.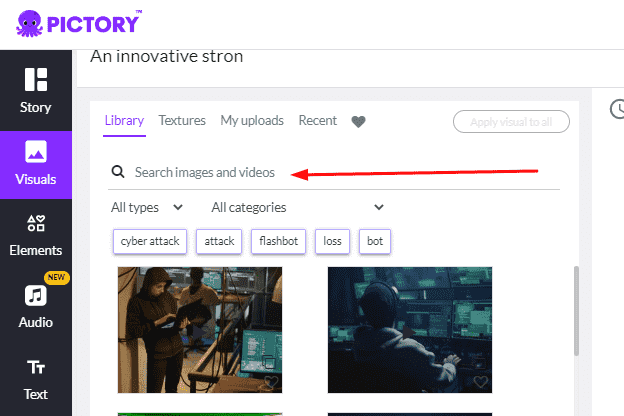 The best part? You ARE NOT getting charged extra for this.
Other software I tested, had this feature as an upsell. I mean you had access to some videos and images – that most of the times suck – and if you wanted the 'good-stuff" you had to pay extra.
Pictory offers that feature in its price – which I appreciate.
Speed
I love the fact that Pictory saves me a lot of time.
To make a 5-minute video with visuals and voiceover you would probably have to spend around $25 – $100 to a freelancer on Fiverr or spend like 5 – 6 hours doing it yourself.
Find the visuals.
Add them to your video editing software.
Generate/Write captions and synchronize them.
Edit the colors, hightlightse etc.
Go to Fiverr again, buy a voiceover, check that it is OK and upload it on your video software
Export..
You do understand how time consuming this is, right?
Anyway, with Pictory I can make a video in just 30 minutes. I can do it even faster, but I am not racing anyone here.
30 minutes per day – if you are going to publish on a daily basis, is all you need to start your own YouTube channel..
Pictory Pricing
Moving on to Pictory's pricing plans, I find Pictory very well priced for what the software offers.
Pictory pricing start's from just $19 per month if you choose to be billed on a yearly basis. And with my exclusive Pictory coupon code, you can get a whopping 20% OFF on the already low price.
Now if you choose to be billed on a monthly basis, the cost per month jumps to $24 per month – but still it is a very value-for-money offer.
And, I believe that if you are just starting out, (if you are planning on publishing LESS than 30 videos per month) the Standard package is more than enough.
On the other hand if you are planning to sell video creation services or publish more than 30 videos per month, you should opt-in for the Premium plan.
Here's a handy table to better understand Pictory's pricing:
| | | |
| --- | --- | --- |
| PLAN / PAYMENT | PRICE | WITH COUPON |
| Standard Plan / Pay per month | $24/mo | $19.20/mo |
| Standard Plan / yearly subscription | $19/mo | $15.20/mo |
| Premium Plan / pay per month | $47/mo | $37.60/mo |
| Premium Plan / yearly subscription | $39/mo | $31.20 |
Use my referral code "pavlos23" at checkout for a 20% OFF Discount – For Life.
Lucrative Affiliate Program
Pictory has a lucrative affiliate program which can help you earn money on the side.
I mean, if you are going to be using Pictory, why not recommend it to other video makers and start a second income.
With Pictory, you earn a 20% recurring commission for the lifetime of your referrals and you can withdraw your earnings on PayPal as soon as they reach $10.
Click here to become a Pictory affiliate – if you want.
Again, this is a great way to start earning more money.
TIP: As you start uploading video to your YouTube channel, include this line in your description.
This video was created with Pictory >> [link]
As simple as that.
Pictory AI Coupon Code
If you are looking for a Pictory coupon code, well here it is.
Just paste it at checkout to get your 20% discount for life.
By the way, if you like discount coupons that match, I have a bunch of them here.
Bottom Line
Pictory Review: Here's What I Like And What I Don't 👇
Pictory is an AI video editing software that can turn any text into a fully-fledged video with visuals, voiceover and captions. It has some really positive features as well as value-for-money pricing policy that makes it a valuable tool to anyone's marketing arsenal.
Application Category: Video Editing
Pros
Very well priced
Simple to use
Straightforward functionalities
Many customization features
Free premium stock footage
Free text-to-speech feature
Cons
Sometimes it becomes slow
UI needs some fine tuning
So, this is the end of my Pictory Review. I hope you liked it and I hope I helped you make up your decision whether Pictory is good for you or not.
I am definitely enjoying it. There are some similar software like Steve.ai and InVideo that I am planning on comparing Pictory in the near future, so if you want to be updated for new content I upload or new coupon codes for my partners, feel free to join my newsletter below.
Cheers.
Frequently Asked Questions (FAQ)
NOW READ THIS 👇
👉 Follow CS on Facebook to receive notications on new articles I publish.
ℹ️ This blog is reader-supported. When you buy through links on this site, I may earn an affiliate commission without any surcharge to you. This helps me continue offer free and qualiy content for the community.