Writesonic Review: Is this AI Writing Assistant Worth it?
There are many things I like about Writesonic as well as a few that I don't. In this Writesonic review, I give my honest opinion about this artificial intelligence writing tool as well as what I like or what I don't like about it.
Writesonic Review
Writesonic Pros & Cons
SUMMARY: Writesonic is a good writing assistant and offers cheap plans and constantly adds new features and improvements to their existing tools. I recommend buying a plan from them if your budget is low and you can't spend like $50 – $60 per month for an AI writing assistant.
From $12.67/month (with a yearly subscription)
Why Should You Trust Me?
I know you may think "Oh, great – just another Writesonic Review"..
Here's why you should trust my review on Writesonic:
First of all, I have actually used the software and can speak from firsthand experience. Here's my payment proof that I shows I've purchased and used the software, as well as a screenshot from my dashboard where you can see that I am actively using it.

Second, I have been working with AI writing assistants for the past year, so I have a good understanding of the various features and capabilities of these types of tools.
In fact, I switched to Writesonic specifically because it was a lower cost option compared to the AI writing assistant I was previously using, Jasper AI.
I even wrote a comprehensive article on the best AI writing assistants I've ACTUALLY used – not a list with all the AI writing assistants in existence – like other bloggers do.
This demonstrates that I have done my research and am able to provide a thorough and informed review of the software.
What I Don't Like About WriteSonic
Now that I got that out of the way, let's start first with Writesonic's Cons – the things that I don't like about Writesonic.
But first, a short explanation..
I'm a blogger. I constantly need quality content to pump to my websites. I really don't care if a writing assistant has tools for writing Quora answers, Google Ads titles or Instagram captions (Writesonic has these tools).

Not that these tools are not useful.. For me though, this is not what I need a AI content writing assistant for. My Writesonic review does not focus on those tools, rather than the tools specifically for content writing (such as paragraph writer, instant article writer, AI Article Writer 4.0, Sonic Writers, Article Intros, Article conclusions etc).
The 3 outputs
Each time you are using one of Writonic's tools, the AI creates 3 outputs by default unless you change it to 1 output.
The reasoning behind this feature is for you to have options – to choose the output that suits you best.
What they don't tell you though is that you are going to be "charged" X3 times.
For example If you choose the "article intro" tool, and the AI writes an intro of130 words and you left the x3 outputs on, you'll get charged almost 400 credits – if we assume that it would produced three article intros with the same amount of words.
This can drain your plan's credits – Fast.
Of course, this can be easily avoided by simply switching to 1 output per generation.
If by any chance you forget to choose the one output then you are screwed.. There's no option in getting back your credits (more on that in the next section).
What gets into my nerves even more is that almost all the tools that don't fall in the articles and blogs category DO NOT have the option to choose a single output.
Check these screenshots below. There's no option to change the number of outputs.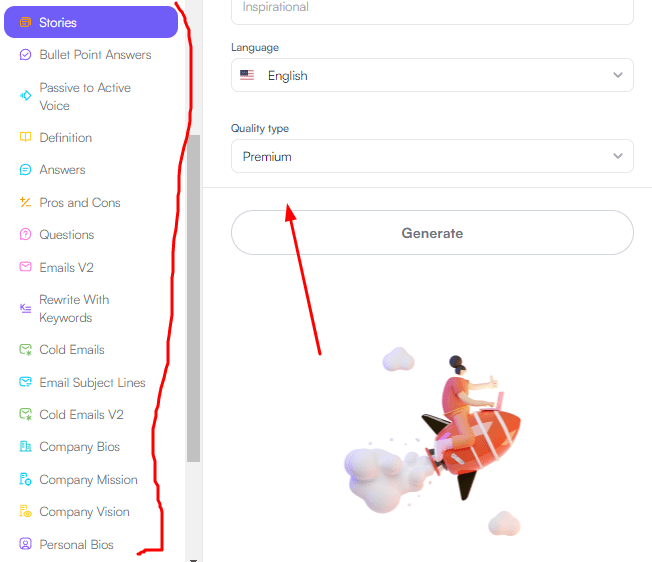 Even if I want to produce a product description.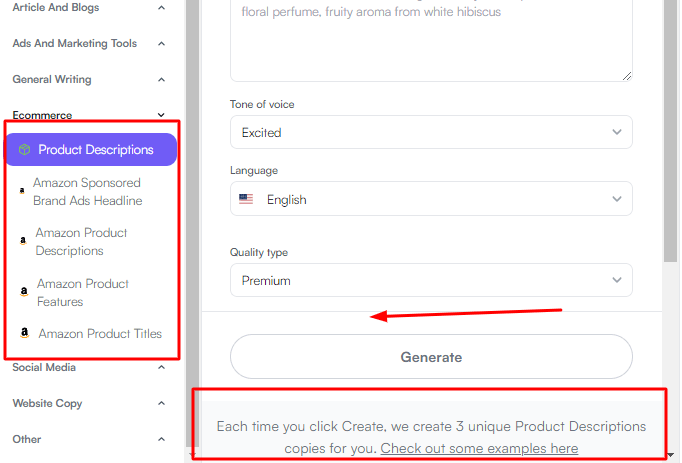 Do you know how fast your credits will end because of this?
Imagine having to write an article about top 20 products and each time you hit the generate button you get charged 300 credits (3 X 100 word descriptions). This means that by the end of the article – including introduction, epilogue and a couple other sections, you already spend 7K – 8K credits.
With my plan (19.000 premium words) this means I can only produce 2.5 articles.
KEY TAKEAWAY
Writesonic development team should remove this feature at once. If someone does not like the generated output, he can simply request another. Another solution is the number of outputs to be 1 by default. Also the fact that some tools don't even have the choice of choosing the number of outputs, is unacceptable.
Does not have an option for returning back credits
A feature that most AI writing assistants do not have (only Jasper has it) is to return credits back if the generated output is not to your liking.
For example, Jasper AI returns 20% back of the credits you used when the outcome is not what you expected to be.
I would like to see the same with Writesonic. Some outputs are not that good that it simply breaks my heart to get charged the full amount of credits for them.
Also, If I forget to choose to generate 1 output instead of 3 outputs, I could ask at least some credits back.
KEY TAKEAWAY
Writesonic should follow Jasper's example and add it as a feature as well. Writesonic is currently the second best AI writing assistant (in my humble opinion) after Jasper and it has all the fonts to take the lead by adding this feature as well. Plus, I think it is more fair for its clients to be able to get some credits for some bad writing outcomes.
What I Like About Writesonic
Now let's see the things I do like about Writesonic and what other AI writing tools can implement as well to make their product offerings better.
Copywriting quality
Writesonic's content quality has been improved since the first time I bought a subscription plan with them. At first, I wasn't happy at all, but at the time of writing this post, Writesonic's writing quality changed (for the better) dramatically.
In the following example, I used the "Article Intro" tool, to produce an intro paragraph for a relatively easy title for a blog intro.
As you can see from the screenshot below, it produced a relatively good intro. Don't you think?
In the following example, I used the "paragraph writer" tool, for a difficult subject. Click on the image to read the topic and the paragraph.
For this third example, I used the "Instant Article Writer" tool to instantly produce an article of up to 1500 words.
Because I can't upload an image that will allow you to experience the article's quality, Click this link here to check the article yourself (try to keep your jaw up).
This article was produced in less than 2 minutes. I just clicked a button and voila, a new article was born.
By the way, I used quetext to check it for plagiarism (not Writesonic's in-built plagiarism checker) and it returned only 19% plagiarism for the first 500 words. Not that bad, right?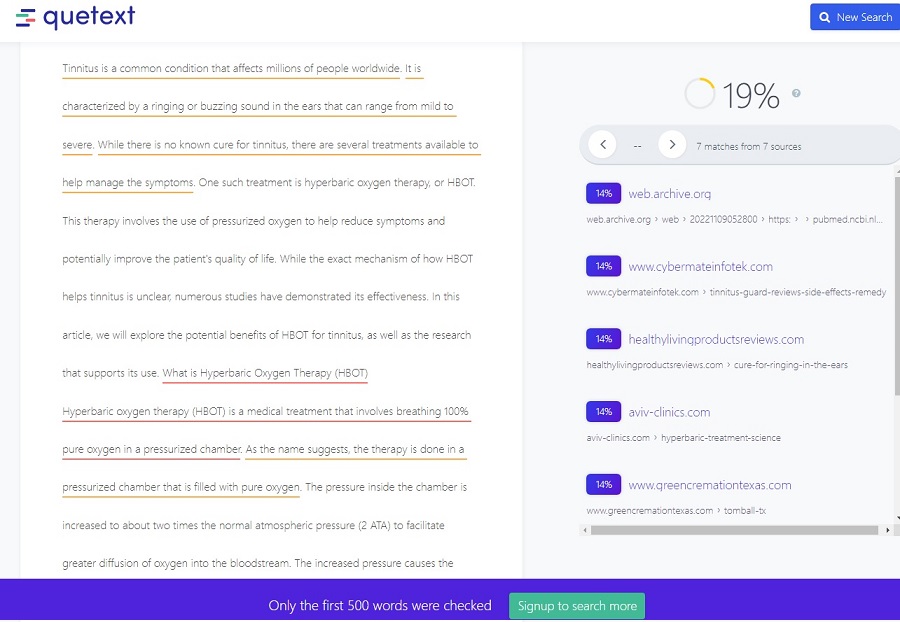 Also, keep in mind that Writesonic offers tools for producing long form content of up to 3000 words.
KEY TAKEAWAY
Writesonic's content generation improved drastically since the first time I tested it and I am super happy with the content outcome.
Quality categories
I like the fact that Writesonic has 4 writing qualities to choose from. Premium, Good, Average and Economy.
As you can see in the screenshot below you have the option to choose between the four quality writing outcomes.
Every 100 premium words equal to 250 Good quality words, 500 average quality words and 1000 economy quality words.

This is depicted in their pricing plans page as well. As you can see, with the $19 per month, you get 190.000 ECONOMY words per month.
For your own website you'll be using the premium quality. For your PBN network you can use the Average or Economy quality. For publishing guest posts in websites that are sold on platforms places like Fiverr, you can use the "Good" quality option.
KEY TAKEAWAY
This feature maximizes your plan's potentials. You don't want to be wasting your credits for your PBN network or when publishing guest posts solely for getting backlinks -right?
You can freeze your subscription
This is another innovative feature from Writesonic's team that allows you to pause your subscription for up to three months.
Can you realize how valuable this feature is? Let me give you an example.
Last summer, I went with my family to Greece for the whole month of August. At that time I was using Jasper and although I didn't use a single credit that month, I still got charged $59.
With Writesonic, I could just pause my subscription. As simple as that.
The best part is that you can do it for up to three months. You many want to stop your blogging activities for a couple of months and then resume.
"Wait a minute" – I hear your thinking? "Why not just cancel the plan and then start a new one?"
Because your monthly pricing will reset. For example, if you bought Writesonic during black friday or during this Christmas season with a discount, after you cancel your subscription plan, the cost will reset to its normal levels.
With this feature though, you will not lose your billing status.
KEY TAKEAWAY
With Writesonic, you can pause your subscription for up to 3 months without losing your billing status.
Plagiarism checker & Grammarly
Writesonic offers a plagiarism checker as well as Grammarly for grammar check with their plans. I love both of them because a plagiarism checker gives you peace of mind that the content that was produced is original and Grammarly corrects some punctuations and makes your content easier to read.
The drawback in this is that the plagiarism checker costs credits and Grammarly's functions derive from Grammarly's free plan.
The plagiarism checker charges your credits for the amount of words you are checking. For example if you just finished a 1500 word article with Premium quality enabled and then you checked for plagiarism the whole article, then your total cost would be 3000 credits.
Personally, I'm not using Writesonic's integrated plagiarism checker because I don't feel it as accurate as Quetext or any other paid plagiarism checker tool
It would be great to have the plagiarism checker as an "add-on" to my plan or if it could charge me half the credits instead a whole credit for each word. The same goes for
KEY TAKEAWAY
Although Writesonic has a plagiarism checker without paying extra, each usage will drain your plan's credits in an instant. Also, Grammarly's features are from its free plan – which are only a fraction of what Grammarly can really do.
Offers many useful integrations
Writesonic offers some pretty usefull integrations that can't go unnoticed. For example:
Zapier: You can integrate writesonic with your zappier account and use your content with the hundreds of automations zapier offers. For example, you can publish your AI produced tweets via Writesonic, you can send any draft article you produce to any email you wish, you can publish your content to any platform you want – as long as it has a zappier integration – all from within you Writesonic dashboard.
WordPress.com and WordPress.org: You can publish your content directly to your self hosted WordPress blog by installing a plugin or to your WordPress.com blog by connecting it with Writesonic.
SurferSEO – You can integrate your Writesonic with SurferSEO and receive live onpage SEO recommendations from SurferSEO. It requires you having a SurferSEO subscription which I highly recommend you do if you are serious about blogging.
KEY TAKEAWAY
Writesonic offers some very useful integrations that can help you become faster and better at publishing content to your blog, social networks or communicating with other team members.
Has low pricing options
Writesonic has probably the most value-for-money pricing plan. I mean, you can get a writing assistant with great features for just $19 per month or $12.67 if you pay annualy.
With Jasper I was paying $59 per month for 50K words (long form plan). With Writesonic I will still pay lower if I choose more words.
Specifically, for 75K words with Writesonic, I will pay $49.
More words – less money per month.
At the moment I am paying $19 per month – and I like it.
Here's a screenshot from Writesonic pricing plans.
KEY TAKEAWAY
Writesonic is the best value-for-money writing assistant. You get the option to pay low and get the same tools and writing quality as other more expensive AI writing assistants.
Other Notable Features
Look, this Writesonic review is becoming quite long, so I'll go through some other notable features of writesonic that I simply can't mention.
Chatsonic
Writesonic has recently introduced Chatsonic – the same tool with the free (for the moment) ChatGPT tool. I've tested both, but it seems that Writesonic's "Chatsonic" is not that good as ChatGPT's tool.
I gave both AI the question: "How AI writing assistants work?". This is what I got:
Chatsonic
ChatGPT
Clearly the winner is chatGPT.
KEY TAKEAWAY
Great addition to Writesonic's toolset, but still Chatsonic has a long way to go.
Photosonic
Writesonic has another great feature called Photosonic which basically its an AI art generator. You input a couple of queries, hit the generate button and bam you get designs.
Here's a quick example I've prepared for this review.
As you can see the left image is not that good, but I like the right one. The total cost each time you use this feature is 100 premium words.
KEY TAKEAWAY
Great feature from the Writesonic team. I really enjoy this. I am even thinking on starting my own NFT collection..
How it compares with other AI Writing Software?
My opinion is that Writesonic is the second-best AI writing assistant in terms of content quality, after Jasper.ai, but the best AI writing assistant overall.
Let me explain.
Jasper.ai, simply produces better content. I've been a client with them for 6 months after switching to Writesonic. The problem with Jasper is it's cost.
If you are going to move forward with Jasper, your best option – if you are a blogger or content writer – is the 50K words at $59 per month. Writesonic on the other hand, offers you the possibility to start with only $12.65 – as we saw earlier on.
If you want to increase your word count to 50K per month, you'll still end up paying LESS than Jasper.
As for the content quality, although Jasper is better, the difference is not that big.
As for the other AI writing assistants on the market, I used over 10 of them I can say with absolute confidence that their Quality X Pricing, is not matched Writesonic's.
Conclusion
I am very happy with Writesonic – at the moment. Good content quality, many tools, and a reasonable pricing scheme.
As a user, there are a couple of things that I don't like, but hey, nothing in life is perfect.
Anyway, I highly recommend it. Tap the button below to start your free trial and test it for your self.
Writesonic Reviews
I highly encourage you to write your own Writesonic reviews below if you've used it or using it. Also, if you have any questions about it, don't hesitate to contact me.
0 out of 5 stars (based on 0 reviews)
There are no reviews yet. Be the first one to write one.
👉 Follow CS on Facebook to receive notications on new articles I publish.
ℹ️ This blog is reader-supported. When you buy through links on this site, I may earn an affiliate commission without any surcharge to you. This helps me continue offer free and qualiy content for the community.