8 Best AI Writing Assistants (Used All Of Them)
If you're aware of software like Jasper.ai and Writesonic and are generally looking for the best AI content writing software – you've landed on the right page of the internet.
In this article I will analyze the 8 best AI writing assistants – their key features, their pros and cons, their payment plans and my personal thought about each one of them…
So, lets dive in…
Why would you trust me?
But why would you trust me anyway?
Well, unlike 99% of the articles you will find on the internet on the subject of best AI writing software – I have actually bought and used these programs extensively.
I am actually a blogger. That means I need content. That also means that I have to deal constantly with content creation tools either for producing articles, videos, social media posts, graphics and so on.
That's whyt I've been using, testing, hustling with these AI writing software for the past 6 months..
This helped me to develop a well researched opinion on what I like and dislike about each artificial intelligence writer I present in this article.
For example, here's a screenshot from my Jasper.AI billing information. As you can see, I've been using Jasper AI for 6 months before cancelling my subscription and moving to Writesonic (more on this decision down below).
Here's another screenshot of my current Writesonic billing plan. More about my thoughts on Writesonic later on..

I mean.. I didn't just find 20 – 25 AI writing programs and threw them in an article creating a list of ai writing software instead of a list with the BEST AI Writing assistants…
Which instead of helping you make take a good decision, they make your life more difficult… I mean just imagine asking someone "what is the best software for X job" and he gives you 25 different options… 🥴
Anyway, I have used ALL 8 AI writing software in this article and some of them I am still using them to produce content faster for my other websites.
Anyway, now that I've cleared this up, it's important to understand FIRST, what AI content writing assistants are and then we'll get to the list of the best AI content writing assistants. If you want to skip this section, just click here.
What are AI Content Writing Assistants?
For the purposes of this article, I will define these programs as software designed to read, understand and produce content for various purposes.
Actions such as writing articles, ad copy, social media and landing pages are things that AI content writing assistants can help with.
It's important to also understand that by purchasing an AI writing assistant, you will NOT just press a button and perfect articles will start popping out, error-free and without any input from you.
This is not the case.
An AI content writing software will produce content at the click of a button, but reading through it you will find many inconsistencies, false claims and repetition.
Also, most of them need to read something you write (5 – 10 words) and then fill in the rest of the text.
The reason is because the software may not know so well the topic you tell it to write about or try to be creative when writing, resulting in false claims and false things.
These software will help you write content faster. But the final touch must be put in by you if you want the best possible result. More simply, imagine yourself being the editor and the AI software being your writer. You give directions, the AI writes and then you edit.
Typically, a 2,000-word article can take up to 2-3 hours to produce along with research, styling and SEO optimization. With an AI software, this entire process can be done in 30 minutes.
Best AI Writing Assistants (Reviews)
Now that we're done with the "blah-blah" let's move on to the 6 best AI writing software.
Jasper – Best AI Writer Overall
Jasper (full review) for me is the best AI Writing assistant (by far) for many and important reasons. This AI writing tool used to be called Jarvis and then renamed Jasper. It is one of the first AI SAAS software that came on the market for commercial use.
Key Features
First, Jasper has the most advanced form of AI of any other software I have used.
That is, when you tell it to write something, it writes it accurately. He writes it without making mistakes. What he writes makes sense – not like some other people who write different things.
He even has a system that if you don't like something he wrote, you can delete it and he will give you back 20% of the credits you used. For example, if he wrote 100 words that cost 100 credits and you didn't like what he wrote, you delete it and get back 20%. Only Jasper has that.
Also, Jasper has all the tools you might need for your content production needs. In fact, they're the market leader in this area. What he does first, the other software programs follow.
Also, a very serious feature that he has, and I found it only in him, is that you tell him what you want him to write and he writes it.
For example, you open a new empty document (inside Jasper) and you can tell them, "Write a long intro paragraph about Artificial Intelligence with a professional tone of voice" and he will do exactly what you told him.
Another example, you can tell them "Write an article how artificial intelligence will affect the agriculture industry" and he will start writing.
Also, Jasper can be integrated with two of the best article writing programs – Grammarly to correct your spelling mistakes and SurferSEO to optimize your article for search engines as you write it.
But I'll leave the best for last… Jasper can also read and write in over 25 languages (including Greek and Indian) – although he doesn't do it as well as he does in English. But he will undoubtedly help you write 10X faster than without him.
Pricing
The only problem with Jasper is that it is the most expensive on the list. Maybe it's because they know they have the best artificial intelligence? I don't know… Features, it has three shots.
The Starter which starts at $29 a month for 20,000 words, the Boss Mode which starts at $59 a month for 50,000 words (that's what I recommend) and the Business plan which has no specific price and you have to talk to their sales department.
What I Like
What I Don't Like
Conclusion
If you're serious about creating content with artificial intelligence, I recommend Jasper. Don't go anywhere else. Jasper is the best thing you can get.
Writesonic – Best AI Writer For Its Price
Writesonic (full-review) is the second program I used after Jasper because I was looking for something cheaper (but I will probably go back to Jasper). The reason I chose it is because it is much cheaper than Jasper, it has all the tools that Jasper has and its user-interface reminded me of Jasper.
Key Features
I also like the fact that Writesonic has a predictive system that lets you choose the quality that the AI will write.
That is, with any plan you buy, you can choose to produce Economy, Average, Good and Premium content.
Example, if you choose the Long Form plan at $19 per month, you will be able to produce the following:
| | |
| --- | --- |
| Quality | Words |
| Economy | 190.000 words |
| Average | 95.000 words |
| Good | 47.500 words |
| Premium | 19.000 words |
The Economy plan can be used to produce low quality content for Private Blogging Networks or to fill up etc. The Premium plan is for writing "good" content.
Of course, for me, even the Premium to Writesonic doesn't match Jasper's quality.
Another very good feature of Writesonic is that it offers SurferSEO built into the price. That means you don't have to pay for SurferSEO on top of your subscription.
Also included in the price is Photosonic – Writesonic's AI art tool – to produce images with the help of artificial intelligence.
Even Writesonic has its own WordPress plugin to publish directly from the Writesonic platform to your WordPress blog (whether that's WordPress.com or WordPress.org).
Writesonic also claims that its own AI only writes original content and doesn't need to have a plagiarism checker. Personally, I always run it through a plagiarism checker to be sure.
Another feature I like is that I can pause my account for up to 3 months. That is, if I go on vacation for up to 3 months, I can pause my plan and get charged again after three months.
Finally (on the plus side) Writesonic also reads and writes in 25 languages.
What I don't like about Writesonic is the quality of its writings – as it can't compete to Jasper's. Also, it doesn't have that cool little feature where I can reject something he wrote and get my credits back.
Also, some of its writing tools, every time I click the Create button, it creates 3 unique copies of content. What if I don't want 3 and I only want one? What if I don't like all three? Why would it "eat" my credits? Of course this doesn't work with all tools but in some. But still, I find it unfair.
Pricing
Writesonic has three plans: The Free plan with 2,500 words and many restrictions on the tools you can use, the Short-form plan from $15 with also many restrictions (e.g. rewriter and long-form you can't use) and the Long Form plan from $19 which I personally use and recommend.
What I Like
What I Don't Like
Conclusion
Good Ai writing tool and cheap compared to what it offers. But not as good as Jasper AI.
Rytr – Best AI Writer With Free Plan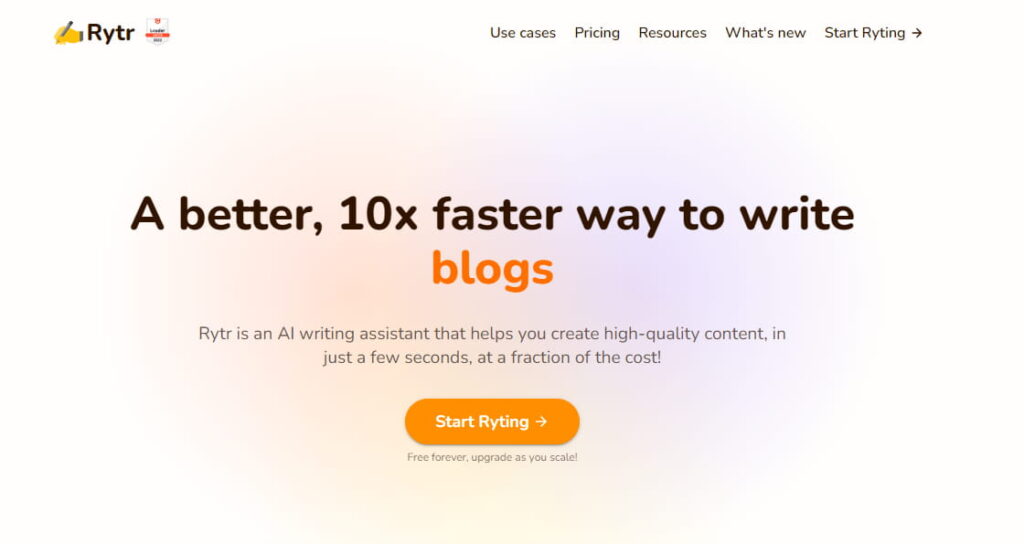 Next on the list is Rytr – a cheap AI article writing assistant that doesn't have the variety of tools that the two previous ones – and especially the market leader – Jasper has.
Key Features
Rytr can produce content is many languages which is great.
The content produced by the AI is relatively good. No special edits are needed on every text it produces, neither it repeats it self. This can save you time on editing.
It has a simple user interface which makes it very user-friendly for newbies.
Finally, it has a good free plan that allows you to produce 10 thousand characters (not words) for free every month.
What I don't like is that it doesn't have tools for producing long articles – like the other AI content writing assistants. I mean, you can't produce a 1500 article in one go. You have to produce smaller paragraphs like intro, then a paragraph about this subheading, expand it a bit, then another paragraph for another subheading and so on..
It also doesn't have a built-in plagiarism checker, nor any kind of integration with an SEO tool.
Pricing
In addition to the free plan that offers you up to 10 thousand characters per month, Rytr has a $29 plan with unlimited characters and access to its tools and a $9 per month plan that offers up to 100 thousand characters per month.
What I Like
What I Don't Like
Conclusion
Good AI Writing tool. I like it. It's cheap and just right for someone who doesn't need it solely for article production. All the other tools for producing content for ads, landing pages etc – are there.
LongShot – Best AI Writer for Articles and Blog Posts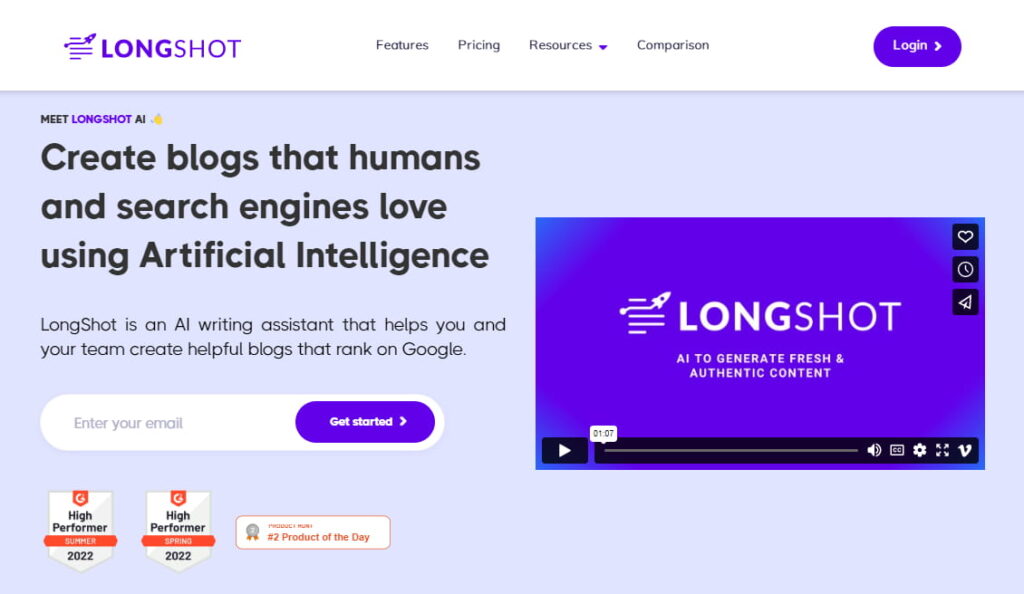 LongShot is an AI writing assistant which – unlike Rytr – specializes in writing articles optimized for search engines.
Key Features
LongShot does not have tools for writing Google Ads, texts for social networks, texts for landing pages, questions and answers for Quora, etc. It only has tools related to writing articles for blogs.
I like that, because it specializes – so to speak – in this part. Specialization always brings good results.
As part of its specialization, LongShot has tools – that no other AI writing assistant on this list has – like Fact Check which highlights possible wrong facts that the AI may have written, Plagiarism checker and its own SEO score which analyzes the text produced and how it compares to other results in SERPS.
In addition, every plan has Semrush – one of the most popular SEO tools in the world. The integration of Semrush allows you to analyze any keyword in detail. The results include, among other things, the volume a keyword is searched, the degree of difficulty of each keyword, etc. (Full Semrush Review).
Also, LongShot connects to the blogging platforms Ghost, Medium and WordPress as well as any CMS with the use of some technical knowledge. Other AI writing software I've used where able to connect only to WordPress.
Finally and most importantly with LongShot you can produce content in multiple languages as well.
Pricing
LongShot has 3 plans which I list in the table below. There is also a fourth option the "Custom plan" for very large marketing agencies and for which you need to talk to the sales department of the wiki to get a price.
| | | | |
| --- | --- | --- | --- |
| | PRO | TEAM | AGENCY |
| Pricing (monthly) | $39 | $99 | $449 |
| Pricing (yearly) | $29/mo | $79/mo | $379/mo |
| Words (per month) | 50.000 | 250.000 | 1 million |
| Users | 1 | 3 | 20 |
| SEMRUSH | ❌ | ✅ | ✅ |
What I Like
What I Don't Like
Conclusion
In general I consider it very good – and perhaps the best – for individuals who want their AI writing assistant purely for writing articles that are fact checked and plagiarized free.
Simplified – Best AI For Its Vast Features
Simplified is the opposite of LongShot as it offers everything an AI program can offer.
Main Features
Basically Simplified is divided into 4 categories of AI tools.
Graphics creation
AI content writer
Video production software
Social media management software
Graphics
With Simplified you can generate graphics by simply typing in the AI what you want. e.g. Cyberpunk pony or Egyptian Cat.
It also has thousands of ready-made graphic templates that you can simply edit. Something like Canva or VistaCreate.
Finally in the category of graphic tools you will find logo maker, eBook maker, social media posts maker, advertising banner makers and many more.
Content
In addition, it offers you all the tools you may need to produce any kind of content – be it texts for social media posts, or entire articles for your blog.
The more expensive plans (as you'll see below) also offer Grammarly integration, plagiarism checker and a link to WordPress for direct posting – which are very positive elements.
What struck me though is that although Simplified is a "mega-tool" it doesn't have an SEO optimization tool (like other writing assistants have) which I find a negative.
Finally and with Simplified you can produce content in multiple languages.
Video
With the tools in the video category you can find ready-made templates for Tik Tok, Reels and YouTube Shorts. You can find ready-made intros and outros for YouTube videos, ready-made templates for Instagram posts, Stories, Facebook – you name it.
Social Networks
Finally, with the social networks manager you can link your accounts and what you create in Simplified you can post directly to your social networks. All through Simplified.
Pricing
Simplified has 4 payment plans. Each plan includes tools from all four categories. Below a small table with the most important points of each plan in terms of content writing.
| | FREE | SMALL TEAM | BUSINESS | GROWTH |
| --- | --- | --- | --- | --- |
| Cost (monthly) | $0 | $30 | $50 | $125 |
| Cost (yearly) | $0/μηνα | $18/μηνα | $30/μηνα | $75/μήνα |
| Words (per month) | 1000 | 25.000 | 50.000 | $250.000 |
| Users | 1 | 5 | 5 | 5 |
| Grammarly | ❌ | ✅ | ✅ | ✅ |
| Plagiarism Checker | ❌ | ❌ | ✅ | ✅ |
| Long Article Writing | ❌ | ❌ | ✅ | ✅ |
| WordPress integration | ❌ | ❌ | ✅ | ✅ |
– Pricing Table with most important features of Simplified
If I ever buy a plan from Simplified I will buy the Business plan since – as far as content writing is concerned – it has everything I need.
What I Like
What I Don't Like
Conclusion
If you have needs not only in content creation but also in managing your social networks and producing graphics and videos for your business, always with the help of artificial intelligence – then Simplified is the tool you've been looking for.
CopyMatic – Best Value For Money AI Writing Tool
Copymatic is a pure AI Content Writing software at a very good price. That's why I gave it the title of the best AI writing assistant in terms of price-quality ratio.
Key Features
Copymatic has a total of more than 80 tools regarding content writing, both for articles and for social networks, advertisements, etc.
It also has its own WordPress plugin which is linked to your Copymatic account and you can produce AI content directly from your WordPress blog.
You can also use Copymatic's platform to do keyword research as it has its own integrated keyword research tool.
In addition with each plan you get 5000 words for free plagiarism checking. I don't mean to be ungrateful, but it should be for all the words you buy – not just the first 5k. Of course, if you do a little digging, the makers of Copymatic claim that their AI never writes plagiarized content.
It has recently added the artificial intelligence graphics creation tool.
Finally, it offers AI-assisted content authoring in multiple languages as well.
Pricing
Copymatic has – in essence – one plan whose cost fluctuates depending on the number of words you choose.
For example, the cheapest plan is 15,000 words per month at $6 per month (only) if you choose the yearly billing or $9 per month if you choose to be billed on a monthly basis.
What I Like
What I Don't Like
Conclusion
With such a price it is impossible to ignore Copymatic. The tools it offers and the good quality of its content production make it one of the most value for money AI writing tools at the moment.
Copy.ai – Best AI Writing Assistant With Unlimited Words
Copy.ai is another popular AI writing tool that claims having over 5,000,000+ professionals and teams choose it for the copywriting needs.
Key Features
Copy AI has a bunch of copywriting tools for every occasion. For example, there are tools for recruiters, tools for email copy, landing page copy, social media caption, song lyrics, blog posts – you name it.
After testing its blog writing tools, I have to admit that the copy generated was pretty good. No any repetitions or non-understandable content was generated.
Unlimited words – This is what makes this AI writing assistant to lock its spot in my top AI writing software list. You don't have to worry again whether you are out of credits or not. This AI tool offer unlimited words in the best possible quality.
What I didn't like about Copy AI is the fact that it has no integrations with any blogging platforms, SEO tools or plagiarism tools. It's competitors do have such things and I personally, would be interested in having some optional tools available for optimizing the generated content for SEO.
Pricing
Copy.ai offers apart from the Free plan, a PRO plan which is pretty simple. For $49 per month (or $36 per month if you pay yearly) you get everything you need. Unlimited words, unlimited projects and up to 5 seats per plan.
What I Like
What I Don't Like
Conclusion
Copy AI is a great tool for those who want simple things. A simple, pricing plan, unlimited words and great AI copy.
Anyword – Best AI Writing Assistant With ChatGPT Like Powers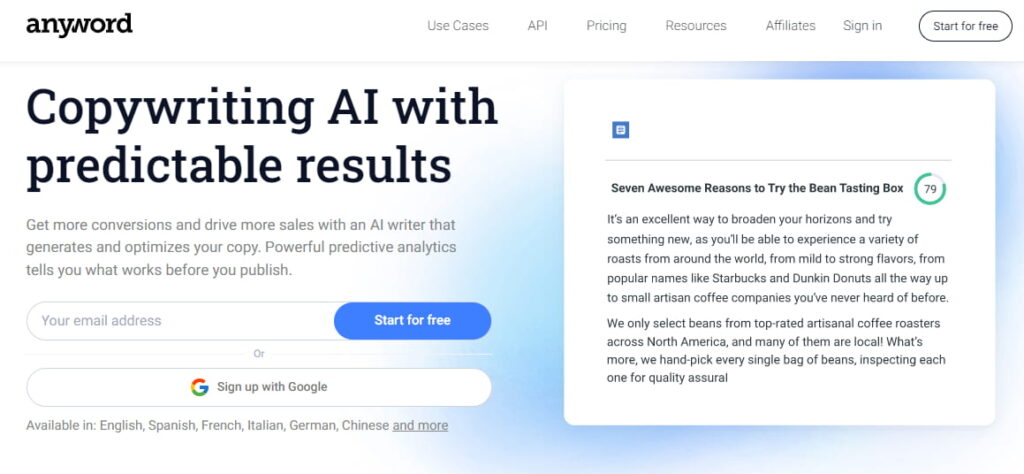 Anyword is one of the few AI writing tools that offer a prompt tool – that allows you to dictate AI what to write about and an automatic copy-optimization tool.
Key Features
Anyword offers over 100 different tools that span into 11 categories, including ad generation, blog post creation, product descriptions, landing page content generation, content improvers and much more.
What makes this tool into my list is its "prompt" feature which is basically the same things as GhatGPT. You input a prompt and the AI generates a response for you. Here's an example:

Notice how complex the prompt is and how good the response is.
Another great feature of anyword is its predictive technology. Basically, it produces copy and optimizes it live to get the best result based on your desired audience..
For example, I asked Anyword to produce an Instagram caption for a Weight Loss Smoothie recipe post. I added a couple of data such as my target audience's gender, age and pain points and it generated this caption with this report. .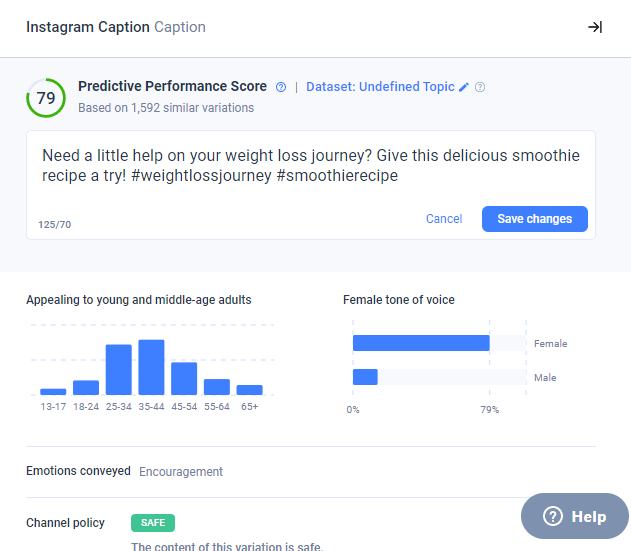 As you can see, it gave it self a score of 79 along with metrics on what audience this generated copy matches the most.
Another great feature Anyword has is that it allows you to reclaim your credits back in case you are not happy with the generated copy. Again, this is a feature not many AI writing assistants have.
On the lower end, neither this tool offers any integrations with blogging platforms, SEO tools or plagiarism checkers. Also, this tool is suitable for use only for English copywriting.
Pricing
Anyword offers two pricing plans. Starter and Data Driven. Starter plan cost starts from $29/month for 20,000 word credits and Data Driven from $99/month for 30,000 word credits.
Data Driven plan features the Real-time predictive performance score and analytics feature I mentioned earlier.
What I Like
What I Don't Like
Conclusion
I am impressed with Anyword and I think you should give it a chance.
Other AI Writing Software
Here's a list with other AI writing programs that didn't make it to the list – either because they lacked essential features, because the content they produced was unreadable or simply, because I haven't used them yet.
People Also Ask (FAQs)
Bottom Line
From my research and testing, there are over 20 programs that use AI for content authoring. In this list I talked you the 8 best ones. In the future, I might add a some more – if they are worth it.
I suggest you try all six – since they have a free trial and see which one meets your needs. Along the way you can choose the plan you think is best and upgrade your plan.
For me, the best one is Jasper. I want to publish content as fast as possible and to achieve this, I need an AI content writing tool that required minimum input from me. Writesonic and the other AI writing software are good but need more human input than Jasper does.
An AI writing assistant will help you to produce content much faster than you can do on your own and if you want to get a head start over others in the blogging space, then you'll need one in your toolbox.
More Content Related Articles
👉 Follow CS on Facebook to receive notications on new articles I publish.
ℹ️ This blog is reader-supported. When you buy through links on this site, I may earn an affiliate commission without any surcharge to you. This helps me continue offer free and qualiy content for the community.