10 Best ChatGPT Alternatives (Free & Paid)
ChatGPT is getting all the attention in the world of generative AI, but it's not the only chatbot of its kind. Here we explore some of the best ChatGPT alternatives that also want to earn a share of the public's interest.
Ever since OpenAI introduced ChatGPT in late 2022, the artificial intelligence chatbot has been on everyone's lips. The startup led by Sam Altman managed to get its platform such viral exposure that it has not only attracted several billion dollars in investment from Microsoft, but has also led to the emergence of multiple alternatives and competitors.
It is therefore not surprising to come across several platforms that already offer tools similar to ChatGPT. Some are more original than others, of course, but they all face very similar challenges. And each of them wants to win a share of your attention.
Below we will review the most interesting ChatGPT alternatives that have appeared in recent times, with their differences and similarities. Of course, it is likely that some concepts will be repeated throughout this article, and it is for a very clear reason: many of the platforms that compete with OpenAI's chatbot use the same technology, GPT-3.
Best ChatGPT Alternatives
1. Jasper Chat
Jasper Chat is a must-have tool for anyone who's looking to simplify their work and get things done faster. The chatbot interacts with you in a natural, conversational tone, and it's easy to get started with it. You can ask it to generate ideas, revise your content, and even make you laugh. It's great for when you need a quick break from work!
The AI-powered chatbot can write full articles, which is perfect for busy marketers and content creators who need to churn out high-quality content in no time. You can send the generated content to the Jasper AI document editor, where you can optimize it for SEO before publishing.
Another great thing about Jasper Chat is that it remembers what you said earlier, so you don't have to repeat yourself. Plus, it can generate content in 29 languages, making it a great tool for global businesses.
Overall, Jasper Chat is different than other chatbots like ChatGPT in that it's built specifically for business use cases like marketing, sales, and more. It's a highly versatile tool that can help you streamline your work and achieve your goals faster.
2. Writesonic's ChatSonic
With a quick web search you'll find that ChatSonic is regularly mentioned as the leading alternative to ChatGPT. In fact, its own developers say it's like OpenAI's chatbot, "but with superpowers". A somewhat bold claim, but one that so far seems to be justified.
ChatSonic has been created by a company called WriteSonic and, from the outset, offers an interface riddled with options not available today in ChatGPT. The utility is not limited to answering questions that users ask it, or writing long articles on specific topics.
Unlike the development of Sam Altman's startup, whose knowledge base is limited to events occurring until 2021, ChatSonic is permanently connected to the internet and can access updated information in real time.
In addition, you have the option of asking it to generate images using artificial intelligence, and it also offers instant results. What is striking here is that it leverages two different platforms: DALL-E, from OpenAI, and Stable Diffusion, from Stability AI.
Another interesting point, compared to ChatGPT, is that it allows you to enter commands with your voice. So you don't even need to type the questions to interact with the AI chatbot. And as if this were not enough, you can choose different profiles or "personalities" of the AI you want to interact with.
3. Anyword
If you're looking for a powerful AI writing assistant that can help you generate high-quality content, you should definitely check out Anyword. This tool has a "prompt" feature that is similar to ChatGPT and it's really impressive!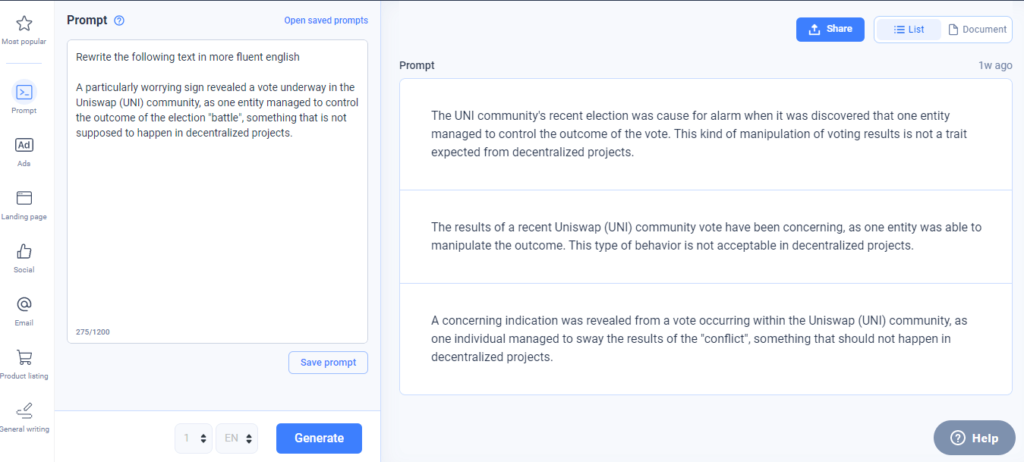 After testing Anyword, I have to admit that the content it produces feels just as good as ChatGPT. It can accept prompts for virtually anything, just like you would with ChatGPT, and you'll be pleasantly surprised by the quality of the output.
One of the standout features of Anyword is its ability to create customer personas. This means you can get content with a specific tone of voice, which is perfect for businesses and marketers who want to tailor their content to specific audiences.
The content generated by Anyword is of high quality and it's one of the best ChatGPT alternatives I've seen. The tool is paid, but it's relatively cheap and it's definitely worth the investment if you want to streamline your content creation process.
In conclusion, if you're looking for an AI writing assistant that can help you generate high-quality content quickly and easily, you should definitely give Anyword a try. It's a great tool that's definitely worth the investment!
4. LongShot's FactGPT
If you're looking for a writing assistant that can help you generate accurate and up-to-date content on current events, you should definitely check out FactGPT. This AI tool is part of the Longshot.ai writing assistant and it's really impressive!
What sets FactGPT apart from other AI writing assistants is its ability to generate content and answer questions based on the latest facts and information. It's called FactGPT for a reason – it provides answers and content based on facts, not imagination like some other AI writing assistants might.
Another great feature of FactGPT is that it's not afraid to share its opinions. If you ask it about something, it will provide you with an opinion based on the facts and information it has access to.
The content produced by FactGPT is of high quality and it's a great tool for businesses and marketers who want to stay on top of current events. You can even feed it content by uploading documents, which FactGPT will then use as resources for your new content.
Here's a video made by LongShot AI team comparing their FactGPT tool with ChatGPT
FactGPT is a paid tool, but it's not that expensive and it's definitely worth the investment if you want to stay on top of the latest facts and information. It's a great tool for anyone who wants to generate accurate and up-to-date content on current events.
5. Copymatic's CopyChat
If you're looking for a ChatGPT alternative, you might want to check out CopyChat. This AI writing tool is part of Copymatic's toolset and it's pretty impressive.
CopyChat has a similar look and feel as ChatGPT and it's really easy to use. Just give it a prompt and you'll be amazed at the content it generates. The only downside is that the AI's knowledge ends in July 2021, but you can choose to include more recent data from Google, which is something that ChatGPT lacks.
I was really impressed with the content that CopyChat generated. All the answers I received felt exactly like I was using ChatGPT. The content outcome is pretty solid and it's a great tool for businesses and marketers who want to generate high-quality content quickly and easily.
CopyChat is a great alternative to ChatGPT and it's definitely worth checking out if you're looking for a reliable AI writing tool. It's user-friendly, and it's easy to use, so you'll be able to start generating content in no time.
Although it is a paid ChatGPT alternative, it is worth the money considering the access to the 80+ AI tools you get with your Copymatic subscription.
6. Microsoft Bing ChatBot
Microsoft Bing ChatBot is an innovative AI-powered chatbot that's integrated into Bing search engine and the Edge browser. The company partnered with OpenAI, the company behind ChatGPT, to bring the power of AI directly to its search engine. This means you can get answers to your questions quickly and easily, without having to leave the search results interface.
One of the best things about Microsoft Bing ChatBot is that it reviews results from across the web to find and summarize the answer you're looking for. This is a real time-saver, especially when you're looking for something specific and don't have time to sift through pages and pages of search results.
The chatbot is also great for more complex searches, such as planning a detailed trip itinerary or researching what TV to buy. However, it's important to note that it can't help you write an essay or an article, so it's not the right tool for everyone.
Another great feature of Microsoft Bing ChatBot is that it cites all its sources, so you know where the content was found in the first place. This is important for anyone who's looking for accurate and trustworthy information, and it's a real plus for students and researchers.
Overall, Microsoft Bing ChatBot is a valuable tool for anyone who wants to get quick answers to their questions and save time while they're doing it.
7. YouChat
You.com recently made headlines for "integrating ChatGPT" into its search engine. What the company behind that platform actually did was to incorporate GPT-3.5, the natural language processing model that brings OpenAI's chatbot to life.
Initially, the technology was used on the search engine results page to provide quick answers. However, it now has a dedicated section called YouChat. By using ChatGPT's technology, it is able to offer most of the same features as ChatGPT. That is, answering general questions, writing essays, translating text or even writing blocks in different programming languages.
However, it has a serious problem: its answers are riddled with unusual errors. Something that is very surprising, considering that it attaches the links to the sources from which it extracts the information, and in most cases the data is correct.
For example, if you ask it who won the World Cup in Qatar, it tells you that it was Argentina, after beating France in the final. However, it adds that Lionel Messi was the scorer of the only goal of the match, when in fact it ended 3-3 and was defined by penalties. It is clear that there is still a lot of room for improvement.
8. Perplexity AI
With a clean and minimalist interface, Perplexity AI is positioned as another powerful alternative to ChatGPT. Although it does not have the same conversational style as OpenAI's chatbot, it stands out for offering fast and accurate results to a wide range of questions. In addition, the results page not only shows the sources from which it gets the information, but also shortcuts to other related queries.
If you don't know what to ask it, Perplexity AI will show you some of the most popular topics of the moment, which you can browse freely. But that's not all, since it also gives you the option of quickly sharing the answers on Twitter or other platforms.
But what is truly remarkable about this tool is that it has a section called Bird SQL. From there you can explore the Twitter social graph and make specific queries. For example, you can ask Perplexity AI to show you the tweets with the most "likes" of the day, and in a matter of seconds you will have them in front of your eyes. It should be noted, however, that this function is still in beta phase.
9. Merlin AI
If you're looking for a ChatGPT experience in your Google Chrome browser, then look no further than Merlin AI! This OpenAI GPT-powered assistant is a game changer for anyone who needs quick and accurate information on-the-go.
With Merlin AI, you can ask it anything you want from any tab you're on. All you have to do is copy a text and Merlin will appear, ready to answer any questions you have. And, if you don't want to use your mouse, you can use the keyboard shortcut Cmd/Ctrl+M to bring up Merlin.
Merlin AI uses the ChatGPT API, so you're getting the same high-quality answers and content that you would with ChatGPT.
And, just like ChatGPT, Merlin AI can produce not just text, but code as well.
The best part? It's currently free, with a limit of 10 prompts per day.
10. Replika
Replika is a unique take on the AI chatbot experience, offering a fun and interactive platform for users to chat with an AI-powered avatar of their own creation.
With the ability to customize your Replika chatbot with personality traits and interests, you can build an AI friend that is tailored to your own interests and preferences. The interface is gamified, rewarding users with experience and gems for using the platform on a daily basis.
Although Replika is not designed for writing content or answering factual questions, it offers a fun and engaging way to chat and connect with an AI avatar.
Whether you're looking for a virtual friend or just looking to explore the world of AI, Replika is worth checking out.
Just keep in mind that it's not suitable for content creation or factual question answering, as it's simply a platform for chatting.
Bottom Line
To wrap things up, there are several alternatives to ChatGPT available in the market with unique features and offerings.
Whether it is a writing assistant like Anyword or FactGPT, a chatbot like Replika, or a browser extension like Merlin AI, these alternatives provide high quality content and a personalized experience.
However, it ultimately depends on what you are looking for, whether it is an AI friend, a writing assistant, or a fact-based question answering tool.
Each of these alternatives offer something different and are worth considering based on your needs and budget.
Read Next
👉 Follow CS on Facebook to receive notications on new articles I publish.
ℹ️ This blog is reader-supported. When you buy through links on this site, I may earn an affiliate commission without any surcharge to you. This helps me continue offer free and qualiy content for the community.