Talkia Review: Pricing, Features, Samples, Pros & Cons. Is this the best text to speech software for internet marketers?
You're an internet marketer, and you know the importance of being able to communicate with your audience in multiple ways. And if you're looking for a text to speech software that will make your life easier, then Talkia may be just what you need.
Talkia is a text-to-speech software that allows you to convert text into speech, so you can easily communicate with your audience.
The best part about Talkia is that it's very easy to use, and it offers a ton of features that make it the perfect text to speech tool for internet marketers (more on Talkia's features down the line).
For example, Talkia comes with a built-in dictionary and thesaurus, so you can easily find the right word or phrase to use in your speech.
Additionally, Talkia offers a wide range of voices to choose from, so you can find the perfect voice for your audience.
And if you need any help using Talkia, the company offers 24/7 customer support (one of the best I have to say).
So if you're looking for a text to speech software that will make your life easier, Talkia is worth considering it.
In this Talkia Review we will take a look at what Talkia has to offer, how it works and also give you our thoughts on whether this is the best text to speech software for internet marketers.
Talkia Review – In A Glance
Use For: Turning any text to human sounding voices.
Summary: Talkia is one of the best text-to-speech software currently in the market. Although there are many notable competitors in the text to speech market at the moment, Talkia manages to distinguish itself for the quality of its product, its easiness of use, its reasonable pricing, and its extremely good support it offers to customers.
From $20/month (with a yearly subscription)
What is Talkia Text To Speech
Talkia is a text to speech software that can be used to convert any text to a lifelike sounding voiceover for videos, ads, audio books, and more.
With Talkia, you can create high quality audio files that sound like they were recorded by a professional voice actor.
Talkia uses advanced text to speech technology to synthesize natural sounding voices, and you can even adjust the pitch and speed of the voice to match your specific needs.
Best of all, Talkia is available in over 50 languages, so you can create voiceovers for virtually any audience. If you're looking for a easy way to add professional quality voiceovers to your video projects, Talkia is the perfect solution.
Who Developed Talkia?
It is developed by Bryzen company – the company behind successful software Voomly, Toonly and Doodly.
Talkia Technology
Talkia is based on WaveNet technology, which was developed by Google's DeepMind subsidiary. WaveNets are a type of neural network that are designed to generate sounds, and they have been used to create realistic-sounding speech synthesis.
In order to create Talkia, the developers took the WaveNet model and modified it so that it could generate text instead of speech. The result is a text-to-speech system that sounds very natural and lifelike.
One of the benefits of using WaveNet technology is that it can be fine-tuned to create a voice that is unique to each user. This allows Talkia to create a personalized experience for each user, which is something that other text-to-speech systems cannot do.
I mean check out some of Talkia's Samples below.
Talkia Text-To-Speech Features
Talkia is a text-to-speech software with many amazing features. You can create naturally sounding voiceovers from text, customize the delivery style of some of its voices, adjust your speaking rate, and even add background music to your voice overs.
Talkia also lets you customize pauses, choose a voice accent, stress specific words, and adjust the volume of both your VO and background music.
Plus, you can export any voiceover to Mp3! And if that's not enough, Talkia offers FREE software updates for life!
Below is a more detailed breakdown of Talkia's features.
Talkia Pros & Cons
When it comes to Talkia, there are definitely some pros and cons to consider. Here is a list of Talkia's pros and cons.
Pros
Other Benefits
Cons
How Much Does Talkia Cost?
Talkia comes with two pricing plans. Standard and Enterprise. The standard plan costs $39 per month and the Enterprise plan $69 per month.
If you opt to be charged yearly, you get a whopping 49% discount on both plans.
That means that the Standard plan's price drops to $20 per month and Enterprise's to $40 per month.
Yearly plans are most suited to individuals who are determined to use the software to offer freelancing services around it, radio commercial voice-over companies, digital agencies, etc.
I always recommend testing the software for a couple of months before opting in for the yearly charge.
Below is a table with both plans' benefits.
| | | |
| --- | --- | --- |
| | STANDARD | ENTERPRISE |
| Words/Voiceover | 1000 | 5000 |
| Voices | 102 | 404 |
| Male Voices | 43 | 166 |
| Female Voices | 59 | 238 |
| Youth voices | 4 | 23 |
| Background Music | 30 | 150 |
| Commercial Rights | ✔️ | ❌ |
| Pricing | $39/month | $69/month |
Source: Talkia
How to Use Talkia (Tutorial)
Talkia is very easy to use, and it only takes a few minutes to get started.
First, you need to sign up for a Talkia account. Once you've done that, you can start creating voiceovers for your videos.
Step 1 – To create a voiceover, simply create a new project and copy-paste the text that you want to convert into speech into Talkia's editor.
Step 2 – Choose the language, and the voice you want to use. Male, female, old or young, the pitch level, the speed level you want the AI to generate the voiceover, add background music, etc.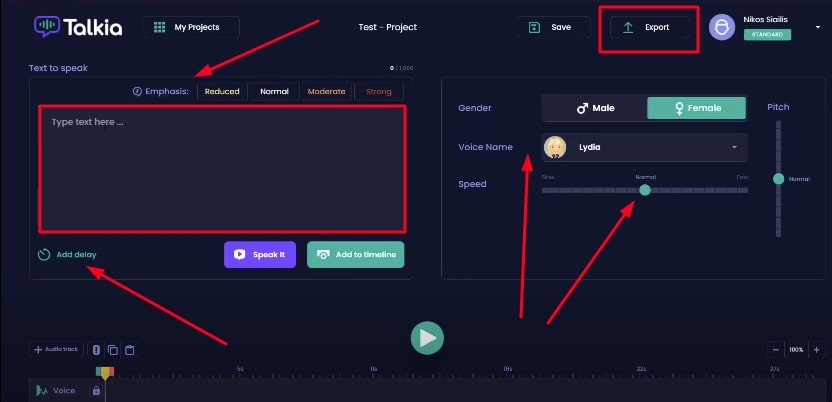 Step 3 – Once you've done that, Talkia will generate an audio file that you can download and use in your video projects.
Step 4 – Customize your voiceover further by adding background music, sound effects, or even your voice.
Step 5 – Export your voiceover and use it in your video project!
That's all there is to it! Talkia is a very simple, yet powerful tool that can help you create amazing videos. Give it a try today!
Here's a video tutorial I created with Talkia. (Pssst.. The voice is from Talkia).
Frequently Asked Questions
Will Talkia work on MAC?
Yes, Talkia works on both Mac operating systems and Windows.
Do I need to Download Talkia
No, Talkia is cloud based. It works in the cloud.
What languages does Talkia support?
Talkia supports Arabic, South African, Bulgarian, Hindi, Spanish, Chinese, Taiwanese, Czech, Denmark, German, Greek, Australian English, British English, American English, Finish, Philippines, Canadian English, French, Hungarian, Indonesian, Icelandic, Italian, Japanese, Korean, Latvian, Malaysian, Norwegian, Belgian, Polish, Netherlands, Brazilian, Portuguese, Romanian, Russian, Serbian, Swedish, Slovakia, Turkish, Thai, Ukrainian, Vietnamese, Hong Kong , Mexican. (source)
How much does Talkia cost per month?
Talkia's monthly plans cost $39 for the Standard plan and $69 for the Enterprise plan.
Who are Talkia's competitors?
Some of Talkia's competitors include, Speechelo, Voicely, synthesys.io and murf.ai.
Does Talkia support Arabic language?
Yes. Talkia supports Arabic.
Does Talkia work with Doodly?
Yes, Talkia is compatible with Doodly. It is compatible with all video software made by Bryze, such as Voomly and Toonly. It is also compatible with other video editing software such as Filmora and Camtasia
Have more questions about Talkia? Feel free to contact me here or leave your question in the comments section below.
Talkia Reviews
And because I like to research a software before blogging about it, here are some Talkia Reviews I've found scattered around the web.
Talkia Reviews on Facebook
Conclusion
🙏 I've spent 6 hours producing this review for you. If you found my Talkia Review helpful, feel free to share it with other internet marketers, managers, or business owners. You will help me tremendously. Also, if you like my writing style, feel free to check my other reviews.
👉 Follow CS on Facebook to receive notications on new articles I publish.
ℹ️ This blog is reader-supported. When you buy through links on this site, I may earn an affiliate commission without any surcharge to you. This helps me continue offer free and qualiy content for the community.