My InVideo Review After 3 Months Of Usage
I can't believe it's already been three months since I started using InVideo. Time flies when you're having fun, and let me tell you, InVideo has made video editing an absolute blast for me.
In this InVideo review, I'm going to share my experience with this powerful tool and give you all the details you need to decide if it's the right fit for your video editing needs.
From its user-friendly interface to its wide range of features, InVideo has truly impressed me. But like any tool, it has its pros and cons, which I'll be diving into as well.
Plus, I'll be exploring some alternative options in case InVideo doesn't quite tick all your boxes.
So whether you're a seasoned editor or just starting out in the world of video creation, join me as we dive deep into my three-month journey with InVideo. Trust me, you won't want to miss what this platform has to offer!
InVideo Review
InVideo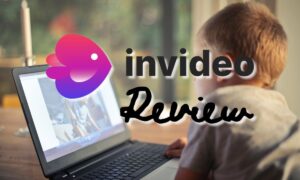 As we speak, InVideo stands tall as one of the finest video editing software options in the market. Though, like any tool, it might have a few minor drawbacks, its list of advantages far outweighs any cons. With a treasure trove of thousands of awe-inspiring templates at my fingertips, an extensive library of assets, and the ingenious AI script writer and voiceover features, this software is an absolute powerhouse for video editing.
Product Brand: InVideo
Pros
Millions of stock assets
Thousands of ready-made templates
Awesome Ai Features
Cons
Becomes a bit clanky when you upload videos to the
What is InVideo
InVideo is your go-to online video maker that allows you to unleash your creativity and collaborate with others, making the editing process a breeze.
It is an innovative browser-based video editing tool that offers a range of basic to intermediate features for all your video editing needs.
With multiple layers of video and attractive customizable templates, InVideo provides a user-friendly platform for creating professional-looking videos.
One of the key advantages of using InVideo is its collaboration feature. You can easily invite colleagues to work on the same project, allowing multiple people to contribute their ideas and skills. Collaborators can have admin or editor access, ensuring smooth coordination and efficient teamwork. This makes it ideal for projects that require input from different team members.
In addition to its free plan, InVideo also offers a subscription service that unlocks additional tools and resources for enhanced video editing.
There are some ups and downs when using InVideo, but, overall, after three months of using InVideo, I am impressed with its functionality and ease of use. It has significantly improved my video editing experience and allowed me to create stunning videos effortlessly.
InVideo Pros & Cons
InVideo is one of the best video editing tools out there for many reasons:
However, there are a couple of downsides to using InVideo.
KEY TAKEAWAY
Despite these minor limitations, InVideo is still a great tool for creating videos with complete control over their appearance and the ability to upload your own media.
InVideo Key Features
Here's a detailed description of my favorite InVideo features:
6000+ Video Templates
One of the features I love about InVideo is that is has thousands of templates for every occasion. Templates, for YouTube shorts, Instagram reels, square, 16:9 wide, templates for babies, news broadcasting, events.. You name it.
What's best is that these templates look literally awesome. Plus, they are updating their templates pretty often so you are always up to date with the latest trends.
Intro and Outro Maker
InVideo's Intro and Outro Maker is a fantastic tool for adding a professional touch to my YouTube and TikTok videos. With a wide range of templates to choose from, I can easily create eye-catching intros and outros that instantly grab my audience's attention and leave a lasting impression.
Slideshow Maker
Although this is a features I haven't used much, creating captivating slideshow videos and presentations has never been easier with InVideo's Slideshow Maker.
I love how I can quickly customize the templates by changing text and images to suit my specific needs.
Whether it's for a portfolio, product explainer, or a promotional video, InVideo's professionally-designed templates make my content stand out.
Video Ad Maker
With InVideo's Video Ad Maker, you can save time and effort while crafting compelling video ads. The vast selection of pre-made ad templates gives plenty of options to choose from, and customization is a breeze.
Whether you need an ad for social media or online marketing campaigns, InVideo's tool has got your back.
Mobile App
InVideo – unlike many other video editing software – has a fully working mobile app. InVideo's mobile app is a game-changer for me, as it allows me to edit videos on the go, right from my phone or tablet.
I mean, I can work on my projects anytime and anywhere, making it convenient to bring my creative ideas to life even when I'm not at my computer.
The mobile application is available only for paid plans.
3M+ Standard Media Library
Another feature that got me excited is the extensive media library of over 3 million stock photos, videos, and music tracks available for free. These resources can greatly enhance your videos – whether you create explainer videos or faceless videos.
The visuals are so many that there is no chance not to find what you are looking for.
Just keep in mind that the visuals while on the free version of InVideo will contain a watermark. You'll have to upgrade to use visuals without a watermark.
AI Script Generator
InVideo's AI Script Generator is a true time-saver. It automatically generates scripts based on my input, making the content creation process smoother and more efficient. The generated scripts serve as an excellent starting point for my video projects, and I can always customize them further to suit my unique style.
Remove Background from Images
Did you know that InVideo has an image background removeal feature?
With just a few clicks, I can effortlessly erase the background from any picture, leaving my subject front and center.
Whether I'm creating memes, product showcases, or personalized graphics, this tool ensures my images look clean and professional.
The image background removal feature in only available in InVideo's paid plans.
Automated Text to Speech
The Automated Text to Speech feature is a handy tool for adding voiceovers to my videos without the need for external recordings. InVideo's advanced text-to-speech technology sounds natural and lifelike, ensuring my videos have clear and engaging narration.
Drag and Drop Editor
The advanced online editor is where you can truly unleash their creativity. It allows for complete customization, enabling users to modify colors, rearrange elements, and apply various transitions. This level of control empowers users to craft unique and visually appealing videos.
InVideo's intuitive Drag and Drop Editor is perfect for users like me who prefer a user-friendly interface. I can effortlessly arrange and customize elements on the timeline, making the video editing process a breeze, even if I don't have extensive editing experience.
Export in Full High Definition
I appreciate InVideo's commitment to quality with the option to export my videos in full high definition. This ensures that my final product looks polished and professional, whether I'm sharing it on social media, my website, or other platforms.
Keep in mind that this feature is only available in the paid versions.
Make videos in any language
InVideo's ability to make videos in any language truly speaks to my heart. Language should never be a barrier to creativity, and with InVideo, it isn't!
Whether you address a diverse audience or simply expressing yourself in your native tongue, you can confidently create videos that resonate with people from all corners of the world.
Reseller Rights
InVideo's reseller rights feature empowers me to explore new opportunities and earn like a true entrepreneur. It's like having a business-in-a-box at my disposal.
With reseller rights, I can white-label this incredible video creation platform and offer it as my own service to clients, customers, or my community.
With reseller rights, it means that you can freely sell these videos in freelancing platforms like Fiverr.
KEY TAKEAWAY
InVideo offers a comprehensive set of features that cater to various video creation needs. Its user-friendly tools, vast media library, and advanced AI capabilities make it a valuable asset for content creators, marketers, and anyone looking to make visually stunning videos without the complexity of traditional video editing software.
InVideo: Pricing & plans
The pricing plans offered by InVideo are designed to cater to different needs and budgets, allowing users to unlock the full potential of their video creation experience.
InVideo offers a free plan with certain limitations, which is a great option for those who want to try out the platform before committing.
However, for those looking for more advanced features and higher quality exports, the Business plan priced at $180 a year is worth considering. With this plan, users can enjoy benefits such as no watermark on their videos and 60 HD-quality video exports per month.
For those who require even more flexibility and unlimited access to all features, the Unlimited plan priced at $360 a year is available. This plan removes most limitations and allows users to create videos without any restrictions. Both plans also include cloud storage for saving projects and easy accessibility from anywhere.
Additionally you have the options to purchase a Business Lifetime plan for $399 or the Unlimited Lifetime plan for $1099.
Here's an easy to navigation table with InVideo's pricing:
| | BUSINESS PLAN | UNLIMITED PLAN |
| --- | --- | --- |
| Monthly | $30 / mo | $60 / mo |
| Yearly (Save 50%) | $180 / year ($15/m) | $360 / year ($30/m) |
| Lifetime | $399 one time fee | $1099 one time fee |
KEY TAKEAWAY
Overall, while InVideo's pricing plans may not be the cheapest in the market, they provide excellent value for money with their range of features and resources.

>> Start with InVideo for free.
How to Use InVideo
Using InVideo is as simple as a child's play, requiring no brainstorming or technical expertise. To get started, visit the official website and follow these steps:
Firstly, select the platform and its placement for your video.
Next, choose a theme from the wide range of options available.
Then, utilize the Media Library to add your desired videos and images to enhance your creation.
You can also browse through the Music library to find the perfect soundtrack for your video.
>> Click here to start using InVideo for FREE
In addition, you have access to a Text/Font library where you can add text directly onto your videos for better storytelling. Furthermore, there is a Sticker library that allows you to apply fun stickers on your video to add personality and creativity.
To make your videos more dynamic, use the Animated effect library to incorporate captivating animation effects. Once you are satisfied with your creation, simply export it.
With InVideo's user-friendly interface and extensive libraries, anyone can create professional-looking videos without any hassle. So why wait? Unleash your creativity today with InVideo!
InVideo's Interface
The interface is designed to be user-friendly and familiar, similar to other online video editors. It provides a seamless editing experience for both beginners and professionals.
PRO TIP: To maximize performance, Google Chrome is recommended as the preferred browser for using InVideo. This ensures smooth playback and uninterrupted editing sessions.
The canvas serves as the main workspace where you can manipulate items such as text, images, and transitions. It offers a spacious area to work on your video projects without feeling cramped.
InVideo's interface has been thoughtfully organized to optimize workflow efficiency. The sidebar houses all the necessary assets at your fingertips. This allows for easy access to clips, stock media, and templates that can be dragged and dropped onto the canvas effortlessly.
To give you an idea of what InVideo's interface looks like, here is a quick breakdown:
| Section | Description |
| --- | --- |
| Workspace | The main area where you edit your videos |
| Sidebar | Contains assets such as clips, stock media, and templates |
| Toolbar | Provides various tools for editing tasks |
| Preview Pane | Allows you to preview your video before exporting |
With this well-structured layout in place, InVideo empowers users with an intuitive editing environment that enhances creativity while ensuring ease of use.
InVideo: Alternatives
Looking for a dynamic and user-friendly video editing platform? Check out InVideo's alternatives that offer seamless editing experiences and a wide range of creative tools to bring your videos to life. Here are three options worth considering:
Pictory: This AI-powered tool automatically creates short branded videos from long-form content without requiring any technical skills or software download. With its visual, background music, and voiceover capabilities, Pictory turns text into engaging videos in just one click.
WeVideo: Known for its versatility, WeVideo provides video creation, editing, screen recording, and even a green screen feature. It offers various templates, allowing you to add interactivity through audience response systems and peer review. Self-paced learning options make it ideal for those who want to grow their video editing skills at their own pace.
Promo.com: If you're looking for an online video editor that goes beyond basic editing features, Promo.com is the way to go. It offers an extensive range of tools such as slideshow maker, YouTube intro maker, lyric video maker, and meme maker. Additionally, it provides image resizing and free photo editing features.
With these alternatives to InVideo, you'll have the freedom to create professional-looking videos tailored to your specific needs while enjoying a seamless editing experience with powerful creative tools at your fingertips!
Frequently Asked Questions
Bottom Line
After using InVideo for three months, I can confidently say that it is a game-changer in the world of video editing.
With its user-friendly interface and wide range of features, InVideo simplifies the process of creating professional-looking videos.
Not only does it save time, but it also offers great value for money with its affordable pricing plans.
– Advertisement –
Pictory Ai – The #1 Text-to-Video Creation Tool
Pictory is the most value for money Ai video tool currently in the market. Just copy-paste any text into the editor, hit the generate button and BOOM. You video is ready. Add voiceover and make any edits based on your. Click the button to start your free trial.
Save 20% on your subscription. Use discount code pavlos23
Related
👉 Follow CS on Facebook to receive notications on new articles I publish.
ℹ️ This blog is reader-supported. When you buy through links on this site, I may earn an affiliate commission without any surcharge to you. This helps me continue offer free and qualiy content for the community.