Pictory Vs Descript: Which One Is Best For You?
Pictory is a user-friendly video editing tool best suited for faceless YouTube channels or creating short videos for online platforms.
Descript is a robust solution focused on podcast editing and caters to those who want to create audio or video podcasts or explainer videos where they show their face.
Pictory offers simplicity and a user-friendly interface, while Descript has a steeper learning curve due to its extensive feature set.
Choose Pictory for easy-to-use video creation and Descript for a robust solution designed for podcasting and showing your face in content.
Picture this: a battle between two powerful tools, Pictory and Descript. Both are vying for the title of the ultimate storytelling companion, but which one will come out on top?
As an avid content creator, I understand the importance of finding the perfect tool to bring my ideas to life. That's why I've taken it upon myself to delve deep into the features and capabilities of both Pictory Vs Descript, so you don't have to.
In this article, we'll explore what sets these two platforms apart, their unique offerings, pricing options, and ultimately determine which one is worth your time and investment.
So whether you're a podcaster looking for seamless audio editing, a filmmaker in search of intuitive video production software, or someone who just wants to start a faceless YouTube channel, join me as we uncover the pros and cons of Pictory Vs Descript. Get ready to make an informed decision that will elevate your storytelling game.
Pictory Vs Descript: Table Of Contents
Pictory Vs Descript: Features Comparison Table
Before you dive into the more detailed analysis of each software's features, I thought you might want to have a quick look at this features comparison table first.
| FEATURES | PICTORY | DESCRIPT |
| --- | --- | --- |
| Audio Transcription | ✅ | ✅ |
| Audio and Text Editing | ✅ | ✅ |
| Screen Recording | ❌ | ✅ |
| Short Video Creation | ✅ | ✅ |
| Voice Cloning | ❌ | ✅ |
| Regenerate audio | ❌ | ✅ |
| Remove background noise | ❌ | ✅ |
| Filler Word Removal | ✅ | ✅ |
| AI Eye Contact Tool | ❌ | ✅ |
| Ai Subtitles and Captions | ✅ | ✅ |
| Link to Video | ✅ | ❌ |
| Free Video / Audio / Images | ✅ | ❌ |
| Ready Made Templates | ✅ | ✅ |
| Pricing (Standard plan) | $23 / mo | $15 / mo |
| | VISIT PICTORY | VISIT DESCRIPT |
Pictory Vs Descript: Summary
Pictory is a straightforward video editing tool that is perfect for faceless YouTube channels, transforming articles into videos, or creating short videos for online platforms.
With its simplicity and user-friendly interface, it allows you to quickly edit and enhance your videos without overwhelming you with too many features.
On the other hand, Descript is more focused on podcast editing and caters to those who want to create audio or video podcasts or explainer videos where they show their face.
While it does offer video editing tools, it has a steeper learning curve due to its extensive feature set.
FINAL VERDICT:
Choose Pictory if you value speed and want an easy-to-use tool for simple video creation. Choose Descript if you prefer a robust solution specifically designed for podcasting and showing your face in your content.
What is Descript?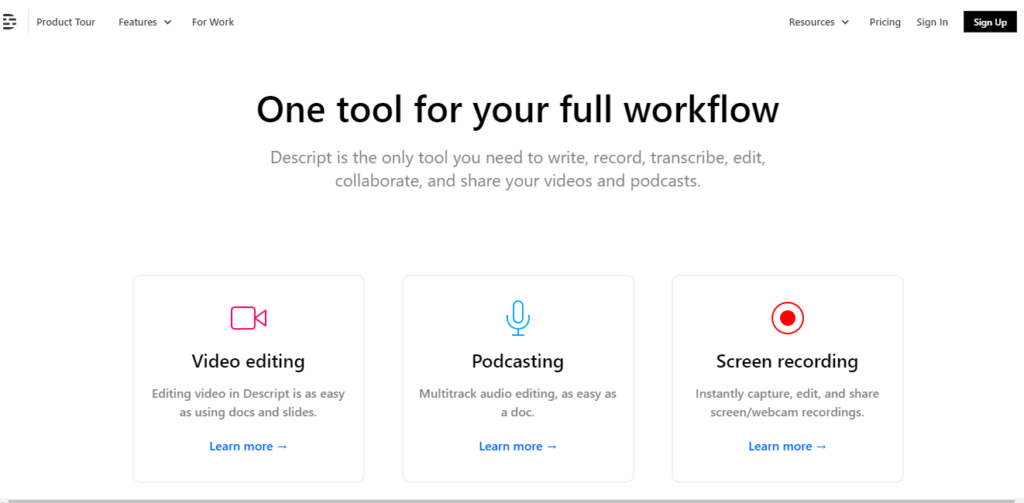 Descript is the all-in-one tool that revolutionizes the way I create, edit, and share my videos and podcasts.
With its comprehensive set of features, Descript offers a seamless experience from start to finish. Its intuitive interface allows me to easily write scripts, record audio, transcribe text, and edit my content with precision.
The real magic happens when Descript's powerful AI technology kicks in. It can generate realistic voiceovers based on my script or even remove filler words and stutters with just a few clicks.
Collaboration is made easy as well, with the ability to invite team members to review and provide feedback directly within the platform.
And when it's time to share my work, Descript provides various options for exporting high-quality videos or publishing podcasts to popular platforms like Apple Podcasts and Spotify.
Descript Features
Descript offers several key features for audio and video editing. Here's a detailed analysis of each Descript's features:
Audio Transcription
Descript offers industry-leading accuracy and speed in audio transcription. With automatic transcription service, you'll have near-instant turnaround time, allowing quick access to your transcriptions.
Not only does Descript deliver accurate transcriptions, but it also provides an AI-powered Speaker Detective feature. This feature can add speaker labels in seconds, saving you valuable time when organizing and analyzing your audio files.
Best part is that you can transcribe audio in 22 languages, including Spanish, German, French, Italian, Portuguese, and many more. This wide language support is huge for creators who wish to develop content in their native languages.
Podcast Audio and Text Editing
With Descript, you can seamlessly edit your podcasts by simply editing the text. Gone are the days of spending hours on tedious audio and video editing tasks. Descript streamlines this process, allowing podcasters to focus on what they do best: creating compelling content.
By leveraging its innovative technology, you not only save time but also ensure a consistent flow between spoken words and written text.
Screen Recording and Editing
Descript's screen recording tool allows you to choose the size of your webcam and capture any part of the screen in high-resolution. Descript also provides an instant transcript of your recording for easy editing.
Descript offers multitrack recording capabilities, allowing you to capture separate audio and video tracks from different sources like Zoom or remote calls.
Social Media Video Creation Tools
With Descript, you can effortlessly transform your podcast or video into captivating snippets that are perfect for sharing on social platforms.
The app's user-friendly interface allows you to edit your content just like a document, making the process smooth and efficient.
Whether you want to add captions, trim footage, or enhance the visuals, Descript provides all the necessary tools at your fingertips.
Its integrated video maker feature enables you to generate engaging clips without even leaving the app.
Audio Editing Tools
When it comes to audio editing tools, three options that stand out are voice cloning, Regenerate audio and background noise removal.
Voice Cloning
With Descript's Overdub, you can effortlessly clone your own voice, like a chameleon blending seamlessly into its surroundings. Utilizing the cutting-edge technology of Lyrebird AI, Descript achieves an ultra-realistic state of the art in voice synthesis.
Not only is Overdub free on all Descript accounts, but Pro accounts also offer unlimited vocabulary options. Privacy is prioritized, allowing only for self-voice cloning.
Multiple voices can be created to suit any performance style or setting, and trusted collaborators can even generate audio using your Overdub Voice.
Click here for an Overdub – Editorial Correction Demo
Regenerate audio
The Regenerate feature allows you to correct mismatched tone, enhance lackluster dialogue, or remove annoying background noise with just one click.
This innovative technology instantly matches the voice recording environment, making your edits sound seamless and natural.
Remove background noise
This feature, removes unwanted noise, allowing you to enjoy studio-quality sound without the need for expensive equipment or a professional studio.
With just one click, you can enhance speech and eliminate any echoes or disturbances, making your recordings sound like they were professionally produced.
Filler Word Removal
With Descript you can easily remove 'ums,' 'uhs,' 'you knows,' and other unnecessary fillers from your recordings. These filler words often disrupt the flow of videos and can make your content less engaging or persuasive.
By using this feature, you can ensure that your message is clear, concise, and impactful.
Not only does removing filler words improve the overall quality of your recordings, but it also helps to maintain the attention of your audience.
When there are no distractions caused by unnecessary verbal pauses, listeners are more likely to stay engaged with what you have to say.
AI Eye Contact Tool
Another mind-breaking feature Descript offers is that it utilizes artificial intelligence to subtly adjust your gaze in videos, making it appear as if you're looking directly into the camera, even when you're reading something off-camera.
This feature is incredibly valuable because maintaining eye contact with your audience helps establish trust and connection. With Eye Contact, you no longer have to worry about appearing distracted or disconnected during our presentations.
Ai Subtitles and Captions
Did you know that videos with captions receive 40% more views? With Descript's AI-powered transcription tool, you can effortlessly generate accurate subtitles for your videos.
Whether you choose to use their automatic transcription (which is pretty accurate I might say) or paste in an existing transcript, the process is quick and efficient. Plus, Descript allows you to customize the styling of your captions. You can adjust the font, color, positioning, background, and more.
Create shareable links
Another worth-mentioning feature is that you can easily share your audio or video content with others through Descript's convenient and instantly generated shareable links. By simply clicking a button, you can effortlessly publish your recordings and create a URL that allows for easy sharing and feedback.
These shareable links streamline the process by eliminating the need for cumbersome file transfers or downloads. Whether you're collaborating on a project or seeking input from others, the instant nature of these links ensures that your recipients can access your content without delay, saving time and simplifying communication.
Pricing
Whether you're an individual creator or part of a larger team, Descript has plans to suit your needs without breaking the bank.
The free plan provides basic features with limitations
The Creator plan offers even more functionality at a reasonable cost of $15 per user per month.
The Pro plan is available for $30 per user per month.
And if you choose to pay annually, you can enjoy additional discounts on these already affordable rates.
What is Pictory?
Pictory is a game-changing solution for effortlessly transforming long form content into captivating branded videos. With Pictory, you can easily create short and highly-sharable videos that reflect your brand's identity and engage your audience.
This powerful tool eliminates the need for technical skills or software downloads, making it quick, easy, and cost-effective.
Whether you have a blog post, an article, or any other type of long form content, Pictory automatically converts it into visually appealing videos that are ready to be shared on social media platforms.
Pictory Features
Pictory offers a range of powerful features that make video editing and creation a breeze. Here's a detailed analysis of it's best features:
Edit Videos Using Text
With Pictory, you can easily transform your webinars, podcasts, and Zoom recordings into polished videos.
The process is simple and user-friendly, even for those who are not familiar with complex video editing software.
Long videos that used to take hours to edit can now be done in just minutes.
Pictory's AI-powered technology goes beyond basic video editing capabilities. It intelligently removes filler words and silences, resulting in professional-looking content.
Additionally, Pictory automatically adds captions to your videos, which helps grow your audience by making your content more accessible.
Custom branding is another great feature offered by Pictory. You can easily add your own personal touch to your videos, helping you build a strong brand identity.
Creates short videos with Ai
With Pictory's advanced AI, you can effortlessly transform your long videos into captivating highlight reels.
These reels are perfect for sharing on social media and are guaranteed to boost your online presence.
The AI analyzes your footage and intelligently selects the most engaging moments, ensuring maximum viewer engagement. Pictory also provides sneak peeks and trailer videos, enticing potential customers and keeping them hooked from the start.
Additionally, Pictory allows you to publish directly to all major social sites, making it easier than ever to reach your target audience.
Script To Video
With Pictory, you can save valuable time by creating videos in a matter of minutes. Its simple-to-use interface takes care of all the hard work for you, thanks to its advanced AI capabilities.
Pictory boasts over 3 million video clips that it automatically selects and incorporates into your video, ensuring that each clip is relevant and visually appealing.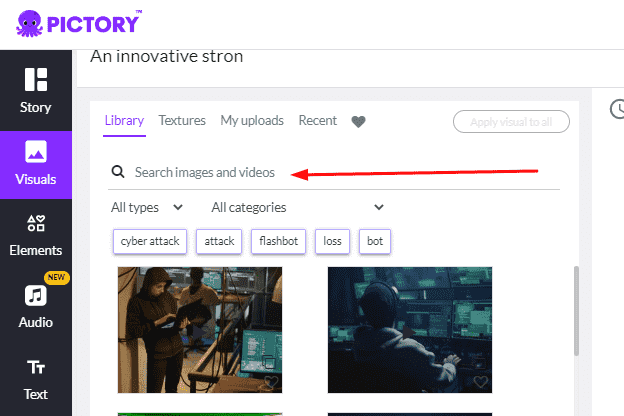 Additionally, Pictory offers crystal clear narration options – whether you prefer using your own voice or an AI-generated voice.
Forget about compatibility issues as well because Pictory runs seamlessly on any computer through cloud-based technology.
Ai Subtitles and Captions
Pictory allows you to enhance your video content by automatically generating accurate captions. This not only boosts accessibility but also expands your viewership, as captions attract more people.
By making your content inclusive and easily understandable for all, you can maximize its reach and impact.
PRO TIP: Captions contribute to better SEO rankings on Google and YouTube, further increasing visibility.
Video Transcription
With Pictory, you can easily convert your videos into accurate and reliable written transcripts within minutes.
Whether you are hosting webinars, conducting Zoom calls, or creating e-Learning materials, Pictory is the perfect tool to extract valuable information from your videos.
By providing a text record of your webinars or Zoom calls, you eliminate the need for taking extensive notes and allow participants to focus on the discussion.
Additionally, Pictory allows you to add value to your services by offering call transcripts to clients who may have missed important details during the session.
Pricing
Pictory offers three plans: Standard, Premium, and Teams.
The Standard plan is priced at $23 per month and is perfect for creators who are just beginning their video journey.
The Premium plan at $47 per month is ideal for those looking for more advanced features,
The Teams plan priced at $119 per month, suits you work as part of a team that collaborates on videos.
Additionally, there are coupon codes available online that can save you 20% or even 50% off these prices. To take advantage of my personal Pictory coupon code 'pavlos3750,' you can get a whopping 50% discount on any plan you choose.
Bottom Line
If you value speed and want to quickly create faceless YouTube channels or turn your articles into videos, Pictory is the way to go.
With its user-friendly interface and efficient features, it allows you to produce short videos in no time.
However, if you are a podcaster or someone who wants to showcase their face in explainer videos or podcasts, Descript is the better option.
Descript offers more advanced features tailored specifically for podcasters and creators who want to show their face on screen. From editing audio files seamlessly to creating engaging video content, Descript has got you covered.
So choose wisely based on your specific needs and get started on creating exceptional content today!
BUY PICTORY IF YOU ARE:
An affiliate marketer promoting products via video.
Someone who values speed more than anything else.
Going to start a faceless YouTube channel creators
Going to create faceless explanatory videos.
BUY DESCRIPT IF YOU ARE:
Going to be creating any kind of videos showing your face.
Going to start a podcast.
Willing to lean all the features Descript has to offer.
– Advertisement –
Pictory Ai – The #1 Text-to-Video Creation Tool
Pictory is the most value for money Ai video tool currently in the market. Just copy-paste any text into the editor, hit the generate button and BOOM. You video is ready. Add voiceover and make any edits based on your. Click the button to start your free trial.
Save 20% on your subscription. Use discount code pavlos23
Related
👉 Follow CS on Facebook to receive notications on new articles I publish.
ℹ️ This blog is reader-supported. When you buy through links on this site, I may earn an affiliate commission without any surcharge to you. This helps me continue offer free and qualiy content for the community.