Semrush Review 2022: Pros & Cons, Tools, Pricing Plans
Welcome to my Semrush Review 2022. This is the freshest review on Semrush you'll find other. If you feel that this article helped you with your decision on whether to buy or not Semrush, feel free to give it a share on the world wide web. It will help this blog grown and the article gets found easier.
Running an online or offline business is difficult, and it's not a shame to admit it. No matter what business you have, it takes a lot of effort to work and effort to make it successful.
However, without enough traffic from the internet these days it is too difficult to survive. Increasing a website's traffic is not an easy task at all and is probably one of the most difficult parts for an entrepreneur.
Digital marketing these days is essential for your business to survive and increase your sales. It may seem somewhat difficult, but when you read this Semrush Review you will understand that it is not such a difficult task.
What is SEMrush – Exactly?
SEMrush is a world-class company consisting of at least 800+ marketing experts with a physical presence in the Americas, Russia, the Czech Republic, and Cyprus.
The company was created to provide software as a service and is used for digital marketing in social networks and search engines.
Its software – Semrush – is considered one of the best SEO tools in the market. It is constantly winning awards and achievements. The tool – which started as an SEO tool – is now a full digital marketing suite that contains some of the most desired features for successful SEO and digital marketing.
SemRush Benefits – In a Glance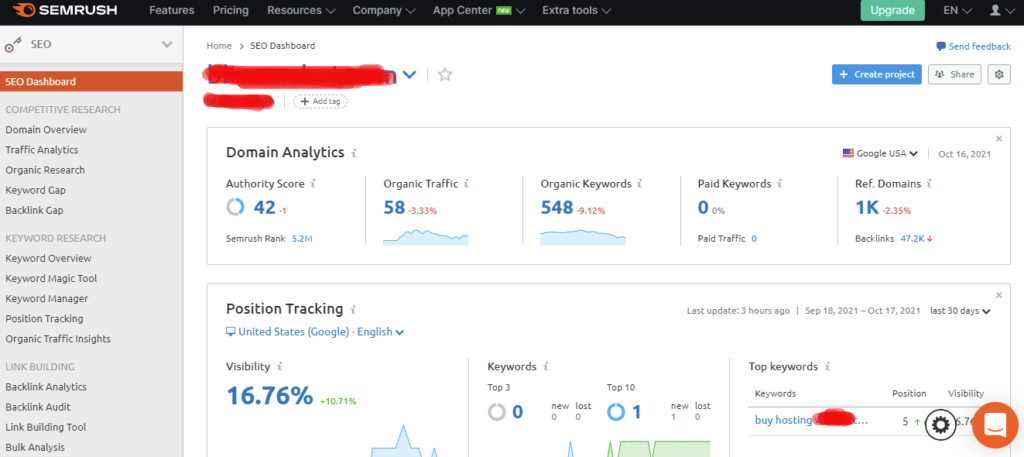 🤩 Click Here To Test SEMRUSH for 7 Days Without Paying a Penny
Semrush Best Features
Semrush Pricing
Semrush has 3 paid subscription plans.
Pro
$119.95/mo
The basic plan that Semrush offers is the pro plan, which is suitable for Freelancers and small websites. You can have new to watch up to 5 projects and it's not suitable for large groups.
Guru
$229.95/mo
If you have more than 5 websites, then it would be better to register for the Guru plan, which allows you to manage up to 50 websites. It also gives you more functionality so that you have a more complete picture of what's going on with your competitors. This plan is best suited for companies doing digital marketing.
Business
$449.95/mo
The Business plan is suitable for large groups engaged in digital marketing, large online stores with thousands of products, and a large presence in search engines.
🙌 TIP: Pay Annually and Save up to 17% of each plan's price.
Is Semrush Worth it? Is Semrush Worth The Money?
I know what you're thinking. "Gee… It looks kind of expensive. I wonder if a Semrush subscription is really worth the money". Look, Semrush is worth the money if:
🔑 KEY TAKEAWAY
Some say it does some say it doesn't. For me – as of writing this Semrush review – it might not be suitable for everyone – due to its cost – but If I was running an SEO agency or a digital marketing agency, I would surely have it in my tools arsenal. For bloggers or SEO marketers who run their own businesses, SEO tools such as KWfinder or LongTail PRO will do the job just fine.
Who is SEMrush Best Suitable For?
There are various groups of people, companies, and organizations that can benefit from Semrush's SEO and Marketing suite. Some of them are:
SEO Marketers
Marketers who deal with SEO will find themselves happy to find a fairly wide range of tools that will help them a lot in optimizing their website or the websites of their customers.
PPC marketers
SEMrush also offers tools specifically designed for people involved in PPC. The tools allow them to do research and see the cost of each word they target, but also to "steal" the words used by competing websites.
Content creators
Content creators, i.e. bloggers, journalists, writers, and content marketers, can find very useful tools that will help them create content for their website or their customers' websites.
Social Media Marketers
The company did not forget the social media marketers, who will find very useful tools for managing business profiles in social networks.
Digital Agencies
Semrush is an excellent tool for Digital Marketing agencies. A digital marketing agency usually offers all the above-mentioned services to its clients. It is hard for a digital marketing agency to use 5 – 10 different marketing tools to deliver everything a single platform can do – this is why Semrush is the number one choice from Digital marketing agencies from around the world.
🔑 KEY TAKEAWAY
Although Semrush cover's a wide spectrum of internet marketing tools, my opinion is that Semrush is mostly suited for Affiliate marketers and Bloggers who use content and SEO as their main traffic source, freelance SEO's who manage multiple clients and Digital Marketing Agencies – due to the vast tools Semrush has to offer.
Best Semrush Tools
As I've mentioned before, Semrush has 60+ tools in its SEO suite – all under a single subscription. SEMrush's SAAS software can be called an all-in-one solution, which provides you with all the tools you need to promote your business online.
Let's look at the range of tools that SEMrush offers or visit this page from Semrush's websites that list all the tools the suite has to offer.
Best Semrush SEO Tools
Site Audit
The tool for Site Audit gives you a clear picture of the status of your website. The software will clearly show you all the technical problems if they exist and how to correct them.
On-Page SEO
This tool analyzes the pages of your website and suggests various optimizations so that your pages and their content are more search engine friendly.
Backlinks
Backlinks are one of the most important elements in SEO. This SEMrush tool will find you more than you need in order to improve your website and climb the ranking of search engine results.
Rank tracker
The Position Tracking Tool allows you to track the ranking of your website in the results of search engines. It's a very useful tool for content marketers, so they can measure the performance of the content they create.
Monitoring competitors
This is a very useful tool offered by Semrush, which allows you to monitor the websites of the competition.
You can see with which keywords their websites come out first in the search engines, what kind of backlinks they have, what kind of paid advertisements they make, and much more.
All you have to do is put your website or certain keywords relevant to your business and the software will show you all the competing websites.
Keyword Research
Have you run out of ideas about the words you should target? Don't worry at all. All you have to do to find thousands of innovative words relevant to your business is to put the main word about your business in the search box of the software and it will show you thousands of variations that you can use in content creation or even add new products.
🙌 TIP: You can check our Long Tail PRO review as well. Another great tool for uncovering long-tail keywords)
Best Semrush Advertising Tools
Display advertising
Display Advertising is a huge opportunity for website owners. The Google Display Network is one of the largest advertising networks that you can use to promote your website.
SEMrush's display advertising tool allows you to see what kind of ads your competitors are using, but also to find the best websites to advertise on them.
Ad Builder
This tool allows you to automatically create ads based on your competitors' ads so that you can advertise your business on social networks and in Google Ads.
Best Semrush Miscellaneous Tools
Brand Monitoring
There is also the tool that allows you to track reports about your business name online and on social networks such as Instagram and Twitter
Traffic analysis
SEMrush's Traffic Analytics tool is a powerful tool with which you can see where competing websites get traffic from and where yours comes from.
Reports
The My Reports tab is another very useful function of the software that allows you to create reports on the performance of your website or your client's websites.
Semrush Frequently Asked Questions
To help you with your decision, I am answering some of the most popular Semrush questions I have found on the internet. Hopefully, these answers will help you and make this Semrush review more competitive.
Semrush Reviews from Around The Internet
Semrush's reviews from around the web are positioning it as an excellent SEO tool. After all, this is why it has over 14 million users across the world. Below are some images from popular review websites Trustpilot, G2, and Capterra that prove users' satisfaction.

---
---
---
There are some reviews thought that are not that complimentary for Semrush. For the sake of transparency, I am listing some of them below in a carousel format. Tap on them to view better.
🔑 KEY TAKEAWAY
Although there are a number of users that express their disappointment on these popular reviewing platforms, I can't ignore the 14 million users Semrush has. Simply, if a product is not that good, it can't amass such a huge clientele. Also, I can't ignore either the 230 users (out of 301) that rated Semrush as excellent on Trustpilot, the 964 users (out of 1238) that rated it as excellent on G2, or the 1400 users (out of 1419) that rated it as excellent on Capterra.
Semrush Review: Final Words
🙏 I hope this Semrush Review and evaluation of SEMrush's multi-tasking SEO & marketing tool have given you an idea of how useful Semrush software can be for you and your business. You can try it completely free of charge for a week by clicking on this link.
👉 Follow CS on Facebook to receive notications on new articles I publish.
ℹ️ This blog is reader-supported. When you buy through links on this site, I may earn an affiliate commission without any surcharge to you. This helps me continue offer free and qualiy content for the community.