The Top 5 Best eBook Creator Software
TL;DR: In this article, we are going to explore the Top 5 Best eBook Creator Software that will help you built great-looking eBooks and lead magnet with a few clicks. If you are in a hurry or not the reading type of guy, let me tell you upfront that the best ebook creator software is Designrr.
Designrr has all the features all the other eBook creation software presented in this list have + much much more at a reasonable cost. Some of Designrr's most important features are.
Compatible with Windows and Mac.
Create eBooks from YouTube Videos
Create eBooks from Facebook posts
Import content from your blog
Import content from any article
Export as PDF, Kindle, iBooks
Table Of Contents Generator
Create Flipbooks
200+ Templates
922 Google fonts
Unlimited eBooks
Copyright Free Images
Technology is continually changing the way we do things, book publishing inclusive. There's a shift away from the traditional paper books to a more digital format referred to as eBooks. eBooks can be relatively seamless to create. All you need to build eBooks is the best eBook creator software.
If you're a first-time author attempting to develop an eBook, it might seem like a daunting task to find the appropriate tool which can execute the job efficiently. This is tedious. After a series of months and effort put into creating and writing content, you finally proceed to the final stage of publishing your work.
You're now more confused over the best eBook creator software to use. Search engines might toss out a couple of eBook creators for you to select from. However, that doesn't eliminate your challenge, and you can't keep checking out every eBook maker. We've attempted to lessen your burden by compiling a list of a few simple but efficient eBook creators with varying unique features to help you get the best off your content.
Best eBook Creator Software for 2022
Allows Content Import from Multiple Sources.

Low Cost - Monthly Recurring

Allows Content Import from Multiple Sources.

Expensive - One Time Payment only

Allows Content Import from your blog only

Limited number of eBook Templated

Easy Drag and drop editor

Beautiful ebook templates


Only importing content manually.
Designrr – Best Overall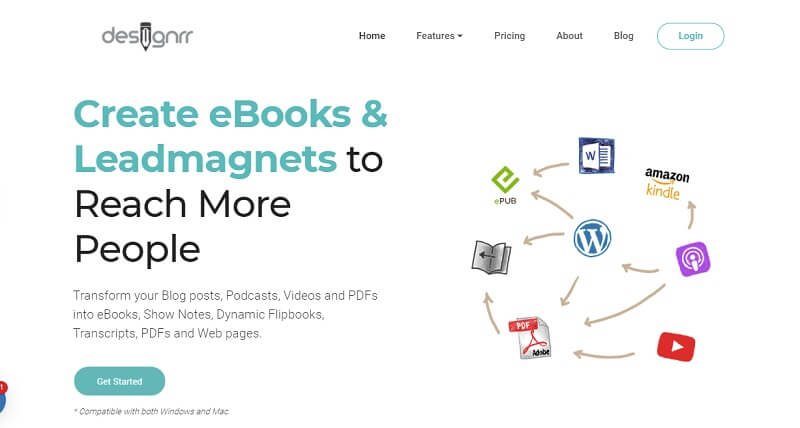 Designrr is the best eBook creator software for transforming your blog posts, videos, podcasts, and PDFs into eBooks, transcripts, dynamic flipbooks, show notes and web pages. Build eBooks and lead magnets to gain a broader audience. This eBook software is excellent for content, brand and webinar marketers, coaches, marketing agencies, podcasters, YouTube and video creators, course creators, etc.
How Does It Work?
Choose your source – you can import and build eBooks from written content from YouTube, video, and audio files (these will be transcribed automatically within minutes), websites and blogs, word and contents from Facebook pages.
Review your draft – use the editor designed environment to revise your draft content than save for later or export.
Choose a template – choose images from our copyright-free collections or upload yours. Adjust font styles, covers, headers & footers and finally include a call-to-action. You can also create and import a beautiful design from Word.
Tweak and tune – put finishing touches by adding extra images and customizing elements in your document. Create cover images, add page numbers, etc.
Publish your eBook – publish to kindle, Flipbook, ePub, websites, etc. The document is saved in your account for easy access and download at any time.
Features
Flexibility – looking for more freedom for your eBook appearance? Get more creative with the "Enable Free Element Dragging" option.
Multiple Editing Tools – Gain access to multiple editing tools from the inspector tab.
Multiple eBook Templates – Choose from the multiple theme options, apply and preview to get an overview of how your document looks.
Technical Support – get a quick response to any query. The support team is also available to address formatting issues and offering recommendations for improving work quality.
---
Sqribble – Newest Addition
Sqribble is an eBook maker that offers its users up to 50 editable templates to choose from. The designs and layouts are very slick. You can preview your template choice in the "view mode" to see if the current design works for you. Take advantage of one of the best eBook creator software to design professional publications.
How Does It Work?
Choose your Source
This eBooks software offers a plethora of options to source content from. You can get content using any URL from the internet. Once you insert the link, Sqribble will automatically grab the content from its page, stripping it of all HTML codes and inserting it in your book.
You can also create content from scratch as you'd do in a word document – copy and paste manually from anywhere or upload a word file.
Sqribble has a unique feature known as "Start from Article Collection" where you pull content from its vast library of private label articles. The best news is that they can be used freely without linking to source or crediting an author.
Make your book come alive with cool themes.
This eBook maker allows you to instantly alter the colour theme and styles of your book with a single click. This gives your document a new skin and uniqueness.
Publish
Publish your eBook to anywhere: kindle, Flipbook, ePub, websites, etc. you can also save and download the book to your machine as a PDF.
Benefits of Sqrrible
User-friendly eBook creator
Seamless and glitch-free
Unlimited use – you only make a one-time payment
---
Beacon – Best For The Money
Are you struggling to gain leads or your site visitors often ignore your opt-in forms? Every visitors has the potential to become a customer; however, the internet is a vast market place, so people are bound to be easily distracted.
Get your visitors to submit their email addresses when they visit your website for the first time via lead magnets to enable you to stay in touch with them.
Beacon is among the best eBook creator software around. It is the complete web-based eBooks software that allows its users to create and design professional lead magnets, publish them on their websites and generate more traffic from these leads.
Features of Beacon
Drag and Drop
The drag and drop editor is designed to be user-friendly. Add and remove elements by just touching a button – this ensures you get the design that best suits your needs.
Assorted Templates
Get instant access to top-quality, professional templates that are customizable to suit brand needs.
Blog Post Recycle
Automatically convert blog posts into a lead magnet format. Input the URL of the specific blog and Beacon takes care of the rest.
Link Lock
No website required. Share your lead magnet using a single link. Visitors will have to input their emails before they can access it.
Seamless Integration
This eBook maker integrates with the most popular email marketing and blogging platforms, ensuring that your existing workflows are kept in place. It also allows you to export contacts as .csv files.
Benefits of Beacon
Increase conversion rates
Reduced cost per lead
Improved lead nurturing
Has a free plan
Integrated email marketing
---
Kitaboo
Kitaboo is ranked among the best eBook creator software as it allows users to create interactive content. It's a cloud-based digital publishing platform for creating and publishing DRM protected content. Create your eBook from scratch with the authoring platform or use the conversion service to convert digital manuscripts into ePUB files.
Kitaboo allows users to add interactive features like images, audio, read aloud, videos, etc. to their eBooks, ensuring that they're more engaging for their readers.
Features
Media-Rich Training Content
eBook & Courseware Development
Text Highlighting
Search Features
Multi-Device Optimized
Note-Taking
Learning Analytics
Digital Rights Management
LMS Integration
Benefits of Kitaboo
Create Interactive eBooks & Courseware
Author or produce training materials and resources which are designed to connect, engage, and motivate learners and employees. As these materials stimulate engagement and interaction from learners, the training becomes more exciting and inspiring.
This eBook creator also allows users to build eBooks and courseware containing different forms of content, including audio, 3D image, video, augmented reality content, assessments, simulations, gamification, and tutorials.
Publish Training Content on Any Device
Create your content just once with Kitaboo! After it's created, you can publish instantly on multiple devices no matter the type – mobile phones, tablets, laptops, or desktops. This means that this software ensures all your digital content is readily accessible from any device.
Track Learners' Progress & Performance
The software has features that allow you to track learners easily throughout the training. It also provides analytics that offers insightful data about how learners are consuming your content.
---
Visme – Best For User Friendliness
Generate leads for your business by designing a custom eBook using one of the best eBook creator software: Visme eBook creator.
Visme is a user-friendly and customizable eBook creator, featuring multiple templates to pick from. Create content easily by inserting content into text boxes. Visme gives you total control over layouts and images.
How to build eBooks with Visme
Jumpstart your eBook design by selecting your favourite eBook template.
Add your eBook content to update the content blocks.
Add or remove elements as required until your content fits perfectly.
Change fonts, colours, graphs, charts, visuals, etc. to customize your eBook.
Download the finished eBook in PDF format or generate a shareable link.
Features
Beautiful eBook templates
Using an eBook template is a fantastic way to ensure that your design process is faster. Rather than go through the hassle of drawing design plans, browse and choose from pre-designed templates to put your eBook content.
Build your eBook
The user-friendliness of this eBook maker makes building eBooks a simple and fun activity. Use the drag and drop to move paragraph around the page, customize colours and fonts, and pull data and visuals into your eBook.
Customize each part of your eBook to educate your audience
With Visme, you can build a multi-page eBook ready that you can share or sell on Amazon or other online marketplaces. Download your eBook as PDF, publish online or create a shareable link.
---
Conclusion
You can begin your eBook creation with one of the software listed above. A good eBook maker will assist you in enhancing your content to ensure each text is compelling. To grab the attention of your readers, keeping them engrossed and engaged with your eBook, you must incorporate interactivity.
Using an eBook software that is both user-friendly and allows you to enrich your content with numerous interactive elements is a great way to build a compelling eBook for your audience.
I hope my Top 5 Best eBook Creator Software recommendations helped you find what you were looking for. If yes, please consider sharing this article with other entrepreneurs from around the world. I'm sure they will appreciate you helping them.
Business vector created by studiogstock – www.freepik.com
👉 Follow CS on Facebook to receive notications on new articles I publish.
ℹ️ This blog is reader-supported. When you buy through links on this site, I may earn an affiliate commission without any surcharge to you. This helps me continue offer free and qualiy content for the community.