Top 10 Best Keyword Research Tools For Agencies
In this article, I am presenting the best keyword research tools for agencies. If you work in a digital marketing agency or an SEO agency and you need to upgrade your SEO arsenal with tools that will transform you into an SEO gangsta, then keep on reading.
Quick Comparison Table
And because I know your to-do list is kind of full here's a quick table with all the best keyword research tools for agencies. Further below you can find a more detailed review for each SEO tool.
Specialized for KW Research

Search Volumes for Non English KWs

YouTube, Amazon KW volumes

Generate and save KW lists


Alerts to new KW suggestions.
Key features to check when choosing a keyword research tool include:
This keyword research tool comparison guide uses the following criteria:
Best Keyword Research Tools For Agencies
Here's a more detailed description of the Top 10 best keyword research tools for agencies.
1. LongTailPro – Best For Easy-to-Rank Long Tail Keywords
Best Keyword Research Tool For Agencies To uncover easy to rank long tail keywords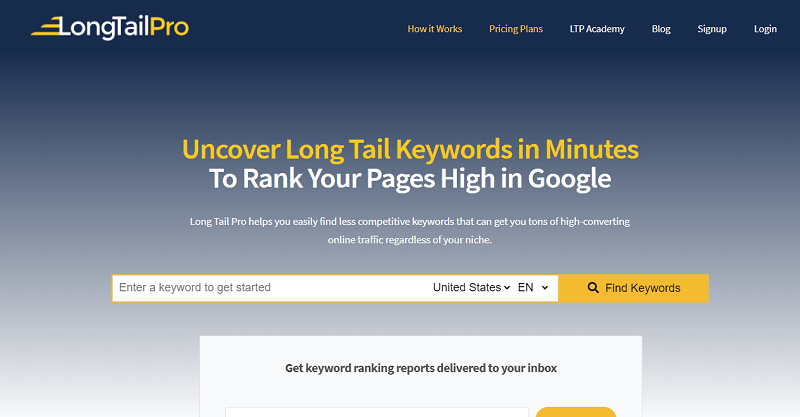 Long Tail Pro makes finding low-competition long-tail keywords fast and simple. Users find this tool user-friendly and able to save a fantastic deal of time. Its platinum version allows for ranking keywords based on metrics including trust flow, keyword density, citation flow, age, etc.
Long Tail Pro offers free hands-on training from which you will learn their 5-step strategy.
Standout Features
Do research based on the content of your competitors
Shows up to 400 long-tail keywords per search within seconds.
Makes the process of keyword research extremely fast
Powerful metrics like keyword competitiveness score based on your website's metrics.
Rank Tracker feature helps to ensure you stay at the top of rankings
Allows determining of keyword profitability
Value for money solution.
Long Tail PRO Pricing
Long Tail Pro prices come in main categories of monthly and annually and subcategories of starter, pro, and agency.
💎 WHY IS GOOD FOR AGENCIES 💎
Long Tail Pro (official website here) can help you uncover low competition keywords for your clients extremely fast saving you a ton of time. With its powerful keyword filtering and keyword report exporting features, your keyword research tasks will be completed in a breeze.

🖱️ Click here to read my comprehensive review on LTP
👍 Read Also: Is Long Tail PRO Worth It? 5 Reasons Why It Does
2. SemRush – Best For Experienced SEOs
Best Keyword Research Tool For Agencies Who Employ Experienced SEOs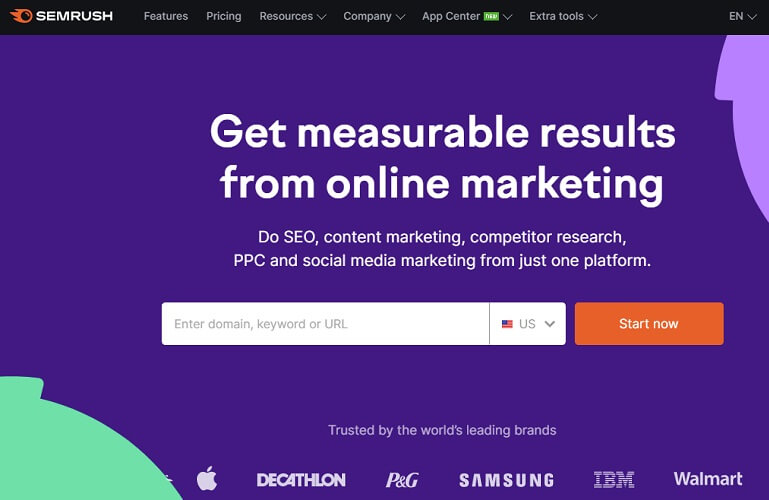 SemRush is a tool that can audit your site and tell you the issues you need to fix. It will help rank your site and ultimately help in bringing $$$ to your coffers per month. With 6,000,000 users all over the globe, this is a tool you want to try.
Standout Features
Competitor PR monitoring that allows tracking of the social media presence and online mentions of your rivals
Keyword research tools that uncover the best keywords to use and bring traffic to your site
On-page SEO features that audit pages and suggests ideas to increase the performance of your pages
SemRush Pricing
Prices start from $119.95.
💎 WHY IS GOOD FOR AGENCIES 💎
With more than 4.000.000 marketers using it around the world, Semrush is the ultimate SEO tool. Not only because you can uncover long-tail keywords, but because you can use it as your agency's Swiss Knife on everything SEO and reporting.

🖱️ Click here to visit Semrush and take advantage of the free trial
👍 Read Also: Top 10 Websites Like SEMRUSH for SEO and Keyword Research
3. Ahrefs – Best All-in-one SEO toolset
Best Keyword Research Tool For Agencies who are looking an all-in-one SEO toolset
Ahrefs offers several SEO features, but it is best known for its link-building tools. Link building is a time-consuming SEO process, but Ahrefs can make the process easy and save you a massive amount of time.
Standout Features
Passionate community and support
Analyze your competitors with its Site Explorer feature
Study the keywords your target audience uses. Use Ahrefs's Keyword Explorer.
Ahrefs Pricing
Start a 7-day trial for only $7 (applicable to Lite and Standard plans).
Subscribers can cancel or upgrade their subscriptions anytime. No hidden charges, no contracts.
Read Also: LongTail PRO vs Ahrefs: Unbiased Comparison, Pricing, Features
4. Serpstat – Best For Large SEO Marketing Teams
Best Keyword Research Tool For Agencies Who have Large SEO Teams
Serpstat offers 30+ essential tools that an entire marketing team can use, including site audit, keyword clustering, and backlink analysis. Companies that use this tool include Uber, Shopify, Samsung, and Philips. It is an all-in-one SEO platform that makes websites visible for search engines.
Standout Features
Find which website pages attract the most links
Offers related keywords and adaptable filters
Monitor competitor progress
Serpstat Pricing
Serpstat comes with two billing options: monthly and annually. These options have four subcategories of Lite, Standard, Advanced, and Enterprise.
5. KWFinder – Best UX/UI Interface
Best Keyword Research Tool For Agencies Who Prefer a Keyword Research Tool That Is Easy To Use
This tool focuses on recommendations of the right keywords to target several facets of SEO strategies. In particular, KWFinder is a powerful Keyword Research tool to use when identifying which long-tail keywords are low in competition but high in search volume.
Standout Features
Helps with finding long-tail keywords that have low SEO difficulty
Provides search volumes with historical data
Offers SERP (search engine results page) analysis and local keyword research
You get access to 5 more SEO Tools. KW Finder is part of Mangools SEO suite
Extremely User Friendly and Amazing UI
Very Fast Search results
Ability to export your results
SEO Browser Extension
KWFinder Pricing
KWFinder offers a 48-hour money-back guarantee for all plans, 40% savings on annual plans, and a free 10-day trial.
💎 WHY IS GOOD FOR AGENCIES 💎
KWfinder (official website here) is so easy to use, that makes the onboarding process of new employees a breeze. No more having an employee for one to two months trying to figure our how things work. On top of that, it is part of the Mangools SEO Suite with tools like Keyword Tracker, Backlinks Analysis, On-page SEO reports. Finally, their Agency Plan is only $79 per month which makes this tool as valuable as ever.

🖱️ Click here to check and compare pricing
👍 Read Also: KWFinder Vs Long Tail PRO [2022]: Which one is the best keyword research tool?
6. Keywordtool.io – Best For Non English KW Terms
Best Keyword Research Tool For Agencies Who are dealing with Non English Speaking Clients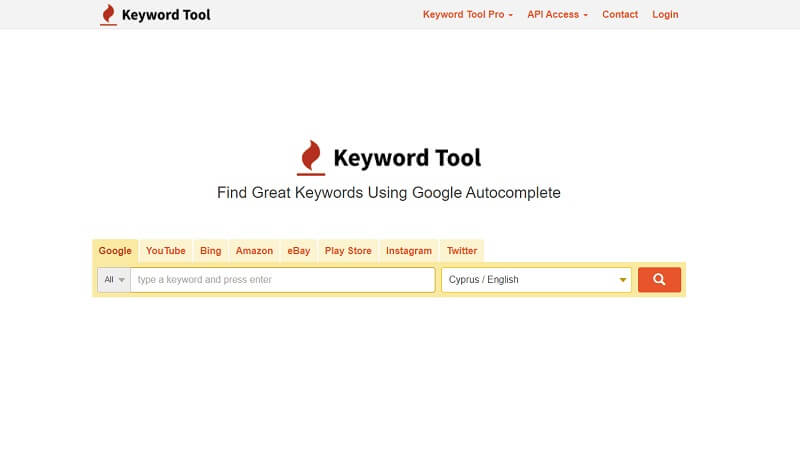 Keywordtool.io is a robust autocomplete scraper. It does not pull many keyword ideas, but this tool pulls them up fast nonetheless. Keywords appear within just seconds.
Next, this tool not only scrapes from Google, as it can also pull suggestions from eBay, Bing, Amazon, YouTube, etc. If you run an online store, you can benefit from its ability to scrape results from eBay, Amazon, and other similar sites.
Standout Features
The service is free. You can use it absolutely for free without account registration.
Generates up to 750 keyword suggestions for each search term
Accurate Search Volumes
Suitable Non-English Keyword terms
Keyword Data for YouTube, Amazon, eBay, and more.
KeywordTool.io Pricing
Premium services start from $89/mo (Basic Pro). Other plans include:
*Annual subscriptions are cheaper by 20%.
7. Moz Keyword Explorer – Best For Its Data
Best Keyword Research Tool For Agencies Who Value The Accuracy of The Data More Than Anything Else
MOZ's free Keyword research tool covers many of the core requirements in terms of SEO management, reporting, and research. Moz is a thought-leader in SEO, so we expect this solution to continue to adapt to changing best practices.
Standout Features
Features keyword explorer with which you can discover and build lists of high-quality keywords.
Offers simple tools that mitigate the learning curve for new hires
Accurately predicts search volume a keyword will receive
Keyword Difficulty score
MOZ Pricing
This SEO software offers numerous pricing packages, monthly payment options, and a 30-day free trial. The free trial allows users access to ten queries per month.
8. SECockpit – Best For Small Agencies
Best Keyword Research Tool For Small Agencies
Like other keyword tools, you provide SECockpit with a seed keyword, and then you will receive a list of results in return. But what makes this tool different is its ability to perform in-depth searches on search trends, traffic eliminates, and organic competition.
Standout Features
SECockpit's design is for SEO professionals. If you sleep and breathe SEO, this is the best tool for you.
Sort and filter keywords sans the need to export and import lists back and forth into excel
Check your search engine positioning daily.
SECockput Pricing
SECockpit comes in three different packages.
*Yearly billings are cheaper by 35%.
9. Jaaxy – Best For Affiliate Marketers
Best Keyword Research Tool For Agencies That Engage in Affiliate Marketing or Have Affiliate Marketers as clients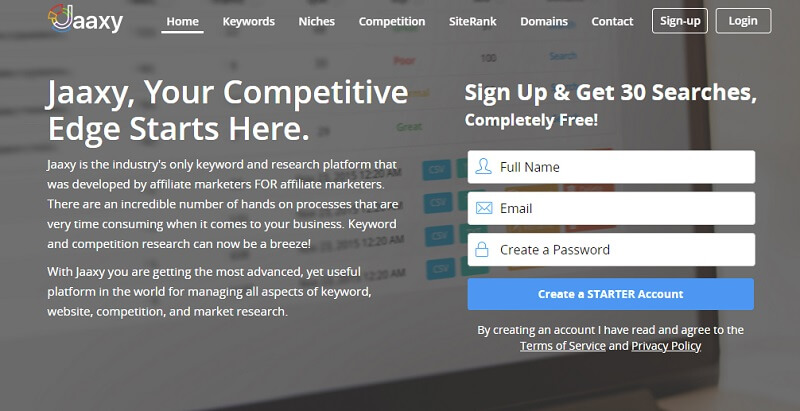 Another great tool that can push your business ahead of the competition is Jaaxy, a tool for revealing unexploited high-traffic niches. With this tool, you can also ascertain how competitive keywords are and figure out what niches are good sources of income.
Standout Features
Discover unique, untouched, and hot keywords you can use to drive your SEO campaigns
Dig deeper into the deepest corners of your current niche
Spy on your competition – Probe why other websites are ranking
Jaaxy Pricing
The company offers a free plan if users want to see first if the tool is something that they will be willing to pay monthly fees before they go ahead and get paid subscriptions.
10. Answer The Public – Best For Question Type Keywords
Best Keyword Research Tool For Agencies To uncover Question Type Keywords
If you want to know the questions people ask around your keyword, Answer The Public offers that ability. It listens to autocomplete data provided by search engines and then instantly generates the phrases and questions people ask around a keyword.
In other words, this tool is a goldmine of consumer insights to guide you in creating fresh, beneficial, and relevant content, products, and services – the kind your target audience wants.
Standout Features
Open the Pandora Box of untapped ideas for building new content
Get a front-row seat to what consumers are searching to make daring business-growing decisions
Answer The Public Pricing
Answer The Public comes in Monthly, Yearly, and Enterprise packages.
Conclusion
Grow your brand and get ahead of the competition FASTER by using a keyword research tool. The above SEO suites and Best Keyword Research Tools for agencies come in different pricing schemes, so whether you are s small SEO agency that's just starting or you run a large digital marketing agency, there is one that matches your budget.
My personal favorites are Long Tail Pro and KWFinder. I love their simplicity, their UI/UX interfaces, and their value for money pricing. What's your favorite one? Shoot your thoughts in the comments section.
The products we have featured come with different functionalities. Some work best for building insights into what your target consumers are thinking when trying to purchase a product. Others work best for site auditing, backlinking, or keyword clustering.
Make sure to take advantage of the free trial some companies offer. You want to know whether a particular research tool will work well for your application before getting a paid subscription.
👍 Read Also: How to Find Long Tail Keywords With Low SEO Difficulty in 2022
Time for a small favor… 🙏

If you think our best keyword research tools for agencies article is useful, consider sharing it on social media and in relevant SEO groups across the web. It will really help this article become more discoverable and grow this blog.