Long Tail Pro Review [2022] – Features, Pricing, Competitors
Correct me if I am wrong, but you are looking to know if the Long Tail Pro keyword research tool, is a good fit for your SEO tools arsenal.
Well, in our Long Tail Pro Review, we break everything you need to know to decide if this keyword research tool is good enough (quick hint: It is). This Long Tail Pro Review lays out the tool's Pros & cons, who build it, what are its features, what others say, and even some Long Tail Pro competitors to spice up things a little bit.
Now, enough talking, let's jump straight in…
Long Tail Pro Review – In A Glance
We care about people who hate reading, so here's a short version of our (long) Long Tail Pro Review.
According to websitesetup, today there are more than 600 million blogs on the internet – in every niche, you can imagine. To stand out from the crowd and get people to notice you, you need to have the right SEO skills and the right SEO tools. One of these tools is called Long Tail Pro and it is the one we will be reviewing today.
Long Tail Pro specializes in long-tail keywords. Long-tail keywords provide better conversions, as people are more inclined to use them when they are nearer to making a purchase.
Long-tail keywords help in SEO because:
They reflect buyer intent better.
They are less competitive.
They help in focusing on profitable niches.
Long Tail Pro Pros & Cons
Let's check some of LTP's Pros and Cons.
🆓 GET A 7 DAY TRIAL OF LONG TAIL PRO HERE
What Is Long Tail Pro?
Long Tail Pro is a keyword research tool that gives detailed information about the best keywords to target for your content creation efforts.
Anyone looking to appear on the first page of Google results can understand that using the ideal keywords is the best strategy to achieve that. Long Tail Pro is one of the tools you can use for that purpose.
Regardless of the niche, you are operating in, this Keyword Research Tool will help you uncover keywords that guarantee high online traffic.
To get those keywords, all you do is enter one seed keyword or your competitor's page and the SEO software will extract hundreds of related keywords with their search metrics and their ranking difficulty score, compared against your domain.
You can then filter the results based on the number of words you want your keyword to have (long-tail keywords), its keyword difficulty, filter the results based on specific words you want your keywords to have (such as what, how, etc), or even combine the filters to filter the best long-tail keywords from hundreds of suggestions.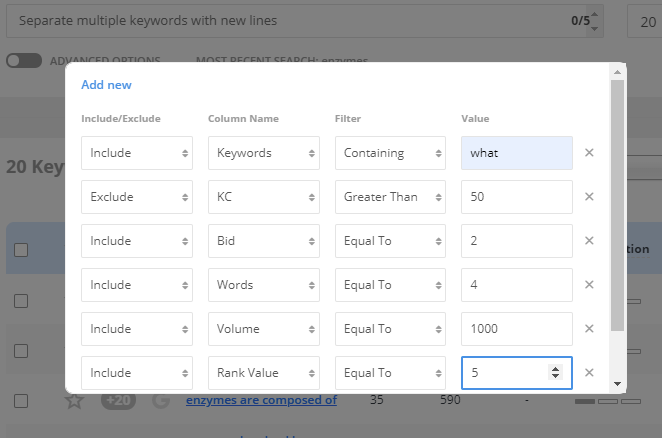 The Long Tail Pro software does not only provide the best ranking keywords to users, it also gives users information on competitiveness, position worth, and search volume.
The Rank Tracker tool of the software is the particular feature that makes this information accessible.
Along with this SEO tool, the company behind Long Tail Pro provides also a 7-day SEO boot camp. The courses cover everything you need to learn about SEO that will impact your site or blog performance.
🔑 KEY TAKEAWAY
Long Tail Pro is an SEO tool that helps you do faster keyword research. Just insert your seed keyword or your competitor's page, hit the "retrieve" button, and you are done. Hundreds of related keywords are being uncovered, along with super useful metrics to help you judge faster which ones you'll target.

On top of that, you can filter your results based on various metrics to avoid skimming through hundreds of relevant keywords, making the process even faster.

Check the SEO tool's Official Website Here
Long Tail Pro Owner – Who Built It and Who Owns It Now?
The genius behind LTP is the internet marketer and SEO Veteran Spencer Haws. As an internet marketer, he had used a lot of keyword research tools but none of them was filling his keyword research needs.
Not long after he quit his day job, he started developing a tool of his own Long Tail Pro. He launched it in 2011 for his company Long Tail Media LLC.
In the making of the software, Spencer used his experience in building affiliate niche sites to fine-tune it. The guy loves creating niche websites and helping everybody out there to achieve success through his blog.
The tool was a major success among SEOs. A couple of years later, Spencer received a lucrative offer (7 figures) and he decided to sell it. The company Growth Stack bought it and acquired Long Tail Pro.
With all the competition going on, the company vowed to make this software the best the industry has. For example, one of the huge developments the tool received was that it immediately moved into the cloud (no more downloading it).
Long Tail Pro is also beneficial for blogs, online stores, and personal websites.
🔑 KEY TAKEAWAY
Long Tail Pro was built by Spencer Haws, a veteran in the SEO industry, which he later sold the program, for seven figures, to a company called Growth Stack continues to develop the project until today.
How Long Tail Pro Works?
Long Tail Pro works by fetching data from Google. You can choose to fetch data for over 20+ languages and from over 20 different countries.
For example, if you are greek, you can retrieve data from Google's Greek version or you can retrieve Greek keywords only.
The same feature is available for the SERP analysis feature or Competitor analysis how others prefer to call it.
The tool also performs other functions, including:
SERP (Competitor) Analysis (based on 13 metrics) – Use the Competitor Keyword function to analyze the strategies your competition is using.
Keyword Profitability – This function is the Rank Value feature of the tool. Based on estimated traffic and visitor, the tool computes the Rank Value of a keyword. Enter the keyword of choice and see how much income it can generate for your business if you are enrolled in ezoic or Google adsense.
Rank Tracker – This feature performs daily checks of the keyword ranking of your site. Enter your URL and the target keyword.
🔑 KEY TAKEAWAY
With Long Tail Pro, you can say goodbye to your spreadsheets and simplify keyword research. This keyword research tool generates up to 400 long-tail keywords per click using only one keyword seed and presents it to you with various other metrics that will make your keyword selection process a breeze.
Long Tail Pro Characteristics/Features
Here is the complete list of features that LTP offers:
TIP: Use Long Tail Pro to copy the linking strategies that work for your competitors.
SEO Difficulty – The software rates a keyword using three colors. Red is the color for keywords that rank very low. Green is the color for keywords that can easily rank high. Yellow means neither high nor low.
Monthly Search Volume – This data gives the metric for the traffic you can attract to your site using a specific keyword. It is also the competitiveness score of that particular keyword. A score lower than 30 is a good level of competitiveness, while anything beyond 40 suggests doing more keyword research work.
🔑 KEY TAKEAWAY
Long Tail Pro comes packed with an array of features making it a valuable SEO tool in your SEO arsenal. What I like the most though is that I don't have to pay thousands per year to have the SEO tools I need to rank my websites, spy on my competitors, and calculate my earnings.
Long Tail Pro Pricing
Long Tail Pro's pricing is one of the most competitive and reasonable prices for such tools available in the market. It is one of the cheapest that starts from $25/mo when billed annualy.
The pricing scheme has two main categories – the annual and monthly categories, with both of these having three similar subcategories each. Thus, all in all, users can choose one of the six options available.
Features
Annual Starter
Annual Pro
Annual Agency
Pricing
Pricing
$37 $25 / month
$67 $45 / month
$147 $98 / month
Keyword Research
Keyword lookups per 24 hours
800
2500
6000
KC calculations per 24 hours
800
2500
6000
SERP lookups per 24 hours
800
2500
6000
Rank Tracker
Tracked Keywords
30
200
1000
Tracked Domains
Unlimited
Unlimited
Unlimited
Rank Updates
Daily
Daily
Daily
Account Management
Simultaneous logins
1
2
5
Plug-and-play template system
A complete suite of templates
to scale your SEO
❌
✔️
✔️
Data from LTP's pricing page
In the annual category, the user pays annually with the equivalent monthly payments of $25, $45, and $98, for subcategories Starter, Pro, and Agency, respectively. Compared to the monthly category, annual payments are lower by 33%, which is the same across all three subcategories.
TIP: If your business is new and this is your first time attempting to implement keyword research using a tool like this, try out the Starter subcategories. Get the free trial first, and then, later on, decide on either annual Starter or monthly Starter.

If afterward, you see your business needing more features available in the Pro and Agency category, you can make a switch and upgrade.
The good thing is any of the upgraded options are still some of the most affordable around, with other brands offering them twice or thrice of the prices of the same services by Long Tail Pro.
As a beginner, you may want to take advantage of the free webinars they offer and caring customer support. As you learn the ins and out of keyword research using Long Tail Pro, it helps to have experts you can reach out to when you need assistance the most.
🔑 KEY TAKEAWAY
LTP is a low-cost SEO keyword research tool when compared with the likes of Ahrefs and Semrush. It has 3 pricing plans available to be purchased monthly or annually. If bought annually you save 33% on the rates. Click here to check LTP's full list of features.
Is There a Free Trial?
First-time users can avail themselves of 7 days of free rank tracking and keyword research. You may cancel anytime using the app or via support. The company also offers a full 10-day money-back guarantee.
>> Click here to visit the Official Long Tail Pro website to take advantage of the 7-day free trial offer.
How to Use Long Tail Pro to Uncover Long Tail Keywords that Are Easy to Rank?
🔑 KEY TAKEAWAY
Long Tail Pro is an extremely easy-to-use SEO Tool. The best part is that it helps you transform keyword research from a time-consuming and boring process to a speedy daily routine task. Click here to start using Long Tail Pro.
Long Tail Pro Reviews: What The SEO Community Thinks About this Tool
And… because you might think that in this Long Tail Pro review the author (that's me) might be biased, I decided to search around the web and see what the SEO community is talking about Long Tail Pro.
Here are some of the most interesting Long Tail Pro Reviews that I've found from some notable SEO experts.
🤩 Save HOURS of your time and get BETTER rankings with Long Tail Pro. Click here to Test-drive it with a 7-day free trial.
Long Tail Pro Competitors
Other similar tools are also available, with a few of them giving Long Tail Pro a run for their money. Here are two competitive brands below:
KWfinder is a keyword research tool comparable to LTP, KWFinder also produces long-tail keywords. This tool has a pricing scheme similar to the LTP pricing.
You can find hidden long-tail keywords and the keywords your competitor uses. KWFinder also allows you to import keywords in bulk, measure keyword difficulty, and filter useless keywords. Check KWFinder here.
Another great alternative to LTP, the Keyword Tool app is a slightly more expensive version of a long-tail keyword tool. However, you can use also use it for free.
The free version can produce 750+ keywords. If that is enough for you, then feel free to use it free of charge for as long as you want.
One of the advantages this tool has is its ability to receive keyword hints from online stores such as Amazon and eBay. Visit the website here.
Conclusion – Long Tail Pro Review
Long Tail Pro is a magnificent way to get high-intent keywords in bulk and fast. You will love that it can pull in hundreds of relevant keywords per seed keyword.
TIP: The ability of Long Tail Pro to provide scores for keyword competitiveness is an excellent feature. It will give you a competitiveness score for every keyword you select, and, in our opinion, this feature alone is worth the money you will put in.
The competitor analysis is another great feature, allowing users to know how likely they will rank above their competitors in search engines.
The rank tracker of the app is a great addition as well. It is accurate and is extremely easy to use. If you want to see your ranking daily, the rank tracker tool is a must-have for your business.
👆 Click Here to visit Long Tail Pro's Official Website here and test-drive the SEO tool for 7 days.
👉 Follow CS on Facebook to receive notications on new articles I publish.
ℹ️ This blog is reader-supported. When you buy through links on this site, I may earn an affiliate commission without any surcharge to you. This helps me continue offer free and qualiy content for the community.