LongTail PRO vs Ahrefs: Unbiased Comparison, Pricing, Features
If you are looking for the best keyword research tool on the market, you have come to the right place. In this article, we will compare Long Tail PRO Vs Ahrefs – two very popular keyword research tools. We will take a look at their pricing, features, and how they compare with each other. By the end of this article, you should have a good idea of which tool is best for your needs!
TL;DR Since this article is over 2000 words long let me give you the short version of it here. I personally use both tools. I use Long Tail PRO's paid version and I use Ahrefs's free SEO tools for on page SEO optimization.

Objectively, I consider Ahrefs better than Long Tail PRO. It is more user-friendly and has more features than LTP has – in terms of Keyword research and SEO.

But, I guess I am a cost oriented person (LTP is cheaper than Ahrefs), and since I am doing my keyword research just fine with Long Tail PRO, I get accurate results and my SEO needs are met, I've chosen it as my main keyword research tool.

Now, after going this Long Tail PRO vs Ahrefs comparison guide, you will understand that I am objective and not bias. My goal is to help you choose the right keyword research tool for your needs.
LongTail PRO vs Ahrefs
And because I know you are a busy person, I've prepared this handy table that compares Long Tail PRO's and Ahrefs' features.
Just not that the cost and the features shown below, have to do with both tools basic plans.
Feature
Long Tail PRO
Ahrefs
Keyword Research By Competitor
Input your competitor's URL and uncover Keywords they're ranking for
✔
✔
Keyword Research in Foreign Languages
Research Keywords in any Language
✔
✔
Keyword Difficulty Score
Check a Keyword's Difficulty Score
✔
✔
Mulit-Search Engine Keyword Research
Research for Keywords in Amazon, YouTube, Yandex etc.
❌
✔
Keyword Filtering Options
Ability to Filter Your Keywords based on various parameters
✔
✔
Backlink Analysis
Enter any URL and uncover its backlink profile, traffic stats etc.
❌*
✔
Keyword Bid (Google Ads)
Check how much advertisers are bidding on a keyword
✔
✔
Clicks Per Search
How many different search results people click after searching for a keyword.
❌
✔
SERPs Rankings
Check your keyword rankings in the search engines
✔
✔
Keyword SERP Analysis
Retrieve competition analysis in SERPs for a specific keyword
✔
✔
SERP Position History
Shows the ranking history of the pages that currently occupy the top 5 positions
❌
✔
Content Explorer
Find the most popular articles on any topic.
❌
✔
Site Audit
Check your website for On-page SEO errors
✔
✔
Pricing (Monthly)
Monthly Cost For Starter Plan
$37
$99
Pricing (Yearly)
Yearly Cost for Starter Plan
$297.00
$990
Free Trial
Is there a free trial?
7 Days
❌
* Not available with the basic plan. Available as addon for extra charge.
Ahrefs Vs LongTail PRO
Main Differences
Price – One of the main differences between Ahrefs and Long Tail PRO is their pricing. Ahrefs is significantly more expensive than Long Tail PRO. Ahref's basic package is $99 per month (or $990 per year). On the other hand LTP's basic package is at $37 per month (or $297 per year) only.
User Experience – In my opinion Ahrefs' user interface is very user friendly. Not that Long Tail PRO's is not. It's just that Ahrefs can pack all that SEO intel is easy to understand graphs and tables.
Positions History – Although both SEO tools allow you to check your keywords search engine rankings, ahrefs offers this neat little feature that allows you to see the history of the rankings of the ta SERPs feature, Ahrefs allows you to see thepositions
Content Explorer – Ahrefs content explorer is a unique tool by Ahrefs that allows you to research a topic (e.g backpacks) and get various data that will help you to see who's ranking for that topic, what your competition is writing about, how much traffic they receive and a bunch of other data points.
Honestly, this tool rocks. You can check this demo here of how this feature can help you with your content marketing needs.
Now, why am I not using it? Because I operate 5 affiliate websites and I don't have time to perform this kind of research. Although I understand the opportunities it can provide, I simply don't have the time.
Mulit-Search Engine Keyword Research – This feature is fairly simple to understand. Ahrefs allows you to perfomr keyword research on search engines such as Amazon, Yandex, Baidu, YouTube, etc. Long Tail PRO on the other hand allows you to perform keyword research in Google search engine only (which is what most people are looking for anyway).
Backlink Analysis – Ahrefs offer by default a Site explorer as they call it feature. It essentially allows you to get an in-depth look at the organic search traffic and backlink profile of any website or URL.
Lon Tail PRO does offer this feature as well – just not with their basic plan which we are comparing each tool.
Clicks Per Search – Ahrefs' keyword research tool shows you – on average – how many different search results people click, on average, after searching for this keyword. This helps you better understand if they keyword – or group of keywords – will get you adequate traffic.
Site Audit – Both tools offer a site audit feature to scan your website for any on-opage SEO issues. I've used this feature on both tool's but I have to honestly say that ahrefs' is far more superior than LTP's.
Free Trial – Ahrefs does not offer a free trial like most software do – which is kind of strange in my opinion. Long Tail PRO on the other hand offers a whopping 7 day free trial to test things out and if it covers your needs then you purchase. Fair and square.
KEY TAKEAWAY
👉 Ahrefs is far more expensive than Long Tail PRO
👉 Ahrefs has a content explorer that uncovers various data points that allow you to make better decisions for the topics you are going to write about. Long Tail PRO does not have such a feature.
👉 To use Long Tail PRO's Backlink Analysis feature you need to pay extra.
👉 Ahrefs allows for keyword research on multiple search engines (e.g. Amazon, YouTube)
👉 Long Tail PRO offers a 7 -day free trial. Ahrefs on the other hand does not offer any trial.
👉 Ahref's Site Audit tool is far more superior than LTP's.
Comparison
Keyword Research Results Data Accuracy Comparison
Ahrefs continues to lead in many categories, especially when it comes to data accuracy. One of the biggest reasons is because they regularly collaborate with third-party vendors that can help them improve their database with regards to crawling new sites. If you're looking for up-to-date research on competitive keywords/keyword phrases, Ahrefs has earned its reputation as one of the best sources.
Long Tail Pro has also worked alongside some big industry names (like Moz), but this alone doesn't guarantee data quality. As mentioned earlier, Long Tail Pro does offer a lot more features than Ahrefs (which could account for any perceived drop in rank). I would recommend using both tools together you've got enough budget; but if there's simply no option other than choosing one or the other, Long Tail Pro is more than enough to provide you with some solid SEO and keyword data.
User Interface Comparison
The interface doesn't look too different from one tool to the other, but there are some key differences that influence usability.
With regards to navigation, Long Tail Pro takes a more traditional approach by including tabs – most notably the Dashboard which acts as an overview of all your projects and research. Ahrefs is also organized in this manner but it does things just a little bit differently (including using + signs instead of traditional dropdown menus).
Both software tools make use of left-hand rail menus which help you quickly access any area within the platform; it's one less thing to worry about when conducting research or getting familiar with either tool.
Rank Tracking
Ahrefs allows you to track rankings both manually and automatically; the latter requires an API key (which costs extra). Long Tail Pro has yet to implement its own rank tracking but it does offer manual updating of your current SERP position (once again, this requires an API key which also comes with a price tag).
With regards to data results, Long Tail Pro is able to provide additional insight into keyword trends; how often keywords are searched for/searched + their corresponding search volume. Ahrefs offers some similar features but they seem pretty standard when compared side-by-side.
Keyword Difficulty Score
Ahrefs has made its name as a reliable source for competitive research and keywords. Similar to many other tools, it offers a Keyword Difficulty score which is designed to help you gauge the SERP competition for any given keyword or phrase . Long Tail Pro doesn't have a dedicated tool for this, but it does provide insight into SERP competition by assigning each result a rating from 1-10 (which can be seen under the "Ranking" tab).
Site Audit feature
Ahrefs has recently improved its Site Auditor feature which is a big reason why it's considered one of the best tools for competitor analysis. This tool helps you check any given website to see which pages are well optimized, offer value, etc. You can use this information to either build out your own content strategy or improve upon what already exists. Similar to Ahrefs, Long Tail Pro also does some thorough research during the project setup stage but there are probably more in-depth SEO audits that could be done with the help of an API key.
Cost per click feature
Ahrefs recently introduced a Cost per Click metric that allows you to measure the average CPC rates for any given keyword. This is primarily useful if you're determined to grow your online business by driving targeted traffic through paid ads (like Google Adwords). Long Tail Pro has yet to offer anything similar but it does have an Ads Analysis feature that combines some of your organic and PPC data together for added insights.
Pay Per Click Competition Comparison:
Ahrefs is considered to have one of the best tools for competitor PPC research. It can crawl through several different search engines and automatically pull ad copy, landing pages, CPC rates, etc. along with all their corresponding SERP data. This is important because it gives you a clear idea about how your competitors are positioning themselves on Google Adwords, which keywords they're bidding on (both broad and niche) as well as how much they're willing to spend per click (their daily budget).
Long Tail Pro doesn't offer anything like this; but Ahrefs really shines when it comes to paid advertising campaigns since most people who conduct SEO tend to focus more on organic results than ads (at least at first). As a result, Ahrefs is a go-to resource for competitive intelligence and PPC keyword research.
Ahrefs
What is Ahrefs?
Ahrefs is an SEO suite that helps SEO specialists find the most valuable backlinks to any website aas well Keywords.
It does this by providing you with metrics like Domain Rating ( DR ) and Page Rank ( PR ). These tools are great for determining the quality of your backlink profile, helping you prioritize your efforts when looking for new opportunities to build links.
Who is Ahrefs for?
Ahrefs is for marketers and SEO specialists who want to use backlinks as a means of improving their search rankings. It's also for anyone looking to do competitor analysis and identify what works and doesn't work for your rivals in the realm of link building.
Ahrefs Key Features
1) Find critical backlinks – Ahrefs helps you find the most important backlinks pointing to your website. You can easily see where your efforts are most effective by finding links with the highest Ahrefs DR and Majestic Trust Flow, which represent link relevance and trust respectively.
2) Save time on outreach – save hours of work every week by using Ahrefs' email extraction tools. For example, saving a few clicks per search lets you focus on outreach rather than data entry when prospecting for new links.
3) Use bulk analysis tools – save even more time during link-building campaigns with bulk site & backlink checking & filtering.
4) Track SEO progress – check any keyword or domain's rankings and traffic history, helping you track your progress.
5) Find link-building opportunities – use Ahrefs' Site Explorer tool to find the most valuable backlinks pointing to your competitors. Use these links as inspiration for your own link-building campaigns, or follow them directly if they're of high enough quality.
6) View backlink profiles – monitor the number of backlinks gained and lost on a daily basis using Ahrefs' Live Backlink Audit. This gives you an early warning when negative SEO attacks are underway against your website. You can also check how many Unique Referring IPs are linking to specific websites.
7) Bulk data analysis – group data by any metric for greater insight into key metrics like DR, Trust Flow, Linking Domains, etc. You can also save your groups for easy access at a later date.
8) Improve content – identify content that is already performing well with Ahrefs Content Explorer, which lets you search by keyword to find out the most popular topics being covered on the web right now, as well as seeing what's trending.
Related: Semrush Review 2022: Pros & Cons, Tools, Pricing Plans
9) Find influencers – Ahrefs' Site Explorer tool helps you determine the most influential sites for any topic or competitor using metrics like DR and Trust Flow. Use this data to come up with outreach ideas, serve ads, guest posts, etc.
10) Track keywords – quickly discover new opportunities & potential traffic sources by checking rankings history & volume of any keyword or domain over time.
11) Watch rankings – monitor the number of backlinks gained and lost on a daily basis using Live Backlink Audit. This gives you an early warning when negative SEO attacks are underway against your website. You can also check how many Unique Referring IPs are linking to specific websites.
12) Find internal links – Ahrefs' Site Explorer tool lets you find which pages of your competitor's sites are receiving the most internal links, giving you plenty of ideas for content development or link building opportunities.
13) Build links – use Ahrefs Content Explorer to find high quality content that's perfect for outreach campaigns, change "seed keywords" in Content Explorer to custom ones relevant to your industry so you have more chances to be featured in press. You can also use Ahrefs to research the most popular outreach templates .
Related: Top 10 Best Keyword Research Tools For Agencies
14) Monitor brand mentions – monitor how your online presence is doing by checking new mentions on social media, review sites, blogs and forums with Ahrefs Alerts .
15) Discover new link prospects – find websites linking to any domain using Ahrefs Site Explorer. Use these links as inspiration for outreach campaigns (use our predefined email outreach templates ), follow them directly if they're of high enough quality or create a disavow list if they link to undesirable pages on your site.
PROS & CONS of Ahrefs
PROS
Search Engine Rankings – find the keywords that bring your site most traffic with Ahrefs' " positions tracker". You can also see how specific changes to your website influence rankings.
Site Auditing – discover technical issues on your website which are holding you back from ranking higher in search engines with Ahrefs' crawl errors report. Fix these quickly and easily, or hire an SEO expert if necessary.
Content Marketing – get your content published on top-tier publications using Ahrefs " outreach " tool. This will help boost readership, brand awareness & links. Use this data to understand what kind of posts tend to do well (and why). You can also find who already linking to any URL (which can help with content creation) and see if you're mentioned anywhere.
Organic Traffic Insights – use Ahrefs' " keywords explorer " to discover which keywords your competitors are ranking for (and how much traffic their getting). Use this data to inform keyword research, content marketing & SEO. You can also keep an eye on the number of backlinks that your website is receiving over time.
Monitor Rankings History – monitor the rank changes of any web page or competitor using Ahrefs rankings history tool. This shows you if/when search engine positions have changed in the past and what may have caused them to do so. This allows you to quickly spot when a negative SEO attack is underway against your website.
CONS
Ahrefs is expensive – the monthly price starts at $99/mo (for Lite). To access all features & data points you'll need either the Standard ($179/mo) or Advanced ($399/mo) pricing plans. This means LongTail PRO may be a better choice for many people…
Ahrefs can be slow – during our tests, this wasn't an issue for the most part (although it did cause problems with alerts). However, if you're using Ahrefs to track rankings or keyword positions you may find that updates are delayed or don't show up at all.
Long Tail Pro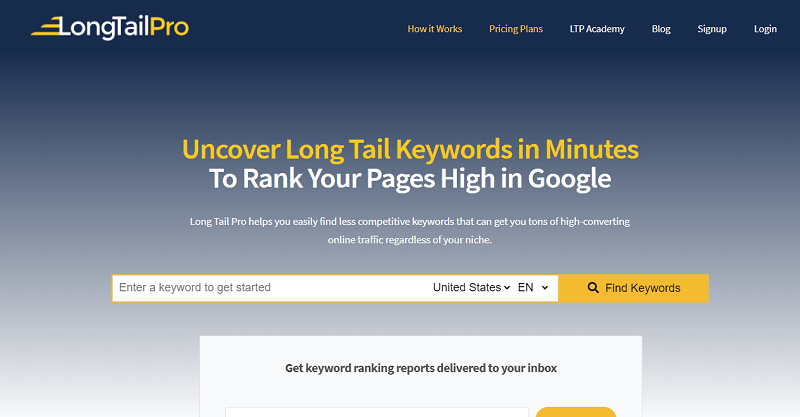 What is Long Tail PRO?
Long Tail Pro is a keyword research tool designed for marketers and SEOs. It enables users to find high-volume keywords specific to their niche, which it then provides in lists that can be exported directly into other tools such as Google Adwords or a webmaster's favorite CMS.
This means you don't have to manually check each keyword – Long Tail Pro does it automatically for you.
Click Here For a Whopping 30% Long Tail PRO exclusive discount
Who is Long Tail PRO for?
Long Tail Pro is for anyone who wants to grow their organic traffic by finding relevant keywords that they can rank high in search engines for. This includes:
Affiliate marketers & Amazon sellers – Long Tail Pro allows you to see what people are searching for and where the competition is to rank well in Google's search results. You can export this data and use it within other marketing tools such as Google Adwords, Facebook ads, or your favorite affiliate platform/CMS.
Local business owners – find locally searched keywords to target using Long Tal PRO's address locator tool. Use this data when creating content (such as blog posts, ebooks, infographics, etc.) or come up with a local SEO strategy that will help push your site up to Google's local listings.
Ecommerce entrepreneurs – Long Tail Pro is a great tool for any eCom marketer who wants to improve their organic traffic. You can use it as part of your keyword research strategy by using the phrase match feature to discover new keywords, or simply generate lists of relevant long-tail keywords for each product category you sell (to inform PPC campaigns, content marketing & SEO).
Long Tail PRO Key Features:
1) Daily Keyword Traffic Updates – Long Tail Pro uses data from Google's Adwords keyword planner to provide you with daily updates on how many people are searching for the keywords you've found. This is a fantastic way of staying up-to-date with what search trends are hot right now, allowing you to spot new opportunities that would have otherwise gone unnoticed.
2) Save Time & Money – Instead of manually checking search volumes and ranking difficulty, Long Tail Pro does this for you. Not only is it more accurate than manual research but it allows users to spend less time researching keywords and more time actually doing something with their findings (such as creating content or running PPC campaigns).
3) Use Within Multiple Tools/CMS – Long Tail Pro's data can be exported directly into many different tools and content management systems (such as your favorite SEO plugin or blog platform). This means you can use the long-tail keywords you find to inform all of your online marketing efforts, boosting both traffic & conversions.
4) Find High Traffic Keywords – As well as being able to find high-volume keywords, Long Tail Pro also provides smaller volumes that may still result in a decent amount of traffic. You most likely won't get rich overnight by ranking for low volume/long tail keywords using this tool, but they are an excellent way of improving organic traffic over time.
Related: Long Tail Pro Review [2022] – Features, Pricing, Competitors
5) Misspellings – One of the most important aspects of keyword research is finding all related variations of a phrase. Luckily, Long Tail Pro has this covered by allowing users to find all possible spelling and grammatical variations of a given keyword.
6) Search-Based Keyword Suggestions – Discover new keywords simply by entering a seed keyword into the tool. It will then display related phrases you can use to expand upon your initial list of keywords. This saves time when it comes to researching, enabling you to come up with more unique long-tail keywords or phrases in less time.
7) Track Rankings In Real-Time – One of the most annoying things about doing SEO is checking rankings manually, especially if you have multiple websites/niches that you're targeting. Long Tail Pro allows users to track their rankings in real-time, which means you can get on with other things while the tool keeps you up-to-date with your keyword positions.
8) Track PPC Keywords Too – You can also use this tool to track AdWords/PPC keywords meaning that you get an all-in-one solution for tracking keywords across multiple platforms (SEO & PPC). This is perfect if you run both types of campaigns because it saves time switching between different tools to find out whether or not your SEO efforts are actually helping you rank in Google's search results.
9) Export To CSV – Long Tail Pro allows users to download their data directly into a .csv file, enabling them to export/backup their research easily and efficiently without having to re-enter everything manually.
10) Filter Keywords – This is a great tool if you're looking for a certain kind of keyword, be it a specific product or niche that you plan on targeting in your marketing campaigns. You can do this by adding rules to the search query function (such as exclude words from results).
PRO & CONS of Long Tail PRO
PROS
Better Rankings – The more in-depth a user gets in their keyword research, the better results they'll start to see when it comes to ranking for certain keywords. Long Tail Pro is designed specifically with this in mind and offers users an extensive list of features that will aid them in researching long-tail keywords that are actually worth optimizing for.
Unique Keyword Ideas – Because Long Tail Pro shows a wide range of related phrases/keywords, users can discover some really unique ideas for new keywords to target in their SEO & PPC campaigns.
See How Competitors Rank – This is one of the most useful features on offer because it allows users to see how popular pages rank for certain keyword phrases. This means you can get an idea of which terms are getting highly ranked and then use that information to inform your own content/ad copy creation.
Find Exact Match Domains To Target – Because Long Tail Pro shows users their domain equivalency (the number of exact match domains competing for a keyword), you're able to find niche markets that aren't flooded with competition. This makes it easier for marketers & businesses to achieve high rankings organically without having to compete with thousands of others.
Filter Keywords – This is a great tool if you're looking for a certain kind of keyword, be it a specific product or niche that you plan on targeting in your marketing campaigns. You can do this by adding rules to the search query function (such as exclude words from results).
CONS
Can Take A While To Relaunch After Quitting – This doesn't happen every time you open up the program but if it does, you'll have to close it all down and reload your data which can take a while depending on how much research you've put in previously.
Can Be A Little Confusing For Beginners – The software is pretty advanced and it may take a little while for beginners to become accustomed to the features and how it all works.
Visit Long Tail PRO's Official Website and grab 30% Off.
Final Take
There's no doubt that Ahrefs is one of the best backlink analysis tools on the market, and also has a solid set of features for competitor research. It can be a bit pricey compared to others in its class but it still offers a lot of value when it comes to SEO audits and PPC keyword research.
Long Tail Pro isn't as feature-rich in this department but does excel at competitor backlink research which is why I personally use both. In my opinion, they're equally viable options depending on your needs – pick whichever works best for you!
Check our other comparison guides as well.