Long Tail PRO VS SEMRUSH: Unbiased Comparison Pricing, Features
In this Long Tail PRO vs SEMRUSH article you are going to learn what are the differences between these popular SEO tools, which tool is best suitable for your needs and which one I have personally chosen to include in my SEO arsenal.
TL;DR: Long Tail PRO is best suitable for Bloggers and SEO specialists who are looking a simple, yet powerful SEO tool to do keyword research, track their rankings, analyze their competitors backlinks etc.

SEMRUSH on the other hand is not just a keyword research and SEO tool. It's a full marketing suite of 50+ tools – best suited for digital marketing agencies or digital marketing departments.

I'm not saying that an SEO or a blogger will not find value in SEMRUSH's suite of tools. I just believe that if you are looking for a tool to do keyword research, check keyword difficulty, check your rankings, your competitors backlinks and all the stuff the SEO's do, then Long Tail PRO can cover your needs – and it is cheaper too.

I personally chose Long Tail PRO over SEMRUSH because it is a lot more cheaper and because I don't actually need most of the features SEMRUSH has to offer.

I urge to keep reading below. It will really help you clear things out and make the best decision according to your needs.
Long Tail PRO VS SEMRUSH
The internet is an ever-evolving space for online businesses to explore. If you are trying to find out how to increase your website's search engine rank, you have come to the right place!
This article aims to compare two of the most powerful SEO tools on the market today by outlining their features, ranking metrics, pricing plans, and more.
One SEO tool that has risen in popularity over recent years is LongTail PRO by Spencer Haws. The other tool that we'll be comparing with it is SEMRUSH.
Both of these services provide many benefits for those looking to improve their website's page rank through backlink building and keyword research.
Before diving into more detailed comparisons, here's a quick Long Tail PRO vs SEMRUSH comparison table that compares the features that have to do with the SEO part only.
Features
Long Tail PRO
SEMRUSH
Keyword Research By Competitor
Input your competitor's URL and uncover Keywords they're ranking for
✔
✔
Keyword Research in Foreign Languages
Research Keywords in any Language
✔
✔
Keyword Difficulty Score
Check a Keywords Difficulty Score
✔
✔
Keyword Bid (Google Ads)
Check how much advertisers are bidding on a keyword
✔
✔
Keyword Filtering Options
Ability to Filter Your Keywords based on various parameters
✔
✔
Keyword SERP Analysis
Retrieve competition analysis in SERPs for a specific keyword
✔
✔
Backlink Analysis
Enter any URL and uncover its backlink profile.
❌*
✔
Rank Tracking
Track your Keyword Rankings in SERPS
✔
✔
On-Page SEO Audit
Audit Your Website for On page SEO issues
✔
✔
Backlink Audit
Audit the backlink profile of your project.
❌
✔
Domain Overview
Check the overall stats (traffic, backlinks, keywords, etc.) for any domain
❌
✔
Mobile Application
Native Mobile Apps for Android and iOS devices
❌
✔
Pricing (Monthly)
Monthly Cost For Starter Plan
$37
$119,95
Pricing (Yearly)
Yearly Cost for Starter Plan
$297.00
$1.199,40
Free Trial
How much free trial do they offer?
7 Days
7 Days
*Available with extra charge.
What is SEMRUSH?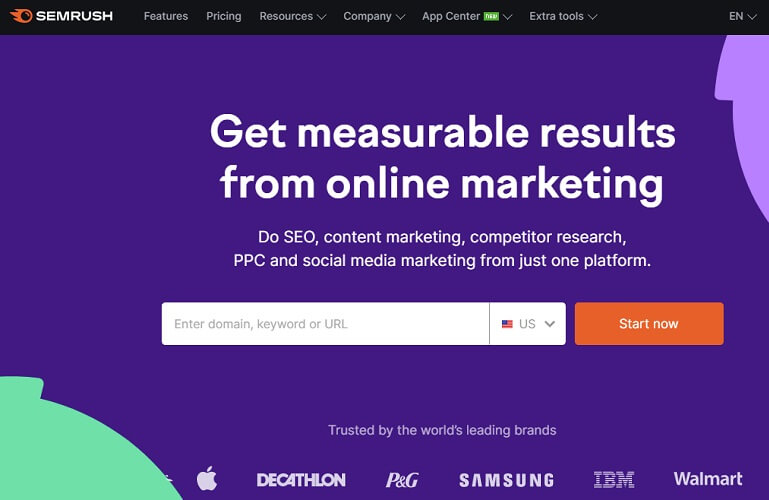 SEMRUSH is a full marketing suite with over 50+ tools. It SEO software system that focuses on competitor analysis and backlinks, and it includes a built-in keyword research tool as well.
The tool can help find users' search queries and make a webmaster's web content more crawlable by the internet bots.
It makes users able to input any website into the system, and then they can get comprehensive reports about their top keywords, backlinks, traffic statistics, and lots of other useful details.
Related: Semrush Review 2022: Pros & Cons, Tools, Pricing Plans
Who is SEMRUSH for?
SEO and marketing agencies and professional marketers can use this tool to check their clients' rivals, spy on their backlinks, and find better keywords for PPC.
Semrush is a strong competitor analysis tool that will help you learn who your top competitors are in a certain niche, how much traffic they get from Google, where their backlinks are coming from, and how they're working their way up to the top of Google search.
Offering great customer support in the form of live chat or email options, you can ask questions about any details that might be unclear when using it for your own website.
SEMRUSH Key Features
1) Backlinks: Semrush tracks and shows backlinks on both the domain and page level. You can then use this information to find out who is linking to your competitors and what keywords you're ranking for. Using this information, you can reach out to those sites and see if they'll link to your site as well.
2) Keyword Analytics: By tracking your top keywords, you can see how much traffic they're getting and where it's coming from. You can also view which search queries are sending the most visitors to your competitors.
3) Site Audit: This feature checks for any errors on your website, such as broken links or missing meta tags, which could result in lower rankings. You can then see how you compare to your competitors in these areas and use that information to improve your site.
4) Organic Traffic: This feature shows you which keywords are leading visitors to your website, as well as how much traffic they're bringing in each month. If there are certain keywords you want to target on your site, this is an easy way to see where you currently stand.
5) Site Explorer: With this tool, you can enter any website into the network and get a comprehensive profile of that site with all kinds of information, including keywords they are ranking for, their backlinks, weekly organic traffic, etc. All of the data is exportable, so it's easy to understand and use.
6) Rank Tracker: This feature tracks keywords of your choice (you can input up to five at once), shows you how much organic search traffic they're sending you, and provides insight into the top keywords sending clicks to your competitors.
7) Intelligence Events: Track any keyword on Google or Bing, get daily alerts whenever that keyword is mentioned, even if the mention isn't on a site that Google or Bing indexes. You'll then have all of the data you need to see how you're performing against your competitors.
8) Advertising Intelligence: Track your advertising campaign performance across both Google Ads and Bing Ads, including clicks, impressions, CTR (click-through rate), position, and cost.
9) Priority Support: This feature allows you to reach out for any questions or concerns that might be holding you back from experimenting with the tool and includes a fast response time.
10) Social Media Analytics: Monitor your presence on social media sites like Twitter, Facebook, Pinterest, and Instagram to track the engagement your posts are getting (likes, shares, comments), plus follower growth.
11) Backlink Sources: This feature shows you which websites are linking to your competitors, and it breaks them down by links tagged "no follow", links tagged "do follow", and so on. All of this information allows you to see where the most valuable backlinks are coming from.
12) Data Export: Export any reports to CSV files that you can open, sort, and filter in any way that's useful to you.
13) Keyword Magic: Use this feature to dig a little deeper into the keywords found in your analytics reports in order to understand which ones are being searched for most often compared to how much traffic they're generating. You'll also see why certain keywords might be valuable to target while others might not be.
14) API Access: If you plan on using SEMrush frequently, then API access is a must. It allows you to automate your data reports and easily integrate them into your workflow. Plus it saves you the hassle of having to download all of that information manually.
15) Custom Reports: If you use SEMrush in-house and want to create your own reports, then this feature is a must. Basically, all of the information and data that SEMrush has at its disposal can be pulled into one document for easy analysis and reference.
Benefits of Using SEMRUSH
Downsides of Using SEMRUSH
Click Here To Test Drive SEMRUSH for 7 days absolutely free.
What is Long Tail PRO?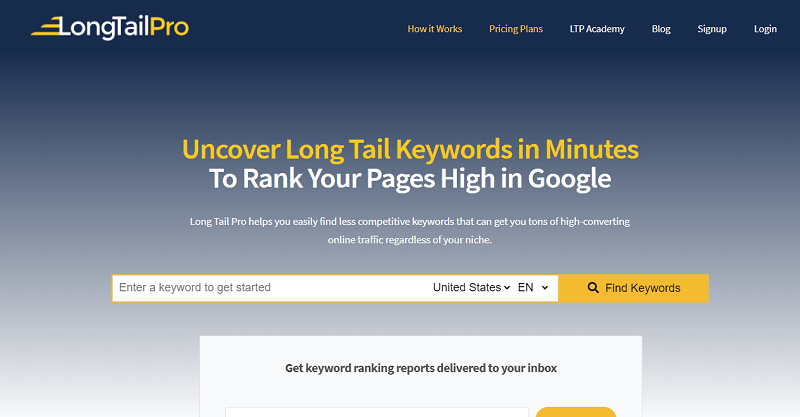 Long Tail Pro is an extremely powerful keyword research tool that anyone can use to improve their online business. It provides you with all of the necessary data you need on your competitors and on your own site, giving you more accurate information than some other "big name" tools do.
To start out, just input some keywords into Long Tail Pro's database, and it will immediately give you back hundreds of related keywords that've been searched for recently. You can filter them by search volume (how many times per month people are searching for each term) or by competition (how difficult it'll be to rank for the terms).
Then, you can use the data Long Tail Pro provides to figure out which keywords you should be targeting. You can sort all of the results by any metric or use them to build up a complete list of relevant keywords – Long Tail Pro will even let you print out this keyword list for future reference!
Related: Long Tail Pro Review [2022] – Features, Pricing, Competitors
Who is Long Tail PRO for?
Long Tail Pro is for anyone who wants to improve their organic traffic by getting more visitors from Google, Bing, and other search engines.
Whether you're running an e-commerce site, a blog, or both – Long Tail Pro can help you find the keywords that'll bring in consistent visitors who aren't afraid to buy. Long Tail Pro will help you get the most out of your time, making your keyword research process faster and easier than ever.
Long Tail PRO Key Features
1) Related Keywords – Long Tail Pro's database includes hundreds of thousands of keywords, all related to the ones you enter.
2) Fast & Efficient – Long Tail Pro will give you more accurate, detailed data in less time than other keyword tools.
3) Custom Searches – Specify your search criteria by phrase length, location, language, number of monthly searches, number of backlinks, website age, and more.
4) Filter Results – Narrow down or sort your search results by search volume, CPC (cost per click), competition level.
5) Add Keywords to Lists – Save any keywords you find for future use by adding them to one of Long Tail Pro's pre-made, frequently updated keyword lists.
6) Export Keywords – Export any or all of your data to CSV for future reference in Excel or Google Docs.
7) Export Search Lists – Export any of your saved searches to CSV for use in Excel or Google Docs.
8) Research Insights – See which keywords are trending up or down and get detailed information on each keyword you find, with CPC data and more!
9) Updated & Accurate Data – Long Tail Pro's database is updated monthly and is extremely reliable and accurate.
10) Data Export – Use Long Tail Pro's online dashboard to export any of your data in CSV format, print out a list of relevant keywords, or share it with other members in the Long Tail Pro community!
11) PPC Research – Long Tail Pro's keyword database also includes PPC data, so you can get search volume and CPC information for free.
12) Filter Out Spammy Results – Long Tail Pro's filters can help you eliminate results based on keyword spam, so you won't waste your time researching junk keywords.
13) Keyword Competition – Get highly detailed information on your competitor's websites, including backlinks, indexed pages, traffic data, and more.
14) Save Time – Long Tail PRO is designed to help you spend less time gathering keyword data and more time using it to grow your business. You can filter through hundreds of thousands of keywords, sort your results by search volume, target only the ones that are relevant with a single click, and automatically build lists of related keywords based on data Long Tail Pro provides.
Benefits of using Long Tail PRO
Disadvantages of Using Long Tail PRO
Click Here To Get An Exclusive 30% discount (applied automatically) With Your LTP Subscription
Long Tail PRO Vs SEMRUSH Features Comparison
Below I am comparing some of both tools most important features that fall under the SEO and Keyword Research category. This means that I don't compare features from SEMRUSH has related to advertising, social media, etc.
Keyword Research Results Data Accuracy
Long Tail Pro's search volumes are very accurate. The exact match volume data also seems to be accurate as compared with other keyword research tools.
SEMRUSH has a lot of search volumes available, but they seem to be varying much more than Long Tail Pro and Google Keyword Planner.
They have a much higher number of search volumes on low competition keywords. The SERP Volume Data on SEMRush is not as accurate compared to the other two tools.
KEY TAKEAWAY
Long Tail PRO uses Majestics API when it comes to keyword research data while SEMRUSH has its own data.
User Interface
LongTail PRO's user interface is very simple. You can easily export your data into excel/CSV or print it out if needed.
SEMRUSH has a more complicated UI, but they have an app for mobile devices, which makes Long Tail Pro's mobile app obsolete.
Long Tail PRO also has to improve its exporting tools so that you can easily export your search volume and cost data into CSV.
KEY TAKEAWAY
I find Long Tail PRO's UI friendlier – mainly because it has fewer options than SEMRUSH. I do find SEMRUSH's User Interface very friendly as well – but newer people to the SEO thing might find it a bit overwhelming.
Rank Tracking
SEMRUSH offers a very detailed rank tracking system. One great feature is that they send you a weekly or daily email (you control the email intervals) with your ranking fluctuations.
Long Tail PRO's rank tracking results are great to, just not as good as SEMRUSH's.
KEY TAKEAWAY
When is comes to rank tracking data, SEMRUSH is the clear winner here.
Keyword Difficulty Score
SEMRUSH has a better-detailed keyword difficulty score. LongTail Pro's scoring system is not as detailed, but it is still very accurate, especially in combination with the closely related keywords, so it doesn't matter which tool you use to get your keyword difficulty score.
KEY TAKEAWAY
Both Tools offer accurate keyword difficulty data. Although SEMRUSH's is more detailed, you can do your job just fine with the data Long Tail PRO provides.
Site Audit Feature:
Long Tail PRO's site audit feature is not as good as SEMRUSH's.
Long Tail PRO's site audit feature is relatively new (as of writing this Long Tail PRO vs SEMRUSH article) and I find the data they provide not as structured and detailed as SEMRUSH does.
SEMRUSH's Side Audit on the other hand offers an amazing number of details and actionable steps in a beautifull strucutred way.
KEY TAKEAWAY
Personally, I find SEMRUSH's side audit feature to be miles ahead than that of LTP.
Cost Per Click
SEMRush's cost per click feature is very accurate. It gives you a good idea of what your competition is bidding on an exact keyword.
Long Tail PRO's Cost Per Click feature is very accurate as well. Both tools pull their data from Google Adwords.
KEY TAKEAWAY
Both tools pull their data from Google AdWords, so both tools data are accurate.
Backlink Analysis
SEMRUSH offers an accurate backlink analytis tool because it includes the number of referring domains that link to each website in addition to their Domain Authority and Page Authority.
Long Tail PRO does not offer this feature by default. You have to pay extra from your subscription to get this kind of data. I bough the feature to test it out and I have to say its pretty good. LTP uses data from Majestic. That means that their data are fairly accurate.
KEY TAKEAWAY
SEMRUSH offers this feature by default. For Long Tail PRO you have to purchase this feature extra. Both backlink analysis tools are accurate. SEMRUSH's though is more well structured.
Pricing
Long Tail PRO is much cheaper than SEMRUSH. And I'll be honest with you. It is the number one reason I have chosen LTP over SEMRUSH.
SEMRUSH offers huuuuge value for your money. It's just that it is not for my budget and, honestly, I don't need most of their 50+ tools they have in their suit.
If you are someone who has the budget for the swiss knife of internet marketing and you will put SEMRUSH's tools to use, then SEMRUSH might be the one for you.
KEY TAKEAWAY
Long Tail PRO is much cheaper than SEMRUSH. That's the number one reason for choosing LTP over SEMRUSH.
Final Take
Both tools have their advantages and disadvantages. It's important not to just focus on one thing but rather use a combination of both tools for a more accurate analysis.
SEMRUSH has better SERP Volume Data, Rank Tracking, Keyword Difficulty Score, Mobile App, Site Audit feature, PPC Competition Data, whereas Long Tail Pro has a pay-per-click feature, a better-detailed site audit tool, and a more accurate cost per click.
In my case, I chose Long Tail PRO as my main Keyword Research tool, due to the lower price and because I don't need most of the features SEMRUSH has to offer.
What your choice will be? Long Tail PRO or SEMRUSH? Let us know in the comments below.
Other Comparison Guides
KWFinder Vs SEMRUSH: Features, Price, Comparison Table
KWFinder Vs Long Tail PRO [2022]: Which one is the best keyword research tool?
Yo 👋
If you enjoyed reading my Long Tail PRO Vs SEMRUSHC comparison guide, feel free to share it around. It will really help this article to get found.
👉 Follow CS on Facebook to receive notications on new articles I publish.
ℹ️ This blog is reader-supported. When you buy through links on this site, I may earn an affiliate commission without any surcharge to you. This helps me continue offer free and qualiy content for the community.