8 Best YouTube Tools for Creators
Being a content creator on YouTube is more than creating videos. You must make content plans and establish a strategy to enhance your online presence.
However, navigating YouTube as a content creator can be daunting without using tools.
The advent of technology has hatched various tools and software for content creators. From video editing to script making and content optimization, you have many options available on the market.
I've listed some of the best YouTube tools for creators like you in the following article.
These tools can help you work more efficiently and navigate the platform more quickly. Keep scrolling to discover the key features, pros, and cons of each tool below!
1. Writesonic
Creating videos for YouTube requires you to create scripts. Writesonic can help you handle script creation without hassle. It's an AI-powered writing assistant that simplifies creating, editing, and publishing written content.
✅ Key features of Writesonic
Assisted Content Creation
Keyword Research Tools
Content Generation
Automated Text Generation
SEO Management
Plagiarism Detection
Text Editing
Tone selection
😁 Pros
User-friendly interface and easy to use for beginner users.
Idea generation tools can save countless hours for finding topics.
Users can create and manage content workflows automatically.
😢 Cons
Limited integration with other platforms or tools.
Limited customization options.
Some features may have a bit of a learning curve for first-time users.
💵 Price of Writesonic
Writesonic offers competitive subscription plans starting from $10.00 monthly. It also offers a free trial with no credit card requirement.
With affordable prices, Writersonic suits all users, from individual content creators to large enterprises.
2. Pictory
Pictory is a versatile video production platform with various editing tools to craft and refine video content.
This platform incorporates AI to identify and extract precise sentences, helping non-experienced editors to work more efficiently.
✅ Key features of Pictory
Content Generation
Customizable Branding
Content Library
Large Media Library
Automatic Captions
Multiple Format Support
Human-sound voiceovers
Comprehensive Editing Tools
Text Editing
Text to Video
😁 Pros
Intuitive interface for beginner users.
AI integration helps save countless hours of editing.
Ready-to-use templates are helpful for starting a project.
😢 Cons
Using all features may require a higher price.
Identifying the main keywords for your content can be a bit time-consuming.
The price may not be suitable for individual content creators.
💵 Pricing of Pictory
Many recommend Pictory for content creators working in a team. The subscription price starts from $19.00 per month when you subscribe for a yearly plan, with a free trial available.
By the way, you may want to check my exclusive Pictory coupon code for saving an extra 20% OFF on your subscription – for life.
3. TubeBuddy
TubeBuddy is a tool designed specifically for YouTube content creators. It provides a comprehensive video management tool, from keyword research, ranking monitoring, and thumbnail generation.
Creators can also schedule content publication in advance, all in one platform.
✅ Key Features of TubeBuddy
Activity Dashboard
Content Management
Reporting, Analytics, and Statistics
Social Media Integration
Keyword Generators
Closed Captions
Bulk Uploading
😁 Pros
One of the easiest YouTube SEO tools.
Comprehensive tools to help you rank your content and get views.
Help you grow your channel in a more personalized way.
😢 Cons
Using Chrome is a must to use TubeBuddy.
Price may jump a bit for higher tiers.
💵 Price of TubeBuddy
TubeBuddy is an affordable option to help you enhance content performance and secure the top ranks of search results. With subscription plans starting from $3 monthly, TubeBuddy is suitable for content creators of all sizes.
4. Repurpose.io
Sometimes, you need to repurpose your content for different platforms. Repurpose.io helps you simplify the process of creating and sharing short video content across multiple platforms, including YouTube Shorts, TikTok, and IG Reels. You just need a few clicks to expand your audience reach.
✅ Key Features of Repurpose.io
Social Media Integration.
Auto Publication
Content Scheduling
Automated Content Repurpose Tools
😁 Pros
Repurpose video content instantly into various sizes.
Schedule content in advance.
Upload to multiple platforms simultaneously.
😢 Cons
Repurpose longer videos may take longer.
Can't turn on video monetization automatically.
Can't repurpose YouTube videos to Vimeo yet.
💵 Price of Repurpose.io
The subscription plans start from $20.75 monthly, with a 14-day free trial available and limited video publication. This plan suits small business owners, individual content creators, influencers, and entrepreneurs.
5. Synthesia
If you want to use avatars in your video, Synthesia can help you generate one representing yourself.
More than that, it's an AI-powered video editing platform that instantly creates your next video in just a few minutes by uploading a free narration text file.
✅ Key Features of Synthesia
AI Voices
Animation
Animations & Transitions
Audio Editor
Content Creation
Voice-Over/Audio
Voice Generator
Text to Video
😁 Pros
An intuitive platform to create educational videos.
Diverse avatar and voice options.
Easily create videos without recording with real actors
Easily create videos in various languages without having to master the languages.
😢 Cons
Limited options to insert separate videos.
Some avatars may not be able to speak particular languages.
Works on Google Chrome only.
The text addition feature may be difficult to use.
💵 Pricing of Synthesia
You can use Synthesia by paying $29.00 per month. However, many recommend this platform for mid-sized businesses and large enterprises.
6. WeVideo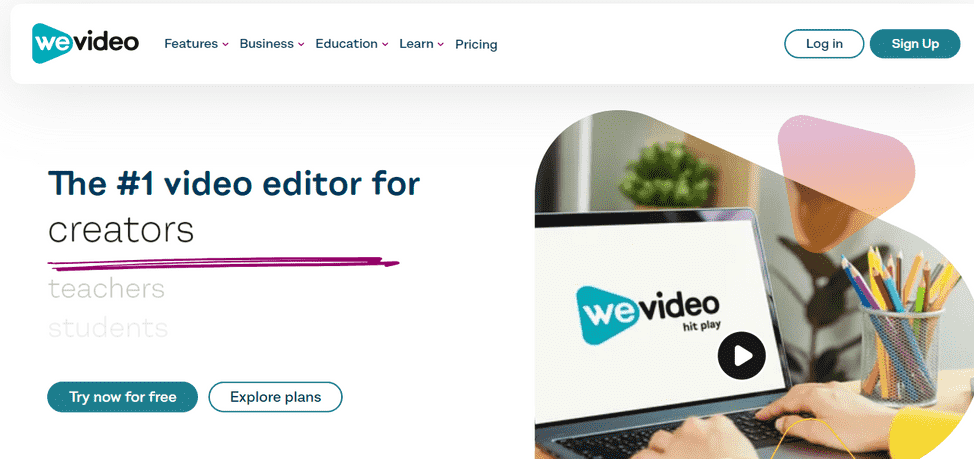 WeVideo offers comprehensive editing tools, including green screen effects. The platform also facilitates seamless real-time collaboration among professionals and allows the direct upload of custom-branded videos to various social media platforms.
✅ Key Features of WeVideo
Video Editing
Video Capture
Supports HD Resolution
Collaboration Tools
Brand Overlay
Media Library
😁 Pros
Suitable for beginner video editors.
The cloud-based environment allows multiple access.
The import, edit, and export process can be done 100% on the browser.
User-friendly interface with drag-and-drop styles.
😢 Cons
It may not be suitable for pro editors.
It's not as snappy as offline video editing software.
Limited capabilities when it comes to keyframes.
A slow internet connection can affect the editing process.
💵 Price of WeVideo
The pricing options start from $9.99 monthly. WeVideo is highly recommended for individual content creators and small businesses. This platform can be accessed from the web and smartphones.
7. Systeme.io
Systeme.io is an all-inclusive online marketing platform designed to streamline initiating, expanding, and optimizing online businesses with ease and speed.
You can establish affiliate programs and mechanize nearly every facet of your business operations.
✅ Key Features of Systeme.io
Activity Dashboard
CRM
Campaign Management
Campaign Analytics
Marketing Automation
Visual Analytics
Multi-Channel Marketing
Engagement Tracking
😁 Pros
A well-designed platform for affiliate marketing.
One of the easiest funnel-building solutions.
Relatively affordable for an all-in-one feature for marketing.
Excellent customer support.
😢 Cons
There is a slight learning curve when navigating the platform for the first time.
AI and lack of human interaction may handle customer support.
No Live Chat support system, only through email.
💵 Price of Systeme.io
Systeme.io offers a free plan for users but with limited features. The paid subscription starts from $27 per person monthly, which can be a good investment for small to medium-sized businesses.
8. Canva
As a content creator on YouTube, you need a tool to create aesthetic thumbnails. Canva can help you create eye-grabbing thumbnails with its easy interface and comprehensive tools, including free stock images, animations, illustrations, and fonts.
✅ Key Features of Canva
Artwork Management
Image Editing
Media Library
CMS Integration
Pattern, Color & Art Storage
Pre-built Templates
Offline Editing
Social Media Templates
Ai Design
😁 Pros
A free platform to edit and customize images.
An abundance of free stock images and fonts are available.
Easy to use for beginners.
😢 Cons
Lack of video editing tools on the platform.
Paying for the full version is necessary to use the best clip art and other visual elements.
Pricing of Canva
💵 Canva Pricing
Canva has a free plan where you don't have to spend a single penny to enjoy its features.
However, to unlock its fullest potential, you can purchase the full version for $12.99 per user monthly, with a free trial available.
Frequently Asked Questions
Bottom Line
YouTube tools can be an excellent investment for saving your valuable time.
Most of them are powered by AI, making any process of editing, optimizing, and managing content efficient and accurate.
Also, the above YouTube tools are user-friendly. Even if you're not a tech-savvy content creator, you can still produce high-quality videos.
On top of that, enhance your video performance with YouTube SEO for high engagement and view rates.
Author Bio
Andre Oentoro is one of the co-founders of Milkwhale, an internationally acknowledged infographic production agency. He helps businesses increase visibility on.
Check Also
👉 Follow CS on Facebook to receive notications on new articles I publish.
ℹ️ This blog is reader-supported. When you buy through links on this site, I may earn an affiliate commission without any surcharge to you. This helps me continue offer free and qualiy content for the community.