WeVideo Review: Best Video Editing Tool For Educators
Are you in need of a reliable video editing tool? Look no further than WeVideo. With its user-friendly interface and powerful features, WeVideo is perfect for educators looking to create professional-looking videos.
Whether you're a beginner or an experienced video creator, WeVideo has something to offer. In this review, we will explore the key features of WeVideo, discuss its pros and cons, and provide an objective evaluation of its performance.
So why wait? Let's dive into the world of WeVideo and see what it has in store for you.
WeVideo Review in A Glance
WeVideo Video Editing Software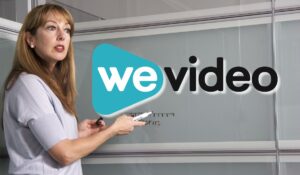 WeVideo is a great tool for educators but not the best option for YouTubers, Instagrammers and TikTokers as it lacks many features other video editing software have. Plus, it is kind of expensive compared to them. But, as an educator if you're looking for an easy-to-use video editing tool that offers a range of features, WeVideo is worth considering.
Operating System: Mac, Windows, Chromebook, iOS, Android
Application Category: Video Editing
Pros
Smartphone Ready
Greenscreen feature
Free Trial
Best for educators
Cons
Bit pricey
Free trial has a lot of restrictions
Lacks features for Social Media Creators
Why You Should Trust Me
As someone who recently started my own YouTube and TikTok channels, I wanted a user-friendly tool that could help me create professional-looking videos without much hassle. WeVideo was on of the video editing tools that I tried.
The interface is intuitive, making it easy to navigate and understand even for someone with no prior video editing experience. The wide range of features and effects allowed me to add creativity to my videos, enhancing their overall quality.
Additionally, the cloud-based nature of WeVideo enabled me to edit my videos from any device, providing convenience and flexibility.
Overall, my experience with WeVideo has been positive, making it a reliable choice for beginners like myself.
What is WeVideo?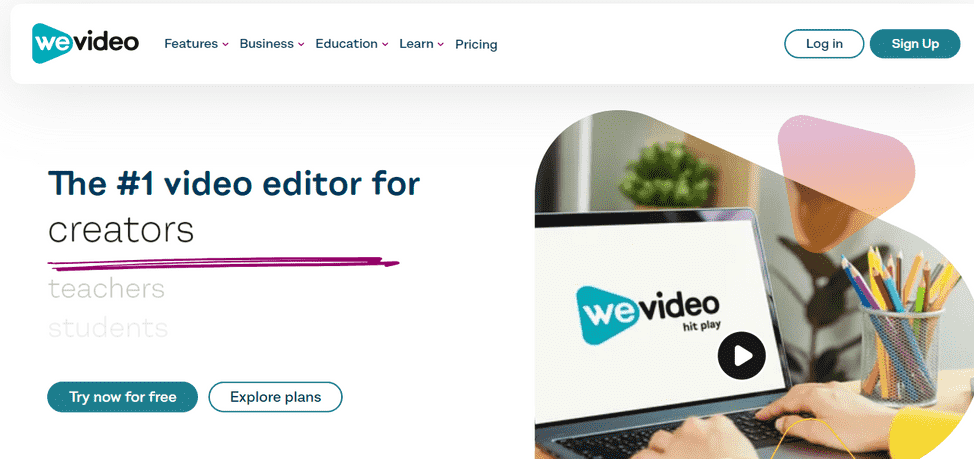 WeVideo, introduced in 2011, is an online video editor designed for straightforward video editing and a broad selection of stock resources. Initially aimed at educators and professionals in fields such as teaching and HR, the platform subsequently expanded its reach to encompass video creators and small businesses.
WeVideo's primary appeal lies in its accessible editing features, usable by both novices and experienced editors. By operating within a web browser or on mobile devices, it harnesses cloud-based technology for convenient accessibility.
Originally named Creaza, Inc., the company rebranded as WeVideo to eliminate any potential confusion. The platform enables users to produce polished videos without requiring significant financial investment, offering functions like screen recording and premium effects. Irrespective of one's skill level, WeVideo furnishes the tools and materials to facilitate effortless video creation.
In essence, WeVideo is an approachable cloud-based video editing solution, catering to a range of users from educators to creative enthusiasts, to fashion videos that make an impact.
Who is WeVideo Best For?
WeVideo is ideal for educators, whether you're a single teacher, a K-12 educator, or an entire school district. This powerful video editing tool is perfect for creating educational content that engages and inspires your students.
With WeVideo, you have access to hundreds of ready-made templates that make it easy to create professional-looking videos in no time. Whether you want to create short-form or long-form content, WeVideo has the features and tools you need to bring your ideas to life.
It's user-friendly interface and intuitive editing process makes it accessible for educators of all skill levels. Plus, the collaborative features allow for seamless teamwork among teachers and students.
Overall, WeVideo is a valuable resource for educators looking to enhance their teaching through video creation.
Although it has features for YouTube video creators as well, it is best suited for people in the education sector.
WeVideo Key Features
If you're looking for a versatile video editor, WeVideo has got you covered. With its user-friendly interface and wide range of features, you can easily edit your videos to perfection. Let me analyze to you WeVideo's Key Features.
Video editor
The video editor provides easy-to-use tools to edit videos in minutes, saving you time and effort. With features like trim, split, and merge, you can quickly make the necessary adjustments to your videos without spending hours on editing.
The editor also offers a wide range of stock media clips, including copyright-free images, videos, and audio clips. This extensive library allows you to enhance your videos with high-quality visuals and sound effects.
Additionally, you can add text, music, and voice overs to personalize your content further. Motion titles can guide viewers' attention, while narrating your story or adding musical effects can evoke emotions in your audience.
Overall, this video editor simplifies the video editing process and offers a variety of creative options for making engaging videos.
Screen recorder
You can easily record your screen and webcam using WeVideo's free screen recorder. This feature allows you to capture both your screen activities and yourself on camera simultaneously.
With just a few clicks, you can start recording high-quality videos without the need to download any additional apps. The recorded videos are automatically synced with your voiceover, making it easy to create professional-looking content.
Additionally, WeVideo provides built-in video editing tools that allow you to trim recordings and merge them together seamlessly. You can also customize your videos by adding text, music, transitions, motion titles, and effects from a wide range of stock assets available.
Furthermore, you have the option to upload logos and brand assets or save them in a Brand Kit for automatic inclusion in your videos.
Overall, WeVideo's screen recorder offers convenience and flexibility for capturing and editing engaging video content.
Green screen video editor
Editing your videos with WeVideo's green screen video editor is a breeze. With this feature, you can easily change backgrounds in your videos. Whether you want to upload your own photo or video background or choose from over 1 million stock assets, WeVideo has got you covered.
The green screen video editor allows you to create professional-looking videos by seamlessly removing the original background and replacing it with another one of your choice. This tool is perfect for adding visual effects, creating virtual sets, or simply enhancing the overall quality of your videos.
It offers a wide range of options and flexibility, giving you the freedom to unleash your creativity and produce captivating content. Give it a try and see how it takes your videos to the next level!
Ready made, editable video templates
Check out the ready-made, editable video templates available for you to use and customize in just a few simple steps. These templates cover various categories, including pro videos, social media videos, marketing videos, and video memes.
With these templates, you can quickly create scroll-stopping videos for popular platforms like YouTube and TikTok. Whether you need to turn static ads into dynamic video ads or create product demos and explainer videos, there are templates designed specifically for your needs.
The best part is that these templates are customizable, allowing you to add your own text, images, and music to make them unique to your brand or message.
Get started today with these easy-to-use video templates and take your content creation to the next level.
Create interactive videos
Creating interactive videos is a fun and engaging way to enhance your online learning experience. With PlayPosit, you have the power to create personalized and interactive videos that can be accessed anytime and anywhere.
These videos allow you to add interactive elements such as quizzes, discussions, and annotations, making the learning process more dynamic and immersive. By incorporating these interactive features, you can actively engage with the content, reinforcing your understanding and retention of information.
Additionally, PlayPosit provides real-time monitoring and actionable analytics, allowing you to track your progress and make data-driven improvements to your learning experience.
Overall, creating interactive videos with PlayPosit offers an innovative approach to online learning that promotes active engagement and enhances your overall understanding of the subject matter.
Create a Brand Kit and branded templates
When you create a brand kit and branded templates, it ensures consistency in your video content no matter who's producing it.
A brand kit includes all the visual elements that represent your brand, such as logos, colors, fonts, and graphics.
By creating templates with these elements already incorporated, you can easily apply them to your videos and maintain a cohesive look and feel.
This is especially important when multiple people are involved in creating video content for your brand.
With a brand kit and branded templates, everyone will have access to the same design assets and guidelines, ensuring that all videos align with your brand identity.
This not only enhances recognition and trust among your audience but also helps to establish a professional image for your brand.
Available in multiple platforms
You can access WeVideo on various platforms like Mac, Windows, Chromebook, iOS, and Android. This means that no matter what device you are using, you can easily use WeVideo to create and edit videos.
Whether you prefer working on a desktop computer or a mobile device, WeVideo has got you covered. This availability across multiple platforms makes it convenient for users to access their projects from anywhere at any time. It also ensures that you don't have to worry about compatibility issues when switching between devices.
With the ability to seamlessly transition between different platforms, you can work on your videos whenever inspiration strikes. So whether you're editing on your laptop at home or adding finishing touches on your phone while on the go, WeVideo provides a versatile and accessible solution for all your video editing needs.
WeVideo Pros And Cons
When considering the pros and cons of WeVideo, there are several key points to keep in mind.
😁 PROS
The green screen feature in WeVideo is not something you can find in many other video editing software.
WeVideo offers a free plan that allows users to test out its features before committing to a paid subscription.
WeVideo has a mobile app. This means you can edit videos on the go from your smartphone
Great tool for educators (teachers, classrooms etc) with many features to help them deliver more engaging classes
🤔 CONS
Not the most value for money video editing software
Mixed reviews on review sites
Not that easy to learn.
Free trial comes with many restrictions.
WeVideo Reviews on Other platforms
WeVideo has received mixed reviews on various platforms.
Users have shared their experiences and opinions about the video editing software on different review sites such as SiteJabber, Capterra, G2, Getapp, and Trustradius.
Here is a comparison of the ratings given by users on these platforms:
| Platform | Rating | Reviews |
| --- | --- | --- |
| SiteJabber | 1.82 / 5 | 56 |
| Capterra | 4.7 / 5 | 186 |
| G2 | 4.3 / 5 | 40 |
| Getapp | 4.7 / 5 | 186 |
| Trustradius | 9.0 / 10 | 7 |
As we can see from the table above, WeVideo's ratings vary significantly across different platforms.
While it received lower ratings on SiteJabber with an average rating of only 1.82 out of 5, it performed much better on other platforms like Capterra and Getapp with an average rating of around 4.7 out of 5.
The highest rating was given on Trustradius where WeVideo scored an impressive rating of a perfect score 9 out of 10 based on just seven reviews.
These varying ratings indicate that users' satisfaction with WeVideo may depend on their individual preferences and needs for video editing software.
It is important to consider multiple sources when evaluating a product's performance to make an informed decision based on your specific requirements.
WeVideo pricing plans
The pricing plans for WeVideo are divided into four options, with the Power plan costing $9.99 per month and the Business plan being priced at $73.99 per month.
The Unlimited plan is available for $15.99 per month, while the Professional plan costs $39.99 per month. It's worth noting that if you opt for an annual subscription, you can save 50% on all plans.
The Power plan offers basic features and is suitable for individual users or beginners who need simple video editing capabilities. The Unlimited plan provides additional benefits such as unlimited storage and access to premium content libraries, making it ideal for those who require more advanced editing tools.
For professionals or businesses needing advanced features like green screen effects and collaboration tools, the Professional plan is recommended. Finally, the Business plan offers even more advanced features like custom branding and priority support.
Overall, WeVideo's pricing plans offer a range of options to cater to different user needs and budgets, ensuring flexibility and affordability in accessing their video editing services.
WeVideo Alternatives
Looking for alternatives to WeVideo? Check out Pictory and Invideo, both excellent options for video creators like you.
Pictory offers a wide range of features and tools that can help you create professional-quality videos. With its intuitive interface and user-friendly editing capabilities, Pictory makes it easy to produce stunning videos without any prior experience.
Invideo is another great alternative that provides a vast library of templates, stock footage, and music tracks to enhance your videos. It also offers advanced editing features like text overlays, transitions, and effects to give your videos a polished look.
Both Pictory and Invideo are reliable alternatives to WeVideo, offering unique features that cater to the needs of video creators in different ways.
WeVideo FAQ
Bottom Line: My Take on WeVideo
So, this is the end of my WeVideo Review. In my opinion, WeVideo is a good option for educators. It offers a range of features that make it easy for educators to create and edit videos. Its cloud-based platform allows for collaboration among students and provides access to a wide variety of media assets.
However, there are more affordable video editing software available. The pricing plans for WeVideo can be expensive, especially for individual users or smaller educational institutions with limited budgets.
Ultimately, while WeVideo may be suitable for some educators, exploring more affordable alternatives can save money without compromising on quality or functionality.
– Advertisement –
Pictory Ai – The #1 Text-to-Video Creation Tool
Pictory is the most value for money Ai video tool currently in the market. Just copy-paste any text into the editor, hit the generate button and BOOM. You video is ready. Add voiceover and make any edits based on your. Click the button to start your free trial.
Save 20% on your subscription. Use discount code pavlos23
Read Next
With its user-friendly interface and intuitive controls, it's perfect for both beginners and experienced videographers.
While there are some limitations with the free version, the paid plans offer great value for money.
👉 Follow CS on Facebook to receive notications on new articles I publish.
ℹ️ This blog is reader-supported. When you buy through links on this site, I may earn an affiliate commission without any surcharge to you. This helps me continue offer free and qualiy content for the community.