How To Get Referrals For PTC Sites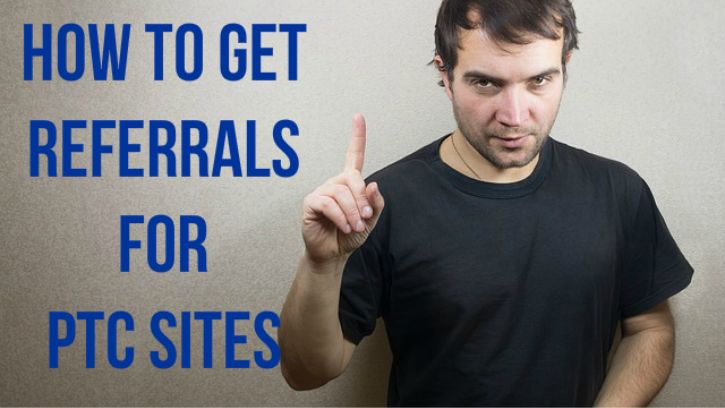 In today's post, I'm about to answer the greatest question in the PTC industry which is: How To Get Referrals?
If you want to succeed in the PTC world, you need to get more direct referrals to your PTC website that you are affiliated with. Not Rented referrals (those are bots). DIRECT Referrals.
There are people who are making more than $800 per month from PTC websites, by completing online tasks for money, but they have to spend 10 -13 hours per day in front of their computers to achieve this kind of number. Most paid-to-click users (including me) are not willing to do that. So in order to make a ton of money with these sites, you must get referrals.
The number one problem of paid-to-click users is that they cannot get referrals to their favorite ptc website. I have been getting steadily 10 – 15 referrals per month to Clixsense – the PTC website I am affiliated with – by using free and paid methods which I am about to show them to you below.
How To Get Referrals
Before I start teaching the methods to get referrals, you have to understand something very important:
There are free and paid methods to get referrals. Free methods need a lot of work but no money and paid methods need money but no work.
I prefer using paid methods to get direct referrals because I am kind of a lazy marketer.. 🙂
I prefer setting my campaigns, track my results, and checking back on them after they are finished.
Getting Referrals to your favorite PTC website is not going to be as easy as many people may want you to believe it is. But if you focus your efforts and then everything is possible.
Just never quit and do not ever give up.
Get Direct Referrals Using Paid Methods
Getting Referrals with paid methods than free methods is something that I recommend. That's because it is effortless and you get referrals fast.
If you want to get referrals fast then you have to advertise:
on other paid to click websites
on PPC (pay per click) platforms.
on Search Engine PPC platforms
by sending Solo Ads
by advertising on Social media websites
1. Advertise on other PTC websites:
You can get direct referrals on autopilot if you can spend $65 per day by placing a fixed ad on Clixsense or other paid-to-click websites that offer sticky ads. Of course, this would cost you $1950 per month if you wanted to advertise every day.
In general, though, paying for a fixed ad on Clixsense will result in about 25 – 30 referrals in a single day, always depending on the quality of your landing page.
Here is a screenshot from someone who claims that he has 7000 direct referrals. Just read how this guy is getting his referrals.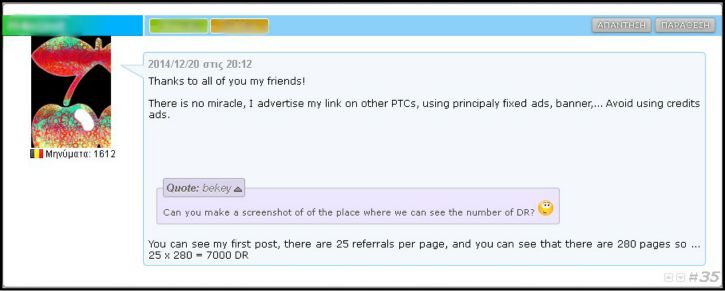 This User says, he is getting referrals from fixed ads (or sticky ads) and banner advertising on other PTC websites instead of using credit ads. Gee, I wonder where he places his fixed ads?
2. Advertise on Pay Per Click (PPC) Platforms
Another method that will help you to get referrals fast is to advertise on Pay Per Click platforms. PPC platforms charge you only when someone clicks on your advertisements.
These platforms allow webmasters to place advertisements on their websites. Your advertisement will appear on all those websites. You are going to get charged a fixed amount only when someone clicks on your advertisement.
Here are my two favorite PPC platforms that charge a fixed amount per click.
3. Advertising on Search Engine PPC
Search Engine PPC is a similar method to normal PPC advertising, only this time you target keywords that you want your advertisement to appear.
For example, if you target the keyword " Make Money Online" your advertisement is going to appear only when someone searches for this keyword through the search engine.
My favorite and the one I use all the time is
4. Send Solo Ads
To understand this method you first need to understand what solo ads are.
Solo ads are emails that are sent to a huge email list of subscribers someone has.
Let's see an example:
Andrew is an Internet marketer. He collects emails from people who are interested on making money online, by giving free reports and other valuable stuff.
He managed to build a list of emails from 5000 people.
If you want to send an email to Andrew's list then you have to pay him $100.
Let's suppose that 50% of people open your email with your offer to join a free website that it is going to make them a lot of cash. (Yes, your paid to click website 🙂 ). That's 2500 people.
Let's suppose that only 30% is going to click on your link thats inside the email. That's 750 people.
Let's suppose again that only 15% are going to join the free money-making opportunity (again, your paid-to-click website) that you are promoting. That's 100 – 115 new referrals by sending one email.
See how powerful this method is?
5. Social Media Advertising
Social Networks such as Facebook and Twitter, have their own advertising platforms that work based on the PPC model. Social Networks allow you to target your prospects based on their habits and their interests instead of what they are searching online.
So you can target people who are interested in making money online and show your ads to them.
Again you will be charged every time someone clicks on your advertisement only.
I suggest you start with:
Get Free Referrals
Getting referrals by using paid methods will cost a lot of money though. If you are on a tight budget then you should consider using these methods that I am about to mention below.
I'm not a big fan of them and I usually don't recommend them when people ask me the greatest question – how to get referrals? 🙂
To get free referrals you need to:
Create An Ebook
Post To Classified Ads Websites
Participate in related forums
Use Traffic Exchanges
Write Articles
Post To Social Networks
Create Review Videos
Remember, these methods need a lot of time and effort to be done. You can find more resources about each point below.
1. Create an Ebook
You can create a small ebook of 7 – 10 pages (for example "10 Easy Methods To Make Money Online for Free") and distribute it for Free on your website, on free ebook directories or even "sell it" for $0.99 on Tripleclicks and other ebook marketplaces.
Inside the ebook include the paid-to-click website that you wish to get free referrals with your referral link.
This method requires you to know how to use Microsoft word to write your ebook and to create your cover page. Then, export it to pdf and create a 3d cover using this website here. (You can always find someone to help you with writing and cover design on fiverr.com for $5 only)
The more places you distribute your free ebook the more free referrals you are going to get in the long term.
2. Post Your Link To Free Classifieds
Another popular method is by posting your referral link to as many classified ad directories as possible.
Just Google "free classifieds" and many lists will appear with websites that allow posting your referral links there.
The only problem is that 90% of them will require you to create a free account before posting your classified ad. This will eat up a lot of your time and you will have to write all your login credentials somewhere so you do not lose them.
Some of the most popular classified ad directories are:
3. Sign Up To Related Forums and Post Answers.
Another method that many PTC users use in their quest to get free referrals is by participating and being active in PTC-related forums.
By being a valuable member of a forum community, other members will start to trust you, follow you, and become inspired by you. New members join these forums every day and it can become a good source of free direct referrals.
Again the only downfall in this method is that it can take time for you to take part in these forums and build a reputation around your name.
Here is a list of popular ptc forums that you can join:
4. Promote To Traffic Exchanges
You might hear this term before but I am going to explain it anyway.
Traffic exchanges are websites that you watch advertisements (just like a PTC website) but instead of you getting money, you get credits. You then use your credits to advertise your website for free.
This method requires you a lot of time because you need to watch advertisements for 1 -2 hours per day if you want to gather enough credits to advertise your referral link for a long time.
Some of the most popular Traffic Exchanges are:
5. Article Marketing
This is another good method for getting free referrals.
What you need to do is to write an article about the PTC industry or the make money online niche.
Here's an example:
Are there really ways to make Money Online For Free? –
Then you need to distribute it in as many places as possible all around the web. The idea is to share informative content that people will read and join the program mentioned (in that case your referral link)
Some places that you can distribute your articles are:
Other make money online blogs.
Article Directories (Google it)
Again, if you are not good at writing, you can find someone to do this for you on fiverr.com for only $5
6. Social Networks
Promoting your paid-to-click website through social media is a very tricky task if you are not willing to spend any money on advertising.
What you need to do is to create a page about you on popular social networks like Facebook, tsu, Twitter and then start posting your affiliate links to them. Of course, don't look spammy as most people will not bother to check what you have to say.
As a rule, try to gain as many followers as you can and post 5 times about anything else and 1 time about your paid-to-click website. This way you can make people trust you more and not feel that you want to sell to them.
7. Review Videos
Another popular method is to create videos about your journey with the paid-to-click website that you are promoting.
Start by creating an honest review video about it and try to look natural. It is not necessary to have professional equipment to do videos. Your smartphone would be ok.
Every week document your process with the website by creating and uploading a video on YouTube.
Talk about The Money you made until now, your future plans, talk about your referrals, talk about the different methods you can earn money with your PTC website, show them your payment proofs and other similar videos.
This way people will start following you to see your videos and eventually become your referrals.
This is again a free method that requires a lot of time and effort though..
If you want to maximize your results, find people who can distribute your video to many video sites like, break.com, dailymotion.com, and other video sites. (Again, check on fiverr.com for video distribution services.)

How To Get More Referrals
If you want to get even more direct referrals you need to start a blog.
A blog is neither a free nor a paid method. Is something in between.
Why I'm saying this?
Because a blog requires about $9 per month for hosting (or about $70 per year) to operate but you don't have to spend any other money on it to make it function and bring you referrals. It is very time-consuming because you need to write articles and do SEO, but it brings a good amount of direct referrals every month.
If you are going to use this method, then I suggest creating a paid blog, like this one, then a free blog from blogger.com or wordpress.com . The reason is that paid blogs appear more often on the search results bring in more traffic hence more referrals to your favorite PTC.
The way blogs work is like this:
You post quality content about a topic. (example: Make money online or Paid To Click Websites)
Google, Bing, and other search engines try to push to the first results the best content they can find when a user searches for something.
So if someone is searching for the keyword "Clixsense Review" and I have written a quality Review about Clixsense, then my blog will most probably appear more often in the top 10 results than a free blog.
Then, people will read my review and they will most probably join me.
So I suggest that you start your own blog now, by going through my step-by-step tutorial here.
ATTENTION: Do Not Fall Into These Traps
There are some traps that you need to be aware of, in your journey of getting referrals.
Often people, when they type to Google or other search engines the term "How To Get Referrals" get exposed to different advertisements that promise direct referrals.
Let's see what those websites are.
1. Guarantee Sign Ups
Scam, Scam, SCAM…
These websites often promise Guarantee sign-ups to unsuspected users.
Don't buy! The referrals you are going to get (if you get any) are going to be inactive. And as you understand, inactive referrals are equal to no referrals.
Also, note that some PTC websites – like Clixsense – don't allow referrals coming from this kind of source.
If they catch you getting referrals from guarantee sign ups websites, they will ban your account.
So again, DON'T USE These kinds of services.
2. Referral Exchange
Stupid Method of getting referrals.
This method can be met in forums and other make money online boards, where desperate paid to click users come together and beg each other to join their PTC website in exchange for joining their PTC website as well.
Don't do that. It is humiliating and the people who are going to join you will not be active. PERIOD. If you are going to get free referrals, it better be these referrals to be active.
3. Spamming Facebook Groups
This is one of the stupidest methods, trying to get free referrals.
The worst part is that it does not work.
Do not lose your time going to Facebook and spamming all those ghost-like make-money-online groups.
No one cares about them because the only thing people do on these groups is to spam and spam and spam, money-making opportunities, and affiliate links.
Heck, even Facebook doesn't like this and makes sure these spamming-looking links don't appear on a user's timelines.
I have mentioned 13 methods – in total – on how to get referrals. Some of them will get you referrals fast but they will cost you money, while other methods will get free referrals slower and they will cost you almost no money.
So, the next big question should be: Which methods are you planning to use?
Also, if you have anything else to suggest then please do so in the comments below. I'm sure everyone will appreciate your information.