5 Tried And Tested Websites To Buy Backlinks For SEO
Are you fed up with battling to improve your website's search engine rankings? Do you keep looking out effective strategies to increase your SEO efforts?
I understand your distress, my friend.
In this article I'm going to share with you 5 tried & tested websites that you can buy backlinks that will dramatically increase your website's ranking in search results – if used correctly.
Brace yourselves as we dive into the world of backlinks and explore the five tried and tested websites where you can buy high-quality backlinks for your website.
What are backlinks and why are they important?
Before I go into the websites where you can purchase backlinks, you need understand what backlinks are and why they are important in Search Engine Optimization.
Backlinks, simply put, are links from other websites that direct users to your website. They act as endorsements or votes of confidence from other websites, signaling to search engines that your content is valuable and worthy of attention.
Backlinks are important for several reasons.
Firstly, search engines like Google consider backlinks as a key ranking factor.
The more high-quality websites that link back to your website, the more authority and trust it obtains in search engines' eyes.
This, in turn, can result in higher rankings and increased organic traffic.
Secondly, backlinks help drive referral traffic to your website.
For example, when someone click on a backlink from another website and lands to yours, you have the opportunity to convert that visitor into a loyal customer or subscriber.
In case you are not selling anything and you make money from ad networks, you just got yourself another impression.
Backlinks act as pathways to your website, expanding your reach and attracting potential customers from diverse sources.
Where to buy backlinks for SEO?
Now that we analyze why backlinks are important let's explore the top five websites where you can buy these valuable links to boost your SEO.
When it comes to buying backlinks, Adsy is a top contender.
This platform offers a marketplace where website owners can connect with people like you (who are looking for backlinks).
Adsy stands out for its strict quality control measures, ensuring that all backlinks are obtained through legitimate and reputable websites.
With Adsy, you can find backlinks from authoritative websites relevant to your industry, giving your website a solid boost in search engine rankings.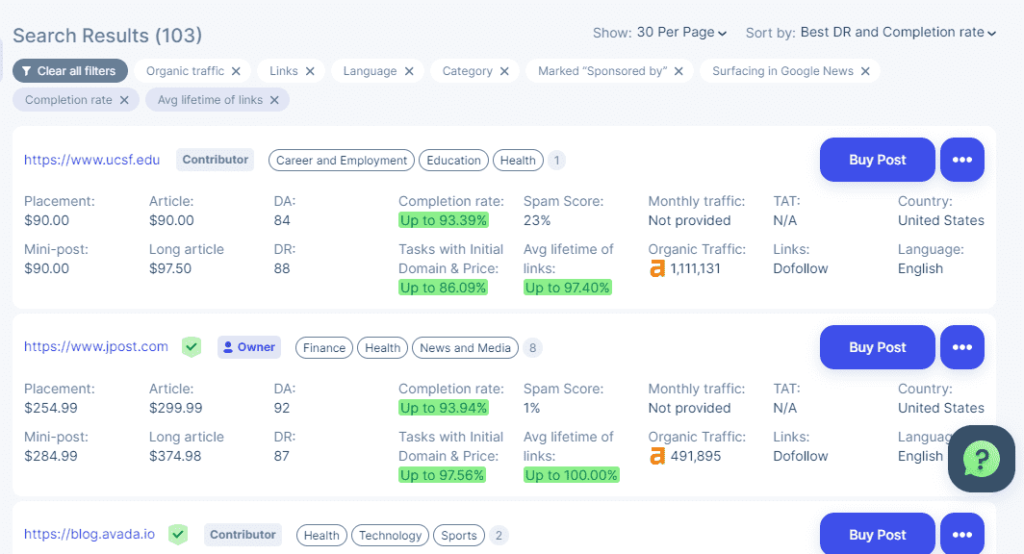 Compared to other services, Adsy provides a user-friendly platform that simplifies the process of buying backlinks.
The interface is intuitive, making it easy to navigate and find the right opportunities for your website.
Additionally, Adsy has a transparent pricing structure, allowing you to choose from various packages based on your budget and requirements.
To maximize your success with Adsy, it's essential to use the filters to find the webmasters with the best websites.
Links from these websites are more likely to move your website up in the search ranks rather than cheaper links from bad and spammy looking websites.
Fiverr is a popular freelance marketplace that offers a wide range of services, including backlink acquisition.
This platform provides a vast pool of freelancers who specialize in SEO and can help you secure backlinks for your website from other websites.
Fiverr offers a diverse filtering system that allows you to choose freelancers based on their pricing, seniority on the platform, review score etc.
One advantage of using Fiverr is the affordability factor. You can find backlinking services starting as low as five dollars (that's why it's called fiverr after all) making it a suitable option for website owners on a tight budget.
However, it's important to exercise caution and thoroughly research the sellers on Fiverr before making a purchase.
Look for sellers with positive reviews and a proven track record of delivering high-quality backlinks.
Also, don't get carried away from freelancers that sell 100 backlinks for $5. These are most probably links from PBNs and Link farms and they will do more harm than good to your website.
When using Fiverr for backlinks, make sure to ask for the website's domain name first before ordering.
This way, you'll get a chance to review the website, check its Domain Authority, backlink profile and it's overall quality.
SEOClerks is another freelance website that offers a marketplace specifically for SEO.
This platform allows you to browse through a wide range of backlinking services offered by SEO experts and freelancers.
SEO Clerks has a robust rating and review system, enabling you to assess the credibility and reliability of sellers before making a purchase.
One of the advantages of using SEO Clerks is the ability to find very cheap backlinks – even less than $5.
Of course, as I mentioned earlier, you should always ask for the domains first, review them and then order.
From my experience with the platform for every 20 domains I check that cost less than $5 to acquire a link from them, only about 2 – 3 pass my review standards.
But, hey.. If your budget is low, you need to put on more effort.
Before making a purchase with SEO Clerks, take the time to evaluate the seller's portfolio, read customer reviews, and ask any questions you may have.
It's crucial to choose sellers who have a proven track record and can provide high-quality backlinks from reputable websites.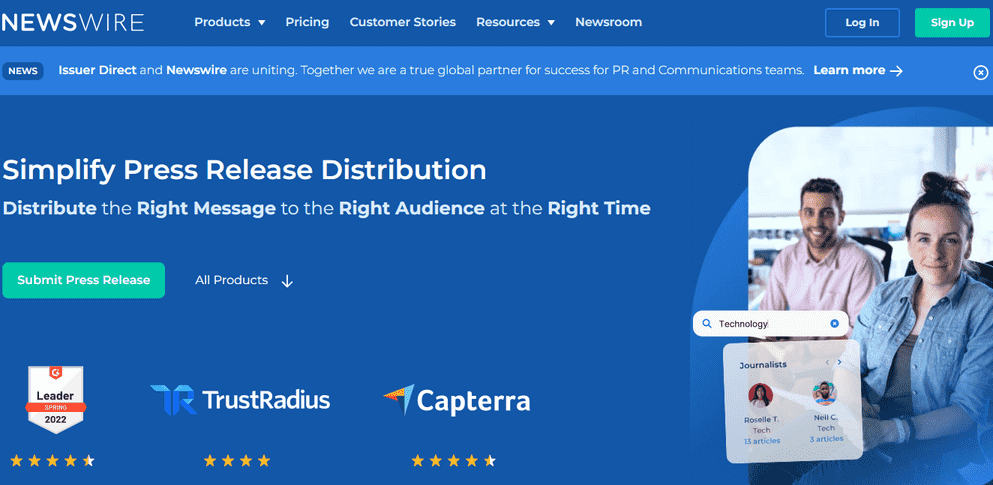 Newswire.com is a reputable press release distribution service that offers an effective way to acquire backlinks.
While it's not a traditional backlink marketplace, Newswire.com allows you to distribute press releases that can generate valuable backlinks from reputable news outlets and industry publications.
Press releases are an excellent tool for building brand visibility, generating buzz, and acquiring high-quality backlinks.
When your press release gets picked up by news outlets, they often include links back to your website, driving referral traffic and boosting your SEO.
Newswire.com distinguishes itself with its enormous distribution network and ability to reach a broad audience.
By leveraging their platform, you can secure backlinks from well-established news sources, enhancing your website's authority and credibility.
To make the most of Newswire.com, craft compelling and newsworthy press releases that are relevant to your industry.
Include relevant keywords and ensure that your press release provides value to readers.
The more interesting and intriguing your press release, the more likely it will be picked up by news sites and get important backlinks.
Publisuites is a similar platform with Adsy.
Thousands of website owners list their websites on their platform and thousands of backlink seekers meet them there.
So, in essence this platform connects website owners with bloggers and webmasters who can provide high-quality backlinks through sponsored content.
The platform features a comprehensive filtering system that allows you to find the exact website to get backlinks from – based on your needs and wants.
I will say that I find Adsy more user friendly.
Having said that, If you can't find what you are looking for in Adsy, head over to Publisuites to buy backlinks.
How to get backlinks?
In this section, I'll walk you through additional methods to get backlinks beyond buying them from the websites above.
These methods can complement your backlinking strategy and further enhance your website's SEO performance.
Keep in mind thought that while in the websites above you are going to spend money, with these methods, you are going to spend more time.
Outreach
Outreach is a proactive technique to getting backlinks that involves reaching out to website owners, bloggers, and industry influencers.
The key to successful outreach is to provide value and establish a genuine connection with the recipient.
Here are a few tips for effective outreach:
Identify relevant websites and bloggers in your niche.
Craft personalized and compelling outreach emails, highlighting the value you can provide to their audience.
Offer guest post contributions, collaborations, or resource suggestions that can benefit both parties.
Follow up politely if you don't receive a response initially.
Outreach requires time and effort, but it can result in high-quality backlinks from authoritative websites within your industry.
Free Guest Posting Sites
Many websites and blogs allow guest contributors to publish content on their platforms, often including a backlink to the author's website.
Look for free guest posting sites in your industry and submit high-quality content that aligns with their audience's interests.
When guest posting, ensure that the backlinks are contextually relevant and add value to the article. This method helps you gain exposure, drive traffic, and acquire valuable backlinks.
I for example, allow contributors to publish their content on this blog. You learn more about the requirements here.
Social Media
Use the power of social media platforms to connect with influencers and distribute your content.
Engage with industry-related communities, participate in discussions, and provide valuable insights.
People are more inclined to share your material and link back to your website if you establish yourself as a thought leader.
Furthermore, social media profiles frequently allow you to put a link to your website, offering another outlet for backlinks.
Link Exchange
Link exchange involves reaching out to other website owners and proposing a mutual exchange of backlinks.
However, it's crucial to approach link exchange with caution and focus on quality over quantity. Look for websites that are relevant to your niche and have a strong domain authority.
Ensure that the exchanged links are contextually relevant and add value to both websites. Link exchange can be an effective strategy when done carefully and with reputable websites.
Website Profiles
Many websites and online platforms allow you to build profiles that include a brief description and a link to your website.
These profiles can be on business directories, forums, social media platforms, or industry-specific websites. Take advantage of these opportunities to create profiles that showcase your expertise and provide backlinks to your website.
Ensure that the platforms you choose are reputable and have relevant audiences to maximize the impact of these backlinks.
Free Blogging Sites
Use free blogging services like as Medium, Blogger, or WordPress.com to post high-quality material with hyperlinks to your website.
These platforms have established domains and can drive traffic and provide valuable backlinks.
Make sure the material you post is useful, entertaining, and relevant to your intended audience.
Optimize your articles with relevant keywords and include natural backlinks within the content.
By incorporating these methods alongside buying backlinks, you can create a diverse backlinking strategy that enhances your website's visibility and authority in search engine rankings.
Types of backlinks
Let's take an in-depth look at the various sorts of backlinks you can encounter on your backlinking trip.
Understanding these sorts will assist you in determining their worth and making educated judgments about which ones to get for your website.
Contextual Backlinks
Contextual backlinks are inserted into a webpage's content and surrounded by relevant information.
These backlinks are considered highly valuable, as search engines perceive them as organic endorsements of your website's authority and relevance. Contextual backlinks are typically found within guest posts, articles, or blog posts and provide significant SEO benefits.
Image Backlinks
Image backlinks occur when a website links to your website using an image instead of anchor text.
These backlinks can be valuable, especially if the image is relevant to your website's content and includes proper alt text. Image backlinks can drive traffic and contribute to your website's overall SEO strategy.
No-Follow Backlinks
No-follow backlinks are links that include the "rel="nofollow" attribute in the HTML code. This attribute tells search engines not to pass any authority or ranking signals to the linked website.
While no-follow backlinks don't directly impact your search rankings, they can still drive traffic and provide exposure. They also contribute to a natural backlink profile, as not all backlinks should be do-follow.
Do-Follow Backlinks
Do-follow backlinks are the opposite of no-follow backlinks. They allow search engines to follow the link and pass authority from the linking website to the linked website.
Do-follow backlinks are highly sought after, as they can directly impact your search rankings and increase your website's visibility. However, it's important to maintain a balance between do-follow and no-follow backlinks to maintain a natural backlink profile.
Editorial Backlinks
Editorial backlinks are backlinks that are voluntarily included by website owners or editors based on the quality and relevance of your content.
These backlinks are considered highly valuable, as they are genuine endorsements from reputable sources. Editorial backlinks often come from authoritative websites and can significantly impact your website's SEO performance.
High Domain Authority (DA) Backlinks
High DA backlinks come from websites with a high domain authority score. Domain authority is a metric developed by Moz that predicts a website's search engine ranking potential.
Backlinks from websites with high domain authority can provide a substantial boost to your own website's authority and visibility.
Understanding the different kinds of backlinks will allow you to analyze their worth and select the ones that correspond to your SEO objectives and budget.
Click the following link for a more in-depth article on the types of backlinks (opens in new tab).
Backlink Checker – How to use Semrush to check your backlinks
Semrush is a powerful SEO tool that offers a range of features, including a backlink checker.
Here's a quick rundown on how to use Semrush to audit your backlinks:
Step 1: Create an account and log in to the Semrush dashboard
Sign up for an account on the Semrush website.
You can choose to use the PRO version for 7 days or skip the free trial and go straight to the free version. It's important to note that after the 7 day trial ends you will get charged the monthly subscription fee.
You can cancel your subscription before the free trial ends to avoid being charged or 7 days after you get charged to get a refund.
After you finish your registration process, you'll have access to the Semrush dashboard, where you can navigate to the Backlink Analytics tool.
Step 2: Enter the URL of your website
Enter your website's URL in the search window and press the "Search" button on the Backlink Analytics tool.
Semrush will start analyzing your backlink profile and gather data related to your website's backlinks.
Step 3: Explore the backlink data
Semrush will display various metrics and insights related to your backlinks.
You'll be able to see the total number of backlinks, referring domains, and the authority scores of the linking websites.
You can also explore the anchor text distribution and the types of backlinks pointing to your website.
Step 4: Analyze individual backlinks
Semrush allows you to delve deeper into individual backlinks.
You can click on specific backlinks to view more details about the linking website, the anchor text used, and the target URL on your website.
This information can help you assess the quality and relevance of the backlinks.
Step 5: Monitor your backlink profile
Semrush provides ongoing monitoring of your backlink profile, allowing you to track new backlinks acquired, lost backlinks, and changes in your backlink profile over time.
You can set up alerts to be notified of any significant changes.
Step 6: Utilize the additional features
Semrush offers additional features within the Backlink Analytics tool, such as the ability to perform a toxic backlink analysis, which helps identify potentially harmful backlinks that can negatively impact your SEO.
You can also explore the backlink gap feature, which compares your backlink profile with your competitors, uncovering opportunities to acquire new backlinks.
KEY TAKEAWAY
Semrush's Backlink Analytics tool provides valuable insights into your website's backlink profile, allowing you to track and evaluate the effectiveness of your backlinking efforts. By regularly monitoring your backlinks, you can identify areas for improvement and optimize your SEO strategy accordingly.

↗️ Click Here To Start Your Semrush Free Trial
Frequently Asked Questions (FAQ)
Final Words
Backlinks remain an important aspect of any successful SEO strategy. They act as signals of authority and relevance to search engines, helping your website rank higher in search results.
While buying backlinks can be an option, it's crucial to approach it cautiously and focus on quality and relevance.
In addition to purchasing backlinks, diversify your backlinking approach by engaging in outreach, utilizing free guest posting sites, leveraging social media, exploring link exchange opportunities, optimizing website profiles, and publishing on free blogging platforms.
These methods can help you acquire natural and valuable backlinks that contribute to your website's SEO growth.
Remember to monitor and evaluate your backlink profile regularly using tools like Semrush, which allows you to analyze your backlinks, track changes, and make data-driven decisions to optimize your SEO strategy.
READ NEXT
👉 Follow CS on Facebook to receive notications on new articles I publish.
ℹ️ This blog is reader-supported. When you buy through links on this site, I may earn an affiliate commission without any surcharge to you. This helps me continue offer free and qualiy content for the community.