9 Best Affiliate Marketing Networks And Platforms For Beginners
To get started in affiliate marketing you will need to sign up with some programs and networks that give good commissions.
In this article I have collected the 9 best affiliate marketing networks and programs (in my humble opinion), best suited for beginners.
I've been dealing with affiliate marketing for the past 6 years and I have personal experience with each affiliate marketing and platform I recommend. I've been a rookie too and I've made lots of mistakes. But I learned from them, and you can too. Trust yourself and keep trying. You'll get there one day.
For each network and program found in this list, I am going explain why I consider it to be among the best affiliate marketing networks and platforms for beginners and why you should consider joining them as well.
So, without further delays let's dive in.
Best Affiliate Marketing Networks And Platforms For Beginners
| Name | Type | Niche | Commission |
| --- | --- | --- | --- |
| Fiverr | Marketplace | Multi | Up to $100 per paying customer + 10% recurring per referral sale for 12 months. |
| AliExpress | Marketplace | Multi | Up to 50% per referred sale |
| Share A Sale | Network | Multi | Up to 30% per sale. Some programs offer recurring commission. |
| Clickbank | Network | Multi | Up to 75% per sale. Some programs offer recurring commission. |
| GearBest | Marketplace | Multi | Up to 15% per referred sale. |
| JVZoo | Marketplace | Internet Marketing | Up to 75% per referred sale. Some program offer recurring commission. |
| Market Health | Network | Health & Beauty | Up to 50% per referred sale. |
| PayKickstart | Network | Software | Up to 75% per sale. Some programs offer recurring commission. |
| Impact | Network | Multi | Up to 40% per sale. Some programs offer recurring commission. |
Fiverr
First on the list is Fiverr. If you are a regular reader of this blog you will see that I tend to mention it a lot.
The reason is because Fiverr is the platform I've been using for the last five years to buy services from freelancers. From web developers, graphic designers, and content creators, I can find everything I need and at very competitive prices.
Fiverr is on this list for 4 main reasons.
1️⃣ It has services that everyone needs – Fiverr is a platform that you can easily promote online, as it has freelancers offering services for all types of professions. Anyone who makes anything online, needs services.
This makes it extremely easy to promote, since you can do so in Business networks like Linkedin, marketing forums like Warrior Forum, Quora answers, Business Subreddits, you name it. You just have to show them a trusted service they need from Fiverr.
2️⃣ Competitive Prices – On Fiverr you can find freelancers that offer their services in very competitive prices. For example, graphic design services on Fiverr are dirt cheap compared to what "offline" agencies charge their clients.
Just imaging how easy it is to promote a service that normally costs for $1000 (logo design) when you can get an excellent logo designed on Fiverr for $100 – $200.
3️⃣ Offers deep-linking. Here's how this feature will help you.
Lets assume someone on a marketing or business forum is asking about video service recommendations.
You head over at Fiverr, find a freelancer who offers video services and has great reviews.
You copy the gig's URL from the address bar.
You login to your Fiverr affiliate dashboard and you click on Default and Deep links under the Marketing Tools section, then you click on the LP URL button, you paste the gig's URL you copied 30 seconds ago and you hit "enter".
Immediately all your links are populated with that gig's url.
This means that you can direct link to any gig you want from Fiverr.
4️⃣ Very good Affiliate program – I like Fiverr's affiliate program because it offers high commissions and more important recurring commissions.
TIP: It's wise to join and promote affiliate programs that offer you recurring commissions because you can refer someone once and receive commissions for as long as they are a customer of the service or product you promote.
As you can see in the screenshot below, if someone you refer to Fiverr buys a PRO service, you earn $100 instantly and then you are going to earn 10% of their total purchases for 12 months.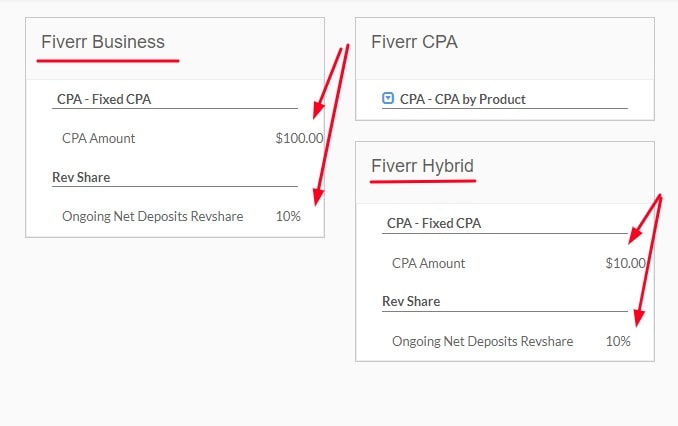 If he or she buys any service that is not PRO then you earn $10 instantly and then 10% of his total purchases for 12 months.
This is a very good program that once you start promoting it can turn into a very good monthly passive income.
AliExpress
The well-known AliExpress has its own affiliate program, where you can sign up to start promoting the thousands of products available on its website.
The reasons why AliExpress is on my list of the best affiliate programs is because:
It has thousands of products in hundreds of categories – Whether you're a fashion blogger, a drones or gadgets person, AliExpress has everything you can imagine.
It offers huge commissions – Compared to Amazon's affiliate program (which offers 1% – 4% commissions only 🤮) AliExpress offers up to 50% commissions (on selected products). Usually the commissions you will find on AliExpress ranges from 8% – 13%.
Affiliate SiteStripe – AliExpress offers the same SiteStripe you can find on Amazon if you visit it as an affiliate. This makes it extremely easy to find products to promote and copy your affiliate links.. AliExpress has gone one step further and allows you to see the commission you will earn with each referred purchase.
AliExpress is a platform that everyone knows and trusts, but above all – it has very low prices.
I consider it to be among the best affiliate marketing networks for beginners because it is easy to create an account, it is easy to obtain your affiliate links, it has millions of products you can promote, it has both quality and cheap products but most of all, it offers significantly better commissions that Amazon does.
Share A Sale
ShareASale is an affiliate marketing network which hosts affiliate programs of other companies.
On ShareASale you will find hundreds of affiliate programs in various categories.
You can promote accounting programs, well-known clothing brands and stores, shoe brands, beauty and health products, nutritional supplements, etc.
Personally from Share A Sale, I promote hosting and domain registration services.
Now, why I think is a great affiliate network for beginners?
Because, instead of being enrolled in 10 different affiliate programs (ten different websites), and having to visit them all one by one every time you want to check your commissions, in Share A Sale you have all your sales information in one platform.
All your affiliate links are there, all your coupons, all your creatives. This alone saves you tremendous amount of time and allows you to stay organized.
Finally, payment are automated. As soon as you pass your payment threshold you get paid on time and every time.
Payments are made through Payoneer. If you live in a country where PayPal is not accepting registrations from, Payoneer is a life saver. If you don't have one, you can create an account here.
Clickbank
Clickbank is one of the best known affiliate networks with also hundreds of products in various niches.
What makes it stand out is that it primarily hosts info products – i.e. products that provide information such as eBooks, trainings, guides on how to make things, guides on how to lose weight, how to stop back pain, how to design, how to play guitar and anything else you can imagine.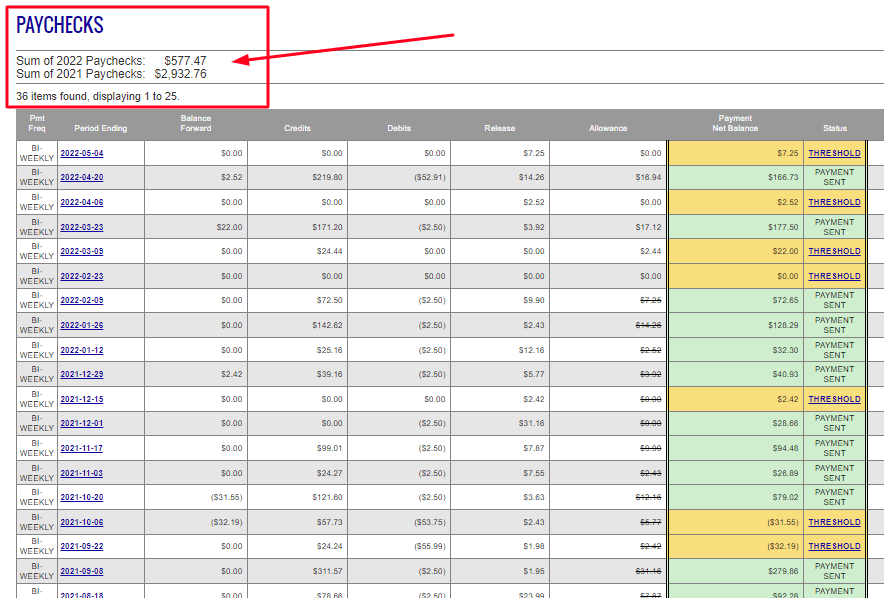 The main reasons it's on this list is because..
A. it offers huge commissions (up to 75%) and
B. it's reliable. Clickbank is operating in the affiliate marketing business for over 20 years and it has been paying its affiliates ever since.
You don't want to find out how frustrating it is to join an affiliate program or network, bust your ass to achieve your first few sales, only to find out later that the affiliate network is cancelling your sales dubbing them as "fake", or to learn that they are having money issue and they can't pay their affiliates. A situation like this can be a "dream-killer" – especially for a beginner.
Personally, in the last 3 years of using Clickbank, I never lost a payment. They always pay me on time.
GearBest
Gearbest is another AliExpress-type marketplace that has its own affiliate program.
Like AliExpress, Gearbest has a huge range of products, at very good prices and everyone knows it – those who are at least into technology or feel comfortable shopping from China.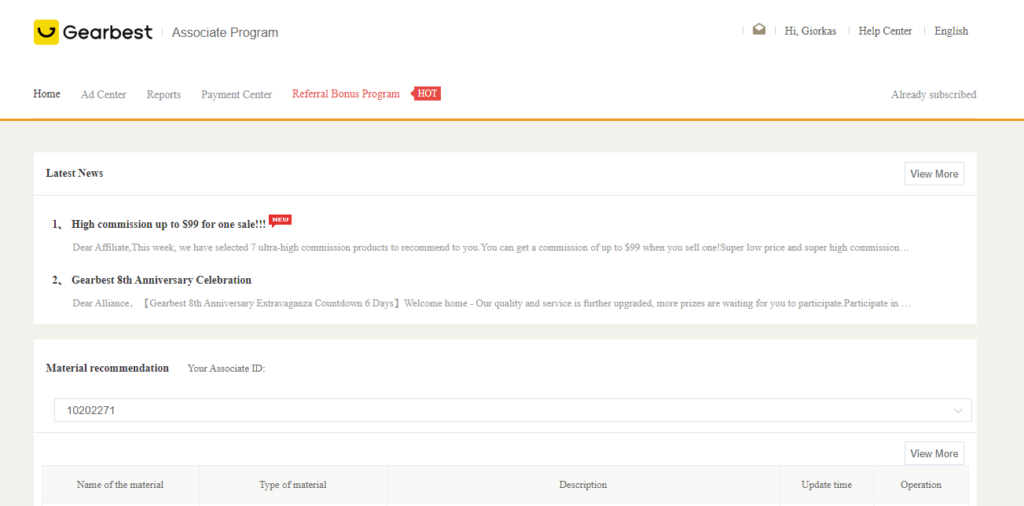 Gearbest also offers commissions of up to 14%, and pays by PayPal or bank transfer when your account reaches $50.
Although I am not actively promoting stuff from Gearbest, I still recommend it to affiliate marketing beginners because it is a proven company and you can work with them for years to come.
JV ZOO
JVZOO is an affiliate network similar to Clickbank. That is, primarily, hosts info-products which revolve mainly around the make money online niche, and internet marketing tools etc.
If – as an affiliate marketer – you decide to deal with this niche – then it is a very good network to deal with.
Affiliate commissions are paid via Payoneer, Trolley and Wise.
Personally, I don't use JVZoo – not because it's not good or anything – (I am recommending it on this list after all) but because I am more involved with Clickbank for promoting software and info products in general.
Market Health
MarketHealth is an affiliate network that hosts only products related to the health sector.
If you are going to be an affiliate in the field of skin health, weight loss, men's health, dietary supplements etc., then Market Health is a very worthwhile network to subscribe to.
Market Health has been in the affiliate marketing industry for many years and is reliable in its payments. You can be paid by check, Skrill or bank transfer every two months.
Now, why it is among the best affiliate marketing networks for beginners?
Well, first of all, you can create an account in less than 2 minutes and they'll accept you.
Second, the health niche is one of the most popular because it is very profitable. Market Health has some of the best products on their database.
Third, Market Health is an affiliate marketing network with history. Its been alive and paying for over a decade.
PayKickstart
Paykickstart is a relatively new (if you compare it to other networks in this list) affiliate network which hosts an array of affiliate programs.
In this network you will find mostly software for internet marketers to promote.
In addition, Paykickstart is something you hybrid. Besides the platform where you can find hundreds of products to promote, it also offers a huge range of tools to help businesses to sell more.
I includeδ it in this list of the best affiliate marketing networks and programs because
It lets you withdraw in cryptocurrencies
It offers multiple payment methods
It has a very friendly user experience
Payments can be made via PayPal, Payoneer, Bank Wire Transfer, Check – even cryptocurrencies – via Coinbase payments.
Impact
Impact is one of the "dinosaurs" of the affiliate marketing industry. The platform is home to some of the world's best-known brands – such as HostGator, Envato, Semrush, Airbnb, Levis, Walmart, Ellesse, Best Buy, NBA, Adidas and hundreds of others.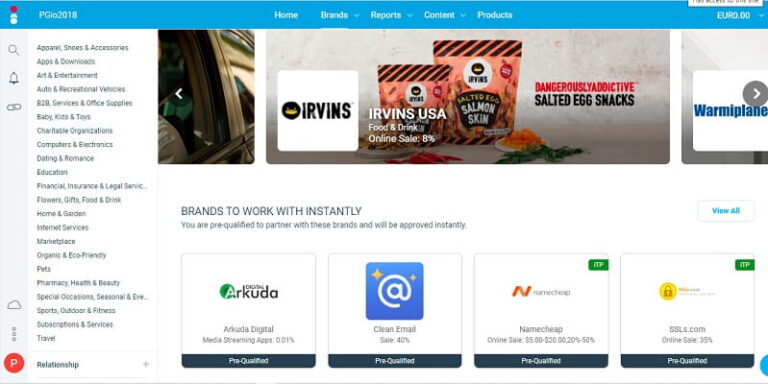 On this platform you will find products and services from all sectors and categories.
Payments are made by bank transfer only – which sucks a bit in my opinion, but hey.. It has far more "Pros" than "Cons".
For example:
Huge Network with thousands of branded services and software in each category.
Impact has been online for many (many) years making it one of the most reliable affiliate networks out there.
It is very easy to create an account and you don't need to show that you are an experienced affiliate marketer to accept you.
So… Where's Amazon and eBay?
As some may have noticed, I've left out networks like Amazon and eBay.
The reason is simple..
They offer ridiculous commissions and ridiculous terms.
For example, consider in a month you promote $1000 worth of products and as a commission you only get $20 (2%).
Or the cookies that are stored in the calculator of the visitor you referred through your affiliate link, are only stored for one day.
That is, if you refer someone today and that person goes and buys the product tomorrow (after 24 hours) you will not receive your commission.
The above networks and affiliate marketing programs that I recommend, however, their cookies are stored for up to 90 days (yes, for some Share A Sale programs you can get paid even if the people you referred return to the store and buy something after 3 months) and offer commissions of up to 75%.
So, choose carefully the networks or affiliate marketing programs you will work with.
Is affiliate marketing suitable for beginners?
The short answer is YES, affiliate marketing is the most suitable business for beginners. Why you may ask? Well, because affiliate marketing is the easiest way to start earning money online.
You don't need to create a product
You don't need to create the graphics, banners and marketing copy. All these are done for you.
You don't need thousands of dollars upfront cost to start. You can use both free and paid methods to promote your products (blogs, social media, pay-per-click, native ads, influencers etc).
You just need to send targeted traffic to the offer page. Of course, you will have to master it, it is not as easy as it sounds, but, it is feasible to start earning more money in less time from your efforts.
Final Words
Affiliate Marketing is the best way to start your money making journey. If you master it and don't give up with the first "hiccup" you have huuuuge chances of earning thousands online.
One of the hurdles is finding a reliable affiliate marketing network. Fortunately for you, you've found not only one reliable affiliate marketing network but 9 of the best affiliate marketing networks that are safe, pay their affiliates and have hundreds of products to promote.
Feel free to create an account to all the programs and networks above or pick a couple to get used the whole affiliate marketing thing.
Do you have any other affiliate networks or affiliate programs that you have personally engaged with that you think should be on this list? If so, write it in the comments below.
👉 Follow CS on Facebook to receive notications on new articles I publish.
ℹ️ This blog is reader-supported. When you buy through links on this site, I may earn an affiliate commission without any surcharge to you. This helps me continue offer free and qualiy content for the community.