ClixSense was a paid-to-click website that allowed users to earn money by viewing advertisements, completing surveys, and other tasks. It was founded in 2007 and operated until 2019, when it announced that it would be shutting down its operations.
Clixsense was rebranded to ySense and you can earn money from it by completing various tasks and offers. Watching ads and getting paid is not an option anymore.
What Are Paid-To-Click Websites?
Paid-to-click (PTC) websites are websites that allow users to earn money by viewing advertisements. Users are typically paid a small amount of money for each ad that they view, and the advertiser pays the PTC website for the advertisement.
These websites are often criticized for being scams, as they may not pay users the full amount that they are owed, or they may not pay at all. Additionally, the amounts of money that can be earned through PTC websites are typically very small, making them an unreliable source of income.
How To Spot Fake/Scam PTC websites
If you are still eager to join a paid-to-click website, then you better make a good choice on where you are going to be spending wasting your time.
1. The ptc website pays users more than $0.01 per click.
If a paid-to-click website claims that it will pay you more than $0.01 per ad click then simply don't bother joining it. With mathematical accuracy, the PTC website is going to shut its doors in less than 6 months or it is going to stop paying its members.
To understand this, you need to understand how PTC websites work. For this reason, I have prepared two examples. The first example is from a trusted PTC website and the second example is from a scam PTC site.
Trusted PTC Site.
The ptc website pays its members $0.001 per ad click. So, $0.001 X 10.000 clicks = $10.
The advertiser comes to the PTC website to get cheap traffic. He buys 10.000 clicks to his website for $15. Each click costs him $0.0015.
The paid to click website just made $5 as a profit.
Scam PTC Site.
The PTC website pays its members $0.20 per ad click. So, $0.20 X 10.000 clicks = $2.000.
The advertiser comes to the PTC website to get cheap traffic. He buys 10.000 clicks to his website for…
Do you really think that any internet marketer will pay $2000+ to buy traffic from a PTC website? No one will advertise to the scam PTC, hence no income for the scam PTC, hence no money to pay its members.
Trusted PTC websites usually pay their members:
$0.001 for 5 to 10-second ads.
$0.005 for 15 to 20-second ads.
$0.01 for 30 to 40-second ads.
$0.02 for 60 and over seconds ads.
2. The paid to click website does not have a forum.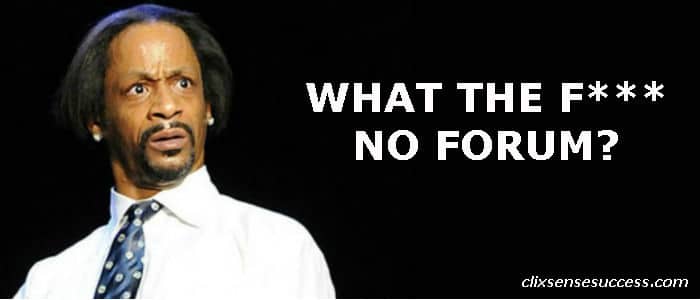 Forums are places where people from all over the world can meet and exchange thoughts about a particular subject that interest them.
All legit PTC websites have a forum. It is the place where their members meet and talk about the PTC website, exchange ideas, suggest new features to the admins, and send their payment proofs (very important).
Every PTC admin who is serious about his PTC business has a forum to communicate and help its members.
Scam PTC websites usually don't have forums because they want to avoid unhappy members from posting bad stuff about their paid-to-click website. Also, by not having a forum, you can not see if there are payment proofs.
So, be VERY Suspicious when a PTC website does not have a forum.
3. The PTC website looks ugly.
This is the easiest to detect probably scam factor.
Usually, an ugly-looking PTC website shows that its administrator is not serious enough about his business. He just went and bought the cheapest available PTC script, set up a PTC website to make some quick & easy money from the early adopters in the PTC industry.
Legit PTC websites, on the other hand, have a nice-looking interface and their administrators are constantly upgrading and evolving their websites graphics and they add new features for their members.
These administrators are people who invested a lot of money and time to set their business up and they are more serious about making their PTC website grow and become successful.
So, I personally avoid crappy, ugly-looking PTC websites and I suggest that you should too!
4. The PTC website does not have a unique script.
There are two ways you can start your own PTC website. Either by buying a paid-to-click script from websites like ptcpay.com and evolutionscript.com or by creating a custom unique script.
Now the same rule applies as before (point 3).
Serious entrepreneurs (in our case, future PTC administrators) who are looking to build a stable and long-lasting profitable business, will not buy a script for their new PTC website that will look the same as 100 other PTC websites.
Serious PTC administrators have already checked their competition, identified their strengths and weaknesses and told their web developers to build a unique script for them, with no other PTC website looking the same as theirs.
On the other hand, not-so-professional-PTC-admins-wannabe, they just simply buy a script (a ready-made ptc website) add some graphics and start promoting.
If you are serious on dealing with PTC websites, then this is something worth taking into consideration.
This is one of the most important things that you need to check before joining a PTC website.
Whois.com is an online service that allows you to search for information about websites such as:
Admins contact details (email,phone number,fax number, physical address).
Admins name
Domain Registration Date
For How Long, The Domain is Registered for.
and many other important details.
PTC websites that are run by scammers, usually hide this information from the public.
6. The administrator had PTC websites that scammed people in the past.
Admins who scammed once, will scam people twice using the same method. They will just create another PTC website with a different name and wait for PTC newbies to join their new scam PTC websites.
What you always need to do is learn who the admin is and do a background check for his name in forums and other PTC review sites like:
You can get the admins name from whois.com. If the name is not available to the public, then my suggestion is not to bother joining at all!
7. The paid to click website offers Rented Referrals Option.
This is a very controversial topic among the PTC community.
After I got scammed from the renting referrals scheme (that almost all PTC websites today have), I searched the Internet and I have found some undeniable proofs that those referrals you are renting, are not real humans.
They are computer bots, programmed to always make you lose money instead of earn money.
What do I mean?
Here's a quick example:
If you buy 100 referrals worth $20 for 30 days, at the end of those 30 days you expect to earn $21 or more. Instead, you are always earning $19 or less
Don't tell me that you haven't noticed this.
I have written a post about this subject. It is called: PTC Users Beware: The Renting Referrals scam Exposed. I highly recommend that you read it. It will literally open your eyes.
I consider the administrators who earn money by renting referrals from their websites NON-ETHICAL.
So, I cannot trust someone who is not ethical, who does not have values and neither should you!
8. The paid to click site has many upgrade levels.
Another NON-ETHICAL method, scam PTC administrators use to take your money, is by offering multiple levels of upgrades.
Legit PTC websites offer only one level (maximum two) of an upgrade to their members. Scam PTC websites offer multiple levels of upgrades usually called with different names of precious metals such as Gold, Platinum, Sapphire, and others..
Legit PTC websites earn their money from advertisers, not from membership upgrades.
So, again, people who run PTC websites and ask for multiple account upgrades are using non-ethical methods to earn money. These people are not to be trusted and they will not hesitate to stop paying their members or shut down your account for no reason.
9. The PTC website offers free membership for the first 1000 members.
This is a common practice scammers use to lure members to their PTC website.
They offer a free Membership to the first 1000 members and when that number is met, they change their offer to free membership for the first 1100 members.
Again, a non-ethical method to run your business. Do not trust people who are not ethical and who do not have values. These people will not hesitate to scam you.
10. The PTC website has misspellings on its copy.
This is something that you should always look into, not only on PTC websites but in every money-making opportunity you are planning on joining.
If you see any misspellings on the website's copy, this means that the people behind the website are not serious enough.
Have you ever seen a well-established website to have misspellings on its website copy?
I'm sure your answer is no.
It is my policy when I see a PTC website with misspellings to leave from it at once.
I want to deal with serious people and not waste my time with amateurs.
11. Check Ptc Reviews on different forums.
Before joining a PTC website, I suggest you check for reviews on various websites and forums.
Ptc-investigation.com is a good website to check for reviews because it has reviews and comments from everyday people like you and me.
Another good PTC website to check for reviews is ptccentral.com. The guy who operates the blog writes honest reviews about various PTC programs.
Make sure to check for comments and reviews on various forums.
I suggest you visit talkptc.com and talkgold.com and ask for comments or reviews on the PTC website you are interested in joining.
12. The Ptc website does not have PayPal as a payment processor.
Recently, PayPal, the online payments processor giant, announced that it will no longer accept paid to click websites who are suspicious on scamming their members to use its services.
PayPal is worldwide known as the safest and trusted method to pay and be paid online and it will not allow scammers to hurt its brand name.
So if you do not see PayPal as a payment processor on a paid-to-click website, then be very cautious and skeptical on joining it or not.
13. Join PTC websites that have been up and running for a long time.
As I said before 90% of a new PTC websites will eventually fail and shut down their doors.
The reason is there is fierce competition among PTC websites.
A PTC website to last needs to have:
a steady amount of active clickers,
a steady amount of advertisers
a steady amount of new members.
Most PTC websites fail on just one of these three points.
Bottom Line
In conclusion, ClixSense was a paid-to-click website that allowed users to earn money by viewing advertisements and completing other tasks. However, it has since shut down its operations, likely due to the unreliable nature of PTC websites.
These websites are often criticized for being scams, and the amounts of money that can be earned through them are typically very small. Therefore, they should not be relied upon as a reliable source of income.
If you are looking for ways to earn REAL money online, then I suggest checking the following articles.
9 Proven Passive Income Ideas To Make More Money This Year
6 Ideas on How To Make Money Surfing The Internet
10+1 easy ways to make money as a teen
How to Earn Money from Android Games
How Does The Fluz App Make Money?
👉 Follow CS on Facebook to receive notications on new articles I publish.
ℹ️ This blog is reader-supported. When you buy through links on this site, I may earn an affiliate commission without any surcharge to you. This helps me continue offer free and qualiy content for the community.