Sqribble Vs Designrr: Which EBook Creator Is The Best?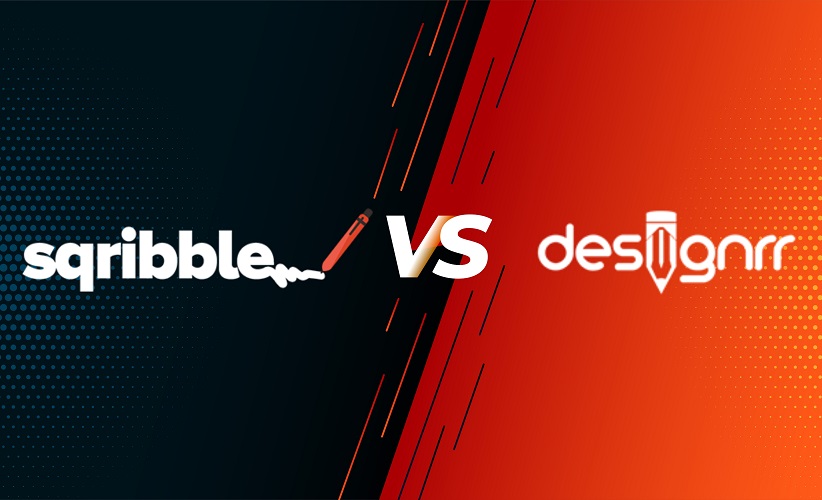 TL;DR: In this Sqribble Vs Designrr article we are comparing the features of two of the best ebook creators that exist on the internet at the moment. If you are in a hurry and would like a short answer to the Sqribble vs Designrr dilemma, I suggest you move with the first – Sqribble.
It's not that Designrr is no good. Designrr is an awesome ebook creator software. Actually both of them are great tools. It's just – from my perspective – Sqribble is slightly better. Here's a quick overview of their features backing up my perspective.
| Features | Designrr | Sqribble |
| --- | --- | --- |
| Pricing (Standard Plans) | $27/month | $67/one-off |
| Google Fonts | 900+ | 300 |
| No of Ebooks | Unlimited | Unlimited |
| Access to copyright free images | ✔️ | ✔️ |
| Publish to Kindle, iBooks, ePub | Designrr PRO | ❌ |
| Templates | 200+ | 200+ |
| Flipbook Generator | Designrr PRO | Sqribble PRO |
| 3D Cover Generator | Designrr PRO | Sqribble PRO |
| Import Video Transccriptions | Designrr PRO | ❌ |
| Import from Word | ✔️ | ✔️ |
| Import from any URL | ✔️ | ✔️ |
| Import from Facebook Pages | ✔️ | ❌ |
| PLR Database | ❌ | Sqribble PRO |
| HTML Export | Designrr PRO | ❌ |
| AutoSave, Undo Functions | ✔️ | ❌ |
| Image Editor | ✔️ | ❌ |
Having said that, I urge you to read my Sqribble Vs Designrr post to the end to learn more about each ebook software creator and decide on your own which is the best ebook creator software.
Sqribble Vs Designrr
Creating eBooks can often be a hassle without the appropriate tools. Most writers initially used Word, LibreOffice, OpenOffice, and even Google Docs as their favorite program. However, there were some underlying issues:
They are writers, not designers. The finished books and reports often turn out amateurish. The contents are excellent, but you couldn't say the same for the layouts.
Another challenge writers face is consistency. Most writers might use a stylesheet to ensure the fonts and other stylistic elements stay the same. But, this is easier said than done. The result is a finished book devoid of a consistent look and feel.
RELATED: Honest Sqribble Review & Demo
So why not hire a professional for this task? Of course, you can hire a pro designer to create a beautiful layout, but the fees can be quite expensive.
If you've ever checked out freelance sites like Fiverr, you can see that the prices are quite outrageous. Worse, these prices have lesser maximum word limits which means that high volume books can double your expenses. You also pay the designer extra to get covers designed on Fiverr.
The pricing on such platform may seem practical for a writer who produces books sparingly; however, for constant writers that often give away their books too, this option is less than ideal.
Further searches revealed Adobe InDesign, a top-end design and eBooks software which can create stunning designs, but it's premium fee is expensive with a steep learning curve for a writer. Thus the continued search for a more affordable eBook creator.
Regardless of the purpose of creating eBooks and reports, there is a limited choice for writers to make their eBooks look good while minimizing cost, particularly if you only want to write.
Thankfully, there are a few eBook creation software around today with two of them generating a lot of buzzes – Designrr and Sqribble.
What is Designrr – What is Sqribble?
Designrr is an eBook design tool with reasonable pricing for its basic plan. It allows you to layout any existing text either onto a blank canvas or into already-made professional templates. This eBook creator is quite similar to the conventional drag-and-drop page layout tools used to create websites.
Similar to Designrr, Sqribble is a design tool used to build eBooks. It can turn your documents into nicely laid out eBooks. Both Designrr and Sqribble are accessible online, which means they both work on either a PC or Mac.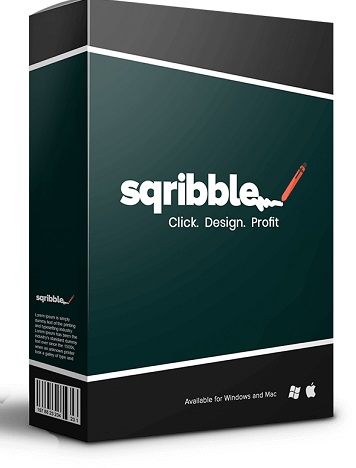 Come along as we make some deep comparison of both tools in this Sqribble Vs Designrr article.
Sqribble vs Designrr – Features
Looking at the sales pages of both software, there are some claimed features. Broadly, they're similar though with a couple of significant differences between both programs.
Pricing
Both Sqribble and Designrr have upsells, which gives its users extra functionality; however, for the transparency of the pricing category, we will stick to just the basic plans. Of course, we'll discuss the upsells further below.
The basic plans of both Designrr and Sqribble are similar. The basic plan of Designrr costs $27/month while the Sqribble basic plan costs $197 $67/one-off (was $47 for a long time because of a special launch offer).
💡 FOOD FOR THOUGHT
In the long run, (after merely 3 months) you will end up paying whole more money if you choose Designrr's recurring charges than Sqribble's one-time payment.
Templates
You get access to over 200 templates on both platforms. However, Designrr allows to customizable templates while this option is not included on Sqribble.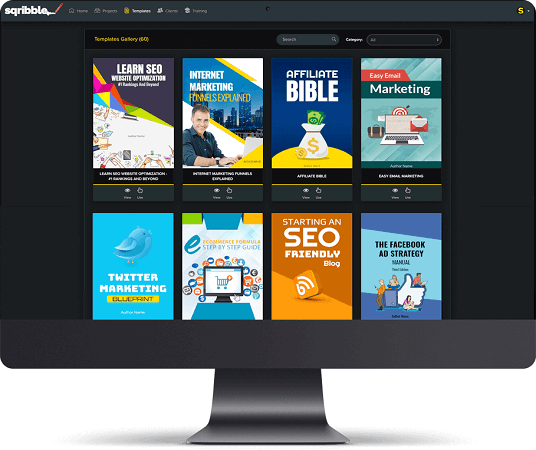 💡 FOOD FOR THOUGHT
Customizable templates is a great feat. I bought an ebook creation software because I'm lazy and to create ebooks with a click of a button, not to spend hours customizing templates.
Google Fonts
Both Designrr and Sqribble, offer a ton of Google Fonts to use on your eBooks. Designrr offers almost triple (900+) than Sqribble (300).
💡 FOOD FOR THOUGH
For me, this is not something that should be taken into great consideration because – let's face it – 300 fonts are more than enough to find the style needed for any of the ebooks I create.
How many eBooks can you create?
You can create unlimited pages and eBooks on both Designrr and Sqribble. However, the number of eBooks you can create with Sqribble has a certain cap.
Constantly using Sqribble, you might get a prompt that your "disk space" is a certain percent full – as some users reported. Note that on sqribble's official website there is no indication of any limitation in storage capacity. Designrr on the other hand is clear that there isn't any limitation.
💡 To hit Sqribble's "disk space cap" you'll have to create more than 500 ebooks.
Import content
You can import content from any URL on both programs. This means that you simply enter a specific URL of a web page or blog, and the softwares will pull every text and image within that page directly into your eBook.
In practice, Sqribble worked flawlessly in this regard while Designrr had a few glitches while importing content from a URL.
Note that both ebook creation software allow to import content from word documents.
Designrr has the upper hand in this "importing" feature as you can import from Facebook, Google docs, import and transcribe from any video, audio, or YouTube file, whereas Sqribble doesn't possess these options yet.
It does offer [Sqribble] a huge database (100.000) of PLR articles that you can click and import to your eBooks.
Upsells
Similar to numerous writers, you may want only to import a text file or Word document and transform it into a decent looking PDF eBook. The basic versions of both ebook software are enough to get the job done without needing any upgrades.
However, both eBook creators offer enhanced features which we'll briefly point out.
💡 Most times you're given the impression during your first basic plan subscription that if you purchase the basic version, the upsells might not be available later or may be costlier. You can safely disregard this. Both programs offer these upgrades within their main programs, and you can purchase them at any time when you find the need.
Designrr Upsells
Designrr has three upgrade versions
the PRO plan which costs $39/month
the Premium plan which costs $49/month
and the Business plan which costs $99/month
PRO PLAN
The PRO plan is the recommended plan for anyone who wants to "feel" Designrr's "real-power". With Designrr's PRO plan, you get everything in the standard plan plus:
a highly useful 3D cover design tool
200+ Cover templates
100 eBook templates more
ability to import from PDF,
Export to Kindle, iBooks, ePub
Clone Projects
Flipbook Generator From Any PDF
PREMIUM & BUSINESS PLANS
In the Premium and Business Plans you get everything is the PRO plan plus:
The option to import content from up to 4 Hours of Video
To Export to any website Using HTML Embed Code
You get access to Designrr's private Facebook Group
The only difference between Premium & Business Plans is that the Business Plan offers 8 transcription hours instead of 4. So, in my opinion it doesn't worth the money to purchase Designrr's Business plan.
Sqribble Upsells
Sqribble has four upsells which you can acquire them as separate add-ons even after you purchase Sqribble.
Let's analyze each upsell Sqribble offers.
SQRIBBLE PRO
Sqribble Pro costs a one-off fee of $97. This gives you access to
150 additional templates
a huge package of PLR articles to use freely for your ebook creation needs
Unlimited storage capacity.
8,900 ADDITIONAL New Stock Image Library Collection
900 New Page Design Layouts
SQRIBBLE PRIME
The second Sqribble upgrade is the Sqribble Prime which cost $47 one time fee. With Sqribble Prime you get:
15 New professionally design templates every month
SQRIBBLE FANTASIA 3D
Sqribble Fantasia 3D which cost $77 one time fee. As its name suggests, it's a 3D-cover generator and you can turn your eBooks into Flipbooks with this upgrade.
SQRIBBLE AUTO JOB FINDER
SQRIBBLE finally offers a software as the final upsell that fetches all the ebook design requests from buyers from popular freelancing sites like People Per Hour, Freelancer etc.
I have to admit that appart from its steep price ($197 one time fee) this software is pretty awesome. You don't have to visit 10 different freelancing sites, search for ebook designs. You can do it all throught this software.
💡 In my opinion, the best Designrr plan is the PRO plan that costs $39 per month. With Sqribble I suggest moving with adding the Sqribble PRO and Sqribble Fantasia 3D into your purchase. Although Sqribble looks quite expensive compared to Designrr, note that in the 7th month of owning a Designrr subscription you will pay more than what you've paid with Sqribble.
Support
According to reviews, both Sqribble and Designrr support desks offers a quick and helpful response to any query or technical issues you may have – whether it's a question concerning text files import or details of their affiliate program.
Autosave & Undo Features
Designrr has an autosave and undo features which put it ahead of the Sqribble software in terms of usability as the Sqribble ebook creator software doesn't possess this feature.
Training
Sqribble has a 31-minute video in its training area that explains all the major features. The video does cover almost everything, though it may be found confusing and hard to recall later which features were explained at which points in the video, especially for new users.
The training section of Designrr is more comprehensive with individual tutorials that come in handy. All in all, both eBook creators provide insightful training materials and columns to get you started with minimal fuss.
Pros & Cons
Here are the Pros and Cons of each of the two software in a glance.
Designrr
Pros
Flexibility – looking for more freedom for your eBook appearance? Get more creative with the "Enable Free Element Dragging" option.
Gain access to multiple editing tools from the inspector tab.
Choose from the multiple theme options, apply and preview to get an overview of how your document looks.
Technical Support – get a quick response to any query. The support team is also available to address formatting issues and offering recommendations for improving work quality.
Cons
Designrr can be quite buggy and crash when selecting or previewing numerous things simultaneously.
Limited exporting options for the lifetime package – still good for building eBooks, though.
Is more expensive in the long run than Sqribble.
Sqribble
Pros
You don't need any installation for Sqribble ebook creator, and they're compatible across multiple devices.
Sqribble possesses an automated content engine that lets the user skip writing anything. This feature provides the appropriate headlines and bullets according to your niche.
Users can sell their templates and designs with a commercial license.
With Sqribble's AutoJob Finder you can start selling ebook creation services very easily.
No Monthly fees. One time payment.
Cons
To fully enjoy the stunning features of this eBook creator, you'll need to buy some upsells which are expensive.
Lacks some features compared to Designrr
Demo Videos
Below are demo videos for both ebook creation softwares. Before deciding which one to choose, get an insight peak of each ebook creation software.
Sqribble Demo Video
Designrr Demo Video
Conclusion
Both ebook creators are powerful software that I believe are equally great – although Designrr has some features that (autosave, undo, importing, etc) Sqribble does not have. If you are going to be using eBooks for making money or as part of your marketing strategy for a long time, note that Designrr will become more expensive than Sqribble (as mentioned before).
The reason I recommend my readers to choose Sqribble is because it has continually evolved and developed, listened to opinions and users, and consistently added more features, and made pre-existing features more user-friendly.
---
If you feel like our Sqribble vs Designrr article helped you make a decision, please consider sharing it with other marketers on social media, etc. I am sure they will appreciate you sharing such useful information.
---
How to Build A Profitable Affiliate Marketing Business Fast With Consistent Daily Revenue
✔️ Get UNSTOPPABLE Website Traffic & Commissions With Affiliate Marketing.
✔️ Earn Commissions FAST With This Professional 5-step Training Program to Fast Track Your Success!
✔️ Learn From Industry Experts on How to Create Your Own Long-Term Sellable Online Assets.
READ NEXT