Talkia Vs Speechelo: Which Text-To-Speech Software Is The Best?
So, you got introduced to Speechelo but later on you found out about Talkia as well. Both text to speech software look awesome – but, which one of the two should you choose? Which one is the best fro your hard earned money and your needs?
Here's where I come in..
In this Talkia Vs Speechelo article, I am going to compare each software's most important features and I am also going reveal which of the two I recommend on buying. 👇
TLDR – Now, because this is a long comparison article (1500+ words actually), If you are wondering who the "winner" is , note that for me it is Talkia.

The reason is because Talkia offers much more than Speechelo – in terms of the number of voices and languages supported.

Even the technology they use for their voiceovers, for me, it is superior. Talkia uses both Google's Wavenet technology and Amazon's Polly, while Speechelo uses only Amazon's Polly.

Of course, you do have a substantial price difference between the two text to speech tools, but, if you are looking to build a business around voiceovers, then you clearly want to go with Talkia. On the other hand, if you are looking something for more personal use, then Speechelo, would cover most of you needs.

I do recommend going through the whole article though, to fully understand why I chose Talkia to be the winner of this duel.
Comparison Table
FEATURES
TALKIA
(Review)
SPEECHELO
(Review)
Supported Languages
Number of Country Languages Supported
32
23
Type Of Voices
What type of voiced are supported (Male, Female, Kids)
3
3
Number of Voices
How many different human the software support?
102 Voices
30+
Pauses, Breathing?
Can you add custom, pauses and breathings?
✔
✔
Background Music/Sound
Can you add background music or sound to the voiceover?
❌
✔
MP3 Export
Can you export your voiceover's to MP3?
✔
✔
Technology used
What technologies are behind each software?
Google Wavenet +
Amazon Polly
Amazon Polly
Cloud based?
Is the text-to-speech software cloud based?
✔
❌
Commercial License?
Does it offer a commercial license?
PRO Version
PRO Version
Pricing (Standard Plan)
Cost For Standard Plans
$39 (monthly)
$47 (one time)
Pricing (Pro Versions)
Cost For Pro versions
$69 (monthly)
$100 (every 3 months)
Free Trial
Is there a free trial?
7 Days
❌
Money back guarantee? Trial
Is there a free trial?
30 days
60 days
– Talkia vs Speechelo Comparison table
Talkia Vs Speechelo Features Comparison
Here's a more detailed description of the features and differences between Talkia and Speechelo.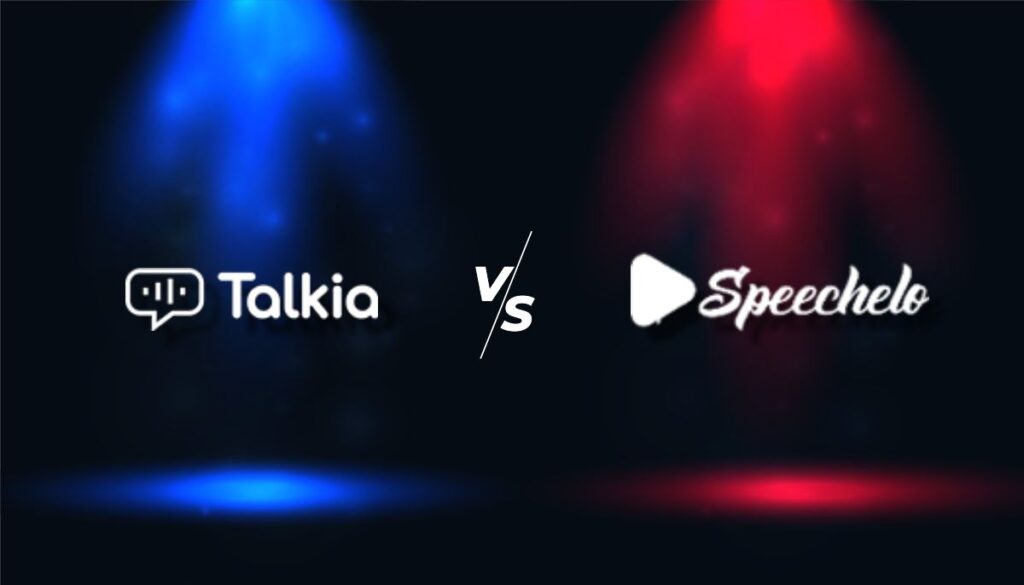 Languages
Talkia supports 32 languages, while Speechelo supports 23. This might not sound like a big deal for an individual, but it might be for a company or someone who operates internationally. Below are the languages each text to speech software supports that the other does not.
Languages Talkia supports that Speechelo does not:
Languages Speechelo supports that Talkia does not:
KEY TAKEAWAY
Talkia offers more languages than Speechelo.
Number of Available Voices
Talkia offer a whopping 102 different voices, while Speechelo offers only 30. If you are an agency and you need many voice examples to show to your clients, then Talkia is the right text-to-speech solution for you.
KEY TAKEAWAY
Talkia offers more voices than Speechelo. Both text to speech software offer three genre voices. Male, female and child.
Manual Adjustments
Both text to speech software allow you to manually edit pauses, breathing, emphasize specific words, talking speech and even the voice's pitch (depth of voice).
KEY TAKEAWAY
Both software allow you to manually adjust various aspects of the voiceovers, such as pauses, breathing, emphasize specific words, talking speech and even the voice's pitch
Background sound
Talkia allows you to add background music to your voiceovers either by uploading your own or by using one of the many commercially free music tones from Talkia's built-in library.
Again, if you are recording studio, a radio station or a freelancer who wants to offer more to it's clients, Talkia is the wayt to go forward.
KEY TAKEAWAY
Talkia offers the option to add background music to your voiceover. Speechelo doesn't offer this feature.
Exporting to MP3
Both Talkia and Speechelo, allow you to export your voiceovers to MP3 and use them with other software.
KEY TAKEAWAY
Both software allow you to export voice overs to MP3
Cloud Based / Download
This is something I don't like with Talkia. Talkia is a downloadalbe software while Speechelo is cloud based.
That means that you can access speechelo from anywhere – even from a computer or smartphone you don't own.
With Talkia, you need to be at your personal computer to work with.
KEY TAKEAWAY
Talkia must be downloaded on your computer while Speechelo is cloud based and can be accessed from anywhere. (Talkia works on both Windows and MAC).
Pricing
This is where the big dilemma occurs.
Talkia offers two subscription plans. Standard and Pro. The Standard plan costs $39 per month while the PRO plan costs $69 per month. If you purchase a yearly subscription, then cost reduces by almost 50% ($20 per month for standard and $35 per month for Enterprise).
On the other hand, Speechelo' Standard plan costs a one time payment of $47 only. Even if you purchase their PRO plan its still cheaper. Speechelo PRO costs $100 every three months.
You can clearly see the price difference here.
If you are going to use a text to speech software to build a business, then don't go cheap. Usually, software that offer a recurring payments model are able to develop their software further and add more features in the future.
KEY TAKEAWAY
Speechelo is a lot more cheaper than Talkia.
Free Trial, Money Back Guarantee
Talkia has a a 7 day free trial and a 30 day money back guarantee.
Speechelo offers only a 60 day money back guarantee.
Personally, I prefer testing something first and then buy, than buying first and have to return it if I don't like.
KEY TAKEAWAY
Talkia has a 7 day trial while Speechelo doesn't.
Restrictions
Both text to speech software offer some restritcions to their usage.
This means you can use about 16 000 characters per day with no problems, but if you use half a million characters in a day, you will need to wait 29 days for the limit to reset.
KEY TAKEAWAY
Talkia has restrictions on the length a voiceover can have with unlimited usage every month. Speechelo, has a restriction on the software's monthly usage.
To Summarize
Here is a summary of my Talkia vs Speechelo text to speech software comparison:
Demo Voiceovers
And of the sake of this Talkia vs Speechelo review, here are some example voiceover I lend from YouTube and Talkia's website.
In the end, we need to actually see what each text to speech software has to offer, right? 😁
Final Take
Both Talkia and Speechelo are text to speech software that can be used to convert written text into speech. However, there are some key differences between the two.
For me, the best text to speech software between the two is Talkia. It doesn't necessarily mean that it is cheaper, but it is better.
If you are looking to start your own YouTube channel or start as a freelancer offering voice overs services, then Speechelo might be a good fit for you.
If you are a freelancer with thousands of sales every month or an agency that needs all the power a software can have, then Talkia is your way forward.
🙏 If you enjoyed reading my Talkia vs Speechelo reviews, feel free to share it on social media. It will really help this article get found online.
👉 Follow CS on Facebook to receive notications on new articles I publish.
ℹ️ This blog is reader-supported. When you buy through links on this site, I may earn an affiliate commission without any surcharge to you. This helps me continue offer free and qualiy content for the community.