Perpetual Income 365 Review: Legit or Scam? [Updated 2022]
Welcome to my Perpetual Income 365 Review. This review is some of the few around the internet that explains EXACTLY what Perpetual Income 365 is, what you are going to get from it, and what you should expect from this training. So, go ahead, read my Perpetual Income 365 review and let me know what your thoughts are in the comments section below.
What is Perpetual Income 365?
Perpetual Income 365 is a newbie affiliate-marketing package. Inside the package, you get a guide to solo ad traffic, two ready-to-use squeeze pages of your choice, web hosting packages for them, and a 31-day email follow up sequence.
The first step to take is signing up with ClickBank and GetResponse to make it work. They are an affiliate network and email marketing service, respectively. After you register on both platforms, you can easily link them to your Perpetual Income 365 squeeze page just by clicking a button.
You will be provided a page URL after that, and this will be used for your promotions. For traffic generation, you will have to bear every cost that comes with it. In essence, it is your sole responsibility. The platform recommends some solo ad traffic services, and the cost per visit ranges from $40 to $100.
If a visitor likes your landing page and signs up, they will be redirected to your Perpetual Income 365 sales page immediately. In a scenario whereby they make a purchase, which costs $47, you will receive a 50% commission for that particular purchase.
In addition, they will continue to receive automated marketing emails from your GetResponse account and if they continue to buy affiliate marketing training resources and tools, you will keep getting commissions.
The email receipt will span for 31 days after their sign up; however, you must understand that some buyers could decide to unsubscribe from your mailing list. If that happens, honor their "unsubscribe request" to avoid being marked a spammer, worse still, blacklisted.
Related: Get Response Vs ClickFunnels: Which is the best option for you?
Who Is Shawn Josiah
A Singaporean, Shawn Josiah, designed this affiliate-marketing program. His aim is to give people with day jobs a little taste of the benefits of making money online as well as creating an income source that could replace their full-time jobs in the future.
For this specific reason, he created the Perpetual Income 365 program. In essence, his program has a comprehensive, ready-made affiliate marketing, which focuses more on email marketing.
Shawn Josiah is a prosperous 7-figure affiliate marketer. In 2019, he generated more than $500,000 in ClickBank sales. Prior to that, he was a co-seller for a similar affiliate-marketing outfit, "Profit 365" with Jamie Lewis.
Perpertual Income Meaning
As mentioned earlier, Perpetual Income 365 was created to enable you to earn unceasingly on the Internet. Its aim is to give users an opportunity to know what it feels like to create an online income stream and possible to replace their day jobs with it.
If you are new to online marketing and you need easy and ready-made tools, then Perpetual Income 365 could be a great option for you. The sales page might look a bit complex, which makes it difficult to understand at first; however, you will get a grasp of things over time.
According to Shawn, this platform was created in collaboration with an unknown data scientist who works for Netflix. I must make a disclaimer here because I do not know how legitimate the claim is. The story appears to be bogus, but it does not mean the platform is not effective.
Therefore, getting this product makes it super-easy for you to start an online business, which is great. However, you must also consider a long-term plan for your business. The subsequent sections will help you decide if this product is a good fit for you or not.
How does perpetual income 365 work?
This system is centered on getting users to promote the Perpetual Income 365 affiliate marketing system. Therefore, if you are a fan of ready-made systems, you might love this system. The main component involves running email marketing campaigns, which is already done for you. It is more of a plug and play system.
You are granted access to some simple squeeze pages that are hosted on Shawn's servers. These landing pages are decent and can drive all the sales you need. In addition, if you buy into some upsells that they offer, you will be given access to five more landing pages.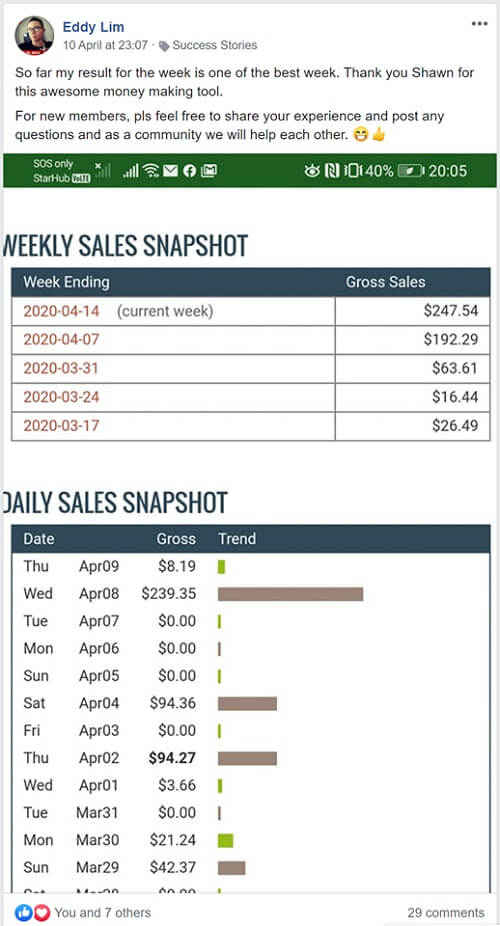 Furthermore, the platform gives you a months' worth of emails that are automatically fed into your autoresponder, and you will be trained on how to generate targeted leads with solo ads. By using solo ads, you pay someone with a large-sized email list to market your squeeze page to generate leads.
These leads are sent to the emails you provide, and the majority of the emails also promote the Perpetual Income 365 system. The general idea is for many of these leads to purchase your products, which helps you break even and make your profit through the upsells.
The aim of the platform is for you to do less work, and I guess that is what attracts most users to this system. It offers you a systematic guide on how to set up everything. You probably need about 30 minutes to get this up and running.
This system must be integrated with ClickBank because you will be marketing the Perpetual Income 365 system. Also, you need to sign up with GetResponse because that is the autoresponder system that works with the program.
Perpetual Income 365 teaches solo ads as its main traffic method. Solo ads or OPL method (Other People's List) is the best form of advertising, and if you run a big budget and know your way around, you will surely have a good return on investment.
The platform always advises that you purchase ads from either of these sources:
You will be trained on how to choose the best solo ad provider to work with as well as ways to run successful and profitable solo ads campaigns. As mentioned earlier, this is the best source of traffic for you as a beginner.
It is possible that you could spend lots of cash while earning very little at the beginning. Like everything in life, this depends on how much will-power you have and how to focus you are on your efforts.
Inside Perpetual Income 365
After purchasing the Perpetual Income 365 program, you will be offered a few upsells, which you could decline if they are not suitable for you. The upsells cost over $100, and you must note that you do not need them for the system to work.
The member dashboard has a decent outlook, the user interface is not the best, but it is better than most make money online products on ClickBank. At the top left corner of the page, you will find a button captioned the "three-day challenge," which is still under development.
It is a leader dashboard for members who will make the most sales. Also, there are sales videos on the page whose only disadvantage is that they cannot be enlarged. Therefore, if there is an image that you could not view properly, you will not be able to expand the video size.
You will also find some welcome videos, which give you an insight into the workings of the system and how you can use them to advantage to earn monthly residual income.
What I Like About Perpetual Income 365
What I dont like about perpetual income 365
How much Perpetual income 365 costs?
Your user fee for Perpetual Income 365 is $47 per month. However, you may have to spend more on traffic generation in order to increase your chances of making sales. For your first month, you will be using the GetResponse autoresponder for free. The platform offers you a 30-days free trial, but you will have to pay $12 per month after that – so keep that in mind
Also, you will spend about $40 to $100 to generate 20-50 leads. So, the least you will be spending is $47 monthly fee, $12 for GetResponse monthly subscription, and $40 for solo ads, making it $99 every month. – which in my opinion it is OK for someone who sees this as an investment.
This means you have to make a considerable amount of sales every month to break even and generate profit. As a user on the platform, you should be targeting about 2 to 5 sales every month if you wish to stay profitable. With this, you get to handle your overall monthly expenses and stay bag some cash.
Although the main product costs $47, the platform offers a few more upsells. They include:
Perpetual income 365 refund
Perpetual Income 365 offers a money-back guarantee for the first 30 to 60 days. However, I recommend that you join with a positive mindset and put in every effort to make it work. Trying to depend on the refund most times may not be good as you might opt-out too soon.
In truth, nobody enjoys it when people abuse their refund policies. These people intentionally sign up, receive the necessary materials, or get trained, after which they ask for a refund; they do this repeatedly.
While this type of people never achieve true success in affiliate marketing or in business as a whole, they also enter the blacklist of various networks, meaning they will not be allowed to buy anything again.
Therefore, for individuals who intentionally go through the training with the aim of asking for a refund, in the end, it is fine. You will get your cash back; however, you will be blacklisted, which means you will not be able to make money from the program again and your mindset (the way you think) will not change.
This is a fair policy as many people have been abusing refund policies repeatedly. It is either they get free training or spend a little time on the training and decide that it is not going to work.
Reviews of perpetual income 365
Below are some reviews of perpetual income 365 I've found from around the web. It seems I am not the only one who thinks that this is a great program for newbie affiliate marketers.
>> Check Perpetual Income 365 Official Website <<
Frequently Asked Questions
Frequently Asked questions about the Perpetual Income 365 program
Is Perpetual Income 365 legit?
Perpetual Income 365 is a completely legitimate business opportunity. Reviews from a large number of consumers will prove its usefulness. The program, on the other hand, comes with a 60-day money-back guarantee, so you can always request a refund if you feel this program doesn't not deliver what is promises.
What is perpetual income 365?
Perpetual Income 365 is a unique affiliate marketing system in that you're mostly taught how to promote Perpetual Income 365 itself. You may become an affiliate for the program after signing up, and they will provide you with landing pages, email templates and the training to help you convert others into paying members of Perpetual Income 365. You make money via the commissions you get as an affiliate.
Final Verdict – Is perpetual income 365 legitimate?
From my perspective, the platform is legitimate, although there is still plenty of room for improvement. If you are a newbie, this platform will be great for you; however, I advise that you weigh every option before signing up.
We hope you enjoyed our Perpetual Income 365 review. If our Perpetual income 365 review helped you make a choice (either positive or negative) please share it through your social media channels. We're 100% sure that like-minded people will appreciate it.
>> Check Perpetual Income 365 Official Website <<
👉 Follow CS on Facebook to receive notications on new articles I publish.
ℹ️ This blog is reader-supported. When you buy through links on this site, I may earn an affiliate commission without any surcharge to you. This helps me continue offer free and qualiy content for the community.