What Are Long Tail Keywords And Why Are They Important for Marketers?
TL;DR: In this article, I am going to explain what are Long Tail Keywords, why they are of utmost importance for your SEO strategy, and what tools to use to uncover them.
It's no secret that using search engine optimized content built around SEO keyword ideas that match your business is one of the best ways to lead customers to your website.
Oftentimes, these keywords are limited to a word or two. While these do work, they are not typically the natural way that people type in keywords when searching for a certain product or keyword.
When people search online they don't use broad keywords but rather longer queries to find exactly what they want.
If your content is not optimized for these longer queries you are going to miss the traffic from the search engines – thus, leaving money on the table for your competitors to grab.
One of the ways to ensure this doesn't happen is to find and use long-tail keywords ideas.
Related: SEO vs SEM: What is the difference?
What Are Long Tail Keywords?
Long tail keywords are more specific, long keyword phrases that your potential customers are more likely to search for when they're using voice search or nearing a point of purchase.
They are much longer than a standard keyword, as their name might suggest, have fewer searches than broader terms, making them more likely to attract specific people.
Why Use Long Tail Keywords for SEO?
It is much simpler for you to rank for long-tail keywords than it is for the simple, one or two word broad keywords.
This is because there are going to be fewer websites competing for those top-ranking Google search result pages.
By having longer, more specific phrases for keywords, you can easily rank that search phrase easier.
By doing so, your potential customer will be able to cut through all of the "broader" options that show up if they would simply search for "furniture" instead of their specific desire.
Related: 6 of the best WordPress plugins for SEO (No BS)
It will also help you rank those short keywords as well in the long run.
Users that find an answer to their laser-targeted search query are more likely to share the content the answer was in forums, answer engines, and social media – or even link to the answer from within their blogs.
In this way, you will be able to amass – in time – a large backlink profile that will help increase your "credibility score" in Google's eyes.
This will enable you to hit both of your goals at once, helping to kick your rank up a few levels on both the ultra-specific keywords and the vague ones, just in case.
With a higher site ranking, you'll, of course, get more organic traffic.
If you set up a blog on your site and write articles that include some of these keywords, you will rank for those, too, while incorporating the long-tail keywords in a way that doesn't look forced.
This has the added benefit of letting your customer know they have found exactly the kind of site and product they were looking for, too, helping to turn a sale.
Long Tail Keywords Examples
Here are some long tail keyword examples to help you better understand them.
Example #1
Here's a simple long tail keyword example related to the SEO industry. Targeting a keyword like "what is SEO" would be really (really) difficult to rank – especially with all the competition and the behemoth companies out there targeting and optimizing their content for this specific term.
On the other hand, targeting a long tail keyword such as "how to do SEO for website" or "how to do SEO for a ____________ website" (can be any niche) – although the search volume is less – you will have a much greater chance to rank and get found.
Because they often use very specific adjectives, words, and phrases, customers can search easier for the items they want through these keywords.
---
Example #2
If your customer is looking for a certain type of furniture, they likely won't just search "furniture" and be done. Even if they do, there is too much competition for your site to likely even show up.
However, if they get specific with something like "rustic style farmhouse patio set," and your site is set up to receive those keywords, you can feel pretty confident that your site is going to be one that will climb the search rankings and the one they'll choose.
By knowing that they are getting exactly what they are after – instead of having to wade through endless "patio furniture" in the search results – consumers are more likely to click the "buy now" button when they find exactly what is they need.
---
Example #3
Supposed you are the content manager for a newly established insurance company. Trying to rank for a term like "car insurance" would be almost impossible.
Yeah, I know what you might think.
368.000 searches = a lot of leads… IF you manage to rank.
Instead, you could target a long tail keyword such as "how to claim insurance for car accident".
Although the searches are puny, compared to the previous search term you have far greater changes to rank for this term and actually get leads and sales for your insurance company.
---
Quality over quantity comes into play here, as you are more likely to receive less traffic from these keywords due to fewer searches – but are also more likely to actually get more sales from your search traffic.
The shoppers will be more committed to actually purchasing that set if they are specifically searching for it as well instead of idly looking around.
How Many Words Is a Long Tail Keyword?
Long tail keywords are typically somewhere between four and five words long, though, as you can see in the examples above, they can be longer than that – depending on how specific the potential customer is trying to get.
Here's a long tail keyword example that is 10 words long and gets searched 320 times per month.
Here's another searched term that is over 15 words in length and gets Again, if you tried to
As a rule of thumb long tail keywords are between four to five words. The more words a search term has the great precision and the easier will be to rank.
Long Tail Keywords Case Studies
Below are some case studies on how major companies around the world are using long tail keywords to get laser-focused visitors from google search to their product pages.
Amazon

Amazon is one of the sites that use long tail keywords the most, making 57 percent of their sales from long tail keywords. One of the examples they have is that instead of using simple words like "wireless headset," they use long tail phrases that get quite specific.

This includes phrases such as "PDP Afterglow Kral Ps4 Wireless Headset" or simply "Kral PS$ wireless headset" to bring in customers that are already more motivated to buy something specific.
River Pools and Spas

River Pools and Spas enjoyed more than two million in sales by using long tail keywords. They did so by researching the actual audience that was looking at their product to find what it was they were specifically looking for when searching for a pool.

The answer was a simple question: how much do fiberglass pools cost?

The company targeted that keyword and wrote blog posts on it, and that blog post alone has been the jump point for those two million sales.

They have shown that truly what it takes is knowing the audience and using the proper long tail keywords can do to your business.
KISSmetrics

KISSmetrics got nearly 150,000 visitors from long tail keywords alone. They also looked for questions their customers had such as "what are funnels?" to get their interest in the answer and to direct them to their page to have it answered.

They created good content and embedded the long keywords into it in a natural way, creating pages such as blogs to do this.

This was a way for them to get a lot of organic traffic, which is one of the best ways to get sales online.
SaaS Company

SaaS Company was able to improve their search returns and rankings by an average of 11.24 percent just by using these types of focused keywords.

They are an example of optimizing not just the keywords but also the page content to include them.

On-page factors are a huge driver in these sales. They include everything from category descriptions to the homepage to individual product descriptions. There are endless ways to work these keywords into the various parts of the site.
How Do You Target Long Tail Keywords?
To target long tail keywords, take a look at the Google suggestions that pop up first. Take note of them, and then take a look at the related searches at the bottom of the page.
There, you'll see the longer but related keywords to what your customers are searching to help you get an idea of some of the search keywords they are using.
The big question is…
How will you know which long tail keywords are actually easy to rank and what's their search volume? Clearly you want to avoid targeting easy to rank long tail keywords that get zero search traffic.
How to Find Long Tail Keywords
Now, once you have a decent idea of what you want to target, it's time to actually generate the keywords themselves.
There are tools you can use in order to determine these keywords instead of just guessing and making them up with a hopeful heart.
Keyword research tools will often allow you to search for a more generic expression or keyword, and it will populate all popular keywords that use that phrase, especially long tail ones.
One of the best research tools – I personally use – for long tail keywords is Long Tail Pro. This is a keyword research tool that is dedicated to helping its customers find the best long-tail keywords for their niche.
What Is Long Tail Pro?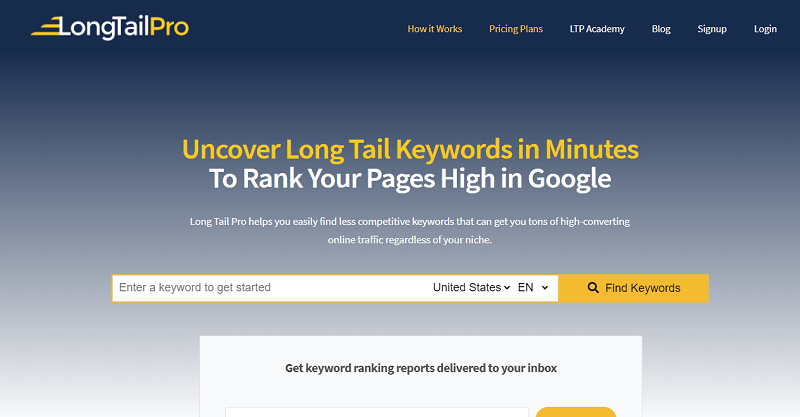 Long Tail Pro is a site specifically there to help you locate and target those important long-tail keywords.
Not only does Long Tail Pro help you quickly find long tail keywords for your specific product, but it also goes beyond that to make sure they are as profitable as possible for you.
This makes it a valuable tool for SEO's and those with highly specific products who want to target those keywords in, while also helping you decide which shorter "seed" keywords to work into your site.
How Does Long Tail Pro Work?
Getting started with Long Tail Pro is simple, and using thei site is even simpler.
You simply enter in those "seed" keywords or the vague shorter ones, and it will show you hundreds of longer suggestions.
Then, you can look at competitor and keyword analytics using 13 different metrics to make sure you like the odds of targeting it and putting up work on that keyword.
You can then use their profitability tool that will show you the potential profit you can turn from their usage.
Long Tail PRO comes with a 7-day trial to test their online tool. I suggest doing so. If you are serious about Content and SEO marketing, then, this tool is a must. Read my full Long Tail Pro Review for a full breakdown of its functionalities and Pros and Cons.
Conclusion
SEO has long been shown to help businesses attract more traffic to their site over time. While short-form keywords do indeed have their draws in that they bring in plenty of traffic, they are vague enough that the results will show innumerable competition sites besides your own.
They may also be being used by customers just shopping around without the serious intent to purchase.
Shoppers who are searching for more specific items using long tail keywords are more likely to already be in the purchasing mindset and are therefore more likely to actually shop on your site.
One of the most efficient ways to get your long-tail keywords is to use a research site such as Long Tail Pro. These sites allow you to enter in a seed keyword and browse the hundreds of suggested long-tail keywords to work into your site.
If you've asked yourself what are long tail keywords, not only do you now know, but you also know how to take advantage of them.
You can quickly turn your site into a destination for customers who know what they're looking for and come ready to buy by using long tail keywords.
👉 Follow CS on Facebook to receive notications on new articles I publish.
ℹ️ This blog is reader-supported. When you buy through links on this site, I may earn an affiliate commission without any surcharge to you. This helps me continue offer free and qualiy content for the community.