The Online Gaming Business Growth in The Last Decade
Undoubtedly, the Online Gaming Business Industry has seen tremendous growth in the last decade. Online gaming is considered anything that involves something valuable (usually money) for the outcome of a game using the internet.
Online gaming includes from Mobile Gaming, to Social gaming, free to play gaming sites, massive multiplayer online games (otherwise known as MMOs), online casinos, bingo, online lotteries, sports betting, eSports betting platforms and services. One thing is for sure; this industry it will keep on growing.
From the popular co-op sandbox survival game Fornite, to the old school Candy Crush, or casino games such as Blackjack, everyone seems to be involved in some kind of online gaming activity nowadays.
According to Statista, the online gambling gaming industry alone rose from 20.51 Billion US Dollars in 2009 to 47.11 US Billion Dollars in 2017 and it is expected to rise to 59.79 US Billion Dollars by 2020.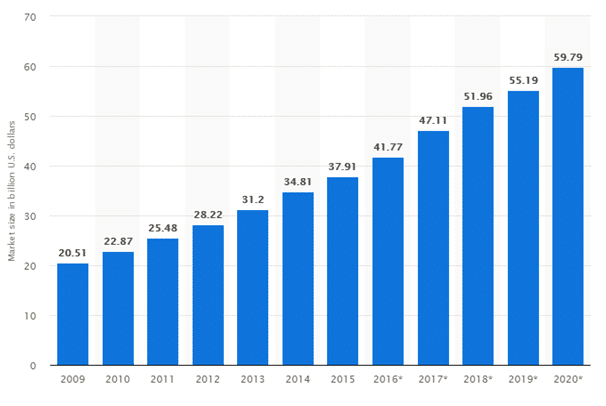 The eSports gaming industry on the other hand is expected to reach $696 US Million dollars in revenue this year and skyrocket to over 1.5 Billion US Dollars in 2020 according to research company Newzoo. If you think that these numbers are staggering, note that in this report, the revenue made from eSport betting is not calculated. Imagine how inflated the numbers really are.
Finally, looking at the social gaming industry from back in 2010 when smartphones and app marketplaces started rising in popularity among consumers, the industry grew from 500 Million US Dollars to reach 3.37 Billion US Dollars after only four years (in 2014) to be valued over 46 Billion US Dollars in 2017. (Source & Source) That's over 900 percent increase in value in less than a decade.
What you need to keep from this article is that the online gaming industry it will continue moving higher in charts in terms of revenues and it will surpass the movie and music industry together. ''Time-killing'' games and ''fortune-chasing'' games (online gambling sites) are what people like to play the most. If you are thinking in what basket you should put your next dozen of eggs, then, look no further; The answer seems pretty clear – at least to me.
👉 Follow CS on Facebook to receive notications on new articles I publish.
ℹ️ This blog is reader-supported. When you buy through links on this site, I may earn an affiliate commission without any surcharge to you. This helps me continue offer free and qualiy content for the community.