Shrink Your Affiliate Url With Clixsense's Awesome New Feature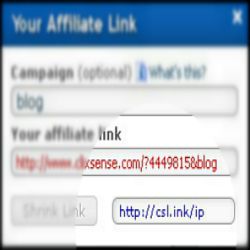 Clixsense has introduced a really cool new feature that will help you to shrink you affiliate url in literally a second, without even leaving Clixsense.
Before Clixsense introduced this new feature, either you had to post your long and ugly affiliate url on different forums, Social Media, YouTube videos and classified ads sites as it was or you would have to visit external websites like tinyurl.com to shrink your url.
Why It is Important To Shrink Your Paid To Click Affiliate Url
[su_divider top="no"]
Either you are a Clixsense Member or member to any other ptc website, you should always shrink your affiliate url before posting iton forums, Social Media, YouTube Videos or Free Classified websites.
You have to do this mainly for 2 reasons.
[su_list icon="icon: thumbs-down" icon_color="#f11e17″]
Potential referrals sometimes may feel uncomfortable and unsafe clicking on a long and spammy-looking url, causing you loss of potential sign ups to your paid to click team.
I'm sure you will all agree that it is more likely for someone to click on this url: http://csl.ink/it
Rather onthis url:  http://www.clixsense.com/?r=4449815&c=blog&p=View_Ads
Don't you agree?
Some people might remove your affiliate code from your paid to click url before signing to the paid to click website you tried to introduce them.
For example:
This is my Clixsense affiliate url:
http://www.clixsense.com/?4449815
If you remove the[su_highlight background="#feff65″] ?4449815[/su_highlight] – which is my affiliate code – then you will not sign up to Clixsense as my referral.
You might ask your self "Why would someone wants to do that?"
Well, many people out there feel like they are being exploited by joining a money-making program under someone else.

[/su_list]
Here Is How To Shrink Your Long Url To A Short One
[su_divider top="no"]
Step #1
Click on the small link icon for your affiliate link to appear.
Step #2
Click on The Shrink Link Button
Step #3
Copy Your Short Clixsense Url and post it on forums, Social Media and Free Classifieds Websites
 See? In less that 2 seconds you shrunk your long affiliate url to a tiny one.
Before Clixsense introduced this feature, these are the steps I had to do before posting my affiliate link.
I had to:
Open a New Tab
Google Tinyurl.com
Open the page.
Click on my Clixsense Tab and Copy my affiliate url.
Click on the Tinyurl tab and paste my  affiliate url.
Click on the shrink button.
Wait 5 – 10 seconds for the page to reload.
Copy my new shorter affiliate url.[su_spacer size="5″]
You see now how time-consuming it was..
Now with The shrink url feature everything will be easier for all of us.
Once more,
Thank you Clixsense for this awesome little feature.