Over $210 With Get Paid To Click Sites In Less Than A Year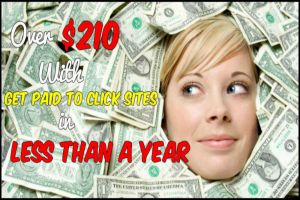 [su_highlight background="#feff65″]Make Money Online Free With Get Paid To Click Sites[/su_highlight]
Last Week on of my Team Members sent me a screenshot of her earnings on Clixsense and I was thrilled.
Arlene Nordahl from Norway, joined on my team back on November 2013. She is one of the most active and hard-working referrals of my team. She is cashing out her hard work with over $210 (and counting) in less than a year.
[Tweet "Over $210 in less than a year with paid to click sites"]
This post is dedicated to her and the success  she is experiencing with Clixsense. She is a living proof that anyone can earn money online using Clixsense and get paid to click sites.
Here is the screenshot she sent me from her account.
Arlene is making more of her money on Clixsense by completing offers.
As you can see, Arlene joined my team , about a year ago, on the 24 of November 2013. She is a Premium Member, an active clicker and an Offer Completing Machine 🙂
84% of Arlenes earnings come from Completing Online Offers.
The average money she is getting from each offer she completes is $0.98
Suggestions on How to increase her income more
As we can see from the screenshot above, Arlene is not completing any tasks. If she completed at least 10 tasks per day, she could be adding another $100 to her Clixsense income per year.
Another thing Arlene can do to increase her income, is to refer people to Clixsense and teach them how to do what she does to earn money with Clixsense and get paid to click sites.
Here's an Example
Let's suppose that Arlene refers 10 people who are as active as she is.
If each one of them earns $300 per year from Clixsense, then all of them together will total $3000 in earnings. (10 X $300 = $3000)
Clixsense Premium Members earn 10% from their affiliates when they complete offers and tasks.
That means that Arlene could be earning $300 more per year – only from her affiliates.
If we add the $200 she earned from her own activity, the $100 she could be earning from Completing 10 tasks per day and the $300 she could be earning from her referrals, all together equal to [su_highlight background="#feff65″]$600 per year.[/su_highlight]
[su_spacer]
There are a lot of money to be made with get paid to click sites. You just need to be patient, work hard and focus your efforts. You will not become rich from them, but you can supplement your income with a couple of thousands dollars per year and diversify your income streams.
[su_spacer]
If you would like to join Arlenes team, click here. Contact here and ask her for help at any time. She will gladly teach you all the secrets behind completing tasks and offers for cash.