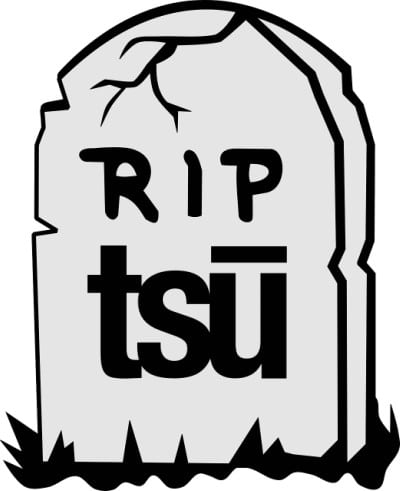 Tsu.co is over. Yes you heard me alright. The much praised social network that has been paying its users to share their content through its platform has closed its doors. It's founder Sebastian Sobjak, announced it 4 days ago via their homepage.
Sebastian — its founder — says that the reason behind this sudden shut down is because of the cost associated with running the website and their inability to complete the last funding round, which would keep the tsu platform alive. It seems that the pay-per-like/friend model did not work for tsu as it failed to go mainstream.
Tsu.co was a major breakthrough when it opened it doors two years ago in 2014. The internet world did not stop talking about it as it was labeled as a Facebook alternative that would end Facebook's domination over the social world.
Tsu was featured in many business authority websites like, Forbes, Huffington Post and billboard.com (and of course clixsensesuccess.com 🙂 ) which gave the site authority and drove hordes of members to join it.
So, is Tsu a Scam?
Absolutely NOT. I would never allow anyone say that tsu is a scam. If you remember, I got paid twice from this platform. You can check my payment proofs here and here. Tsu is just a website that tried to change the world but it failed. It didn't run away in the middle of the night like other administrators do when their project fails.
When we talk about scam websites we talk about websites who's administrators disappear in the middle of the night without any notification, stealing their members earnings by not paying them what was earned until the time the website was closed.
Tsu on the other hand is explaining the reasons why is closing down and it says that it will pay its members who had over $100 on their tsu bank account. (100 dollars was the least amount you needed to have to request a withdraw)
So, what's going on now?
Now we continue to pursue our goal to create multiple streams of income online. When one money-making program is over — another one emerges almost instantly in the internet-o-sphere.
Although I am really sad about tsu's loss (I Invested a good amount of money and time writing all the articles in this website and promoting it thought advertising platforms) I will not let it take me down. I will continue to pursue my dream and I will focus on my other businesses, Clixsense, BuxP and affiliate marketing.
On every article that exist on this website and mentions tsu I will let know future visitors that tsu is over by posting a upadate on the top of each page.
You can read below the official announcement by Sebastian Sobjak — tsu's founder.
From me…
Rest in Peace tsu..
Good day nation of tsu, it's Sebastian.

You are probably wondering about the new layout but in fact we have permanently taken the tsu product offline due to the cost associated with running it and our inability to complete the last funding round. We are now focused on retooling in order to launch alternative apps for our community and others.

Although numerous user communities want us to keep the site on, our mission of changing the social landscape for the benefit of the content creator has passed. I started this concept eight years ago and when we launched in late 2014 we brought the conversation of content ownership and monetization to the content rights holders into the mainstream. All told there were approximately 5.2 million of us who have used our platform. Through you, tsu's emergence into the mainstream spurred discussions on virtually every major media outlet touching on the tsu concept, royalties of music streaming services and to the business models of established platforms. I wish we could have done more for the content creators and the wonderful charities that lent their names to our platform. In all, we built water wells, gifted wishes and gave back en masse.

Although I would have hoped we could have done more, I am proud of our team and the wonderful, diverse community of friends we have cultivated along the way. I am proud to have been a part of something that millions of people helped create from North America to the Asian subcontinent.

Thank you for being a part of our platform of change and believing in what we were attempting. In terms of those who have monetized their content, we intend to abide by what we set out to do and if you have created amounts large enough for redemption ($100), we will remit payments to you in short order – just email us at support@tsu.co no later than August 31st to get the process started. If you have participated in and won any company-sponsored contests, you will be compensated as well. In the next few days we will be adding a button to the site so users can download their own content which will be available until August 31st. Should you have any questions, please write to support@tsu.co.

Lastly, in order to keep up on what we are doing next, please feel free to connect with me through various social media platforms: