Clixsense: What is the Daily Checklist Bonus?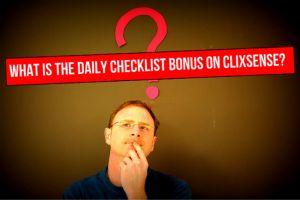 Clixsense – one of the best paid to click websites in the world – has recently (about a year ago) introduced to its members the daily checklist bonus.
The Daily Checklist Bonus is a reward plan for active members that helps them to earn even more money from Clixsense.
Clixsense, gives you a number of things you must do every day, to earn your Daily Bonus. For each day that you complete your Daily Checklist, a bonus is added to your account balance at the end of that day.
Premium members will earn a bonus of up to 16.0% of their personal daily earnings, while Standard members will earn a bonus of up to 7.0%. The bonus amount you can earn is unlimited; it only depends on your activity.
This bonus is calculated from your total personal daily earnings that include your:
PTC Ads clicks,
ClixGrid prizes,
Completed CrowdFlower Tasks and
Completed Offers and Surveys.
In order to complete the Daily Checklist you need to:
Click at least 6 PTC Adverts of any kind;
Click at least 20 ClixGrid squares.
[su_label type="important"]NOTE:[/su_label] If you win – for example – $5 on the Clixgrid, this will be counted towards your daily bonus as well.  For example, if you are a Premium member and you earned $5 on the Clixgrid, you could earn an extra of up to $0.80 with the Daily Checklist bonus at the end of the day. If you are a Standard Member you will earn an extra of $0.35.

Complete at least 10 CrowdFlower Tasks; or
Complete at least 2 offers or surveys from the offers and surveys pages (except video offers); or
Complete at least 5 CrowdFlower Tasks and at least 1 offer or survey from the offers and surveys pages (except video offers);
[su_label type="important"]NOTE:[/su_label] Because not everyone has offers or tasks available to do, and to give everyone a chance, you are required to complete only one of the above points.:
Visit at least one page of our forum. (Posting is not required).
Screenshot of The Daily Checklist Bonus from my account
Extra Bonuses
After you Complete your Daily Checklist Bonus, extra bonuses will unlock.
To get your extra bonuses you need to:
ClixAddon Bonus: Complete the checklist and run the ClixAddon for at least one hour in a given day to earn this extra bonus. Important: Survey notifications must be enabled under options.
Activity Extra Bonus: By completing the checklist three days in a row you will earn this extra bonus on the third day, for that day's earnings, and every other day thereafter given that you complete the checklist continuously. If you fail to complete the checklist in a given day the bonus will reset.
Here is a table that will help you understand more about it:
Example: You completed the checklist on Monday, Tuesday and Wednesday.
On Wednesday you will get your Activity Extra Bonus.
If you complete  the daily checklist on Thursday you will get your Activity Extra Bonus as well. If you continue to complete your daily checklist on Friday and Saturday and so on, you will continue to earn your Activity Bonus.
If for you don't complete the daily checklist for one day, the Activity Extra Bonus will be reset and you will have to complete your daily bonus for 3 consecutive days in order to become active again.
[su_note note_color="#ffffc1″]
Step-by-step video course from a top online marketer, reveals the method he uses to earn thousands of dollars each month. [su_button url="http://legatos.farrell10.hop.clickbank.net" target="blank" background="#a6110c" size="1″ icon="icon: toggle-right"]Learn More Here[/su_button][/su_note]
I hope you enjoyed the article and helped you understand about this unique feature Clixsense has. Clixsense has done more to help it's loyal and active members to earn more, than any other paid to click website in the industry.
If you are a member, then you are blessed, if you are not, then you should become one.