A New 100% Free Money Making Opportunity that allows you to make money Doing Nothing… and I'm not fooling around.. 
[Update 05/11/2015] Dear readers, I'm posting this update to tell you that you should be cautious when joining this program. The reason is because they have stopped updating their twitter feed and they have stopped sending referral and earning reports to my email account. The website is still on, you can check it out and join if you like. After all it's absolutely free, so you have nothing to lose. Just don't invest much time and effort on it.
Two Weeks ago, a friend of mine introduced me to a new money-making opportunity called Mycashware. At first, I was very negative on joining this new method of making money online, because I am already dealing with too many stuff.
I run two blogs ( this one  & pavlosgiorkas.com [in Greek] ),  I am an affiliate with Clixsense, I sell stuff on Tripleclicks & Ebay, I've joined a cashback program recently and I would like to get more involved with Affiliate Marketing.
Adding a new money-making method/opportunity to my portfolio would be a disaster for me and my other online businesses.
The number One Reason why most people fail at making money Online, is because they don't focus their efforts in a single money-making method. They join a bunch of opportunities, they try to deal with them all at the same time and they eventually fail.
So, dealing with a new money-making method, was not for me at the time. ( I am already breaking the rule here..)
What made me change my mind and eventually join this make-money-doing-nothing opportunity was the fact that I didn't have to do anything at all to earn money with it. As you will learn in a bit, mycashware.com is 100% passive income opportunity that requires you to do ABSOLUTELY NOTHING to earn.
What Is Mycashware?
Mycashware is company made by cryptocurrency traders and forex experts. Their daily activities involve keeping an eye on the markets and trading cryptocurrencies  for profit. (there are over 500 at the moment)
The mycashware team has developed a software that allows them to use a fraction of the computer power of each user who downloads their software to create virtual currencies such as Bitcoin. This is called cryptocurrency mining. The mined cryptocoins are later used for their trading activities.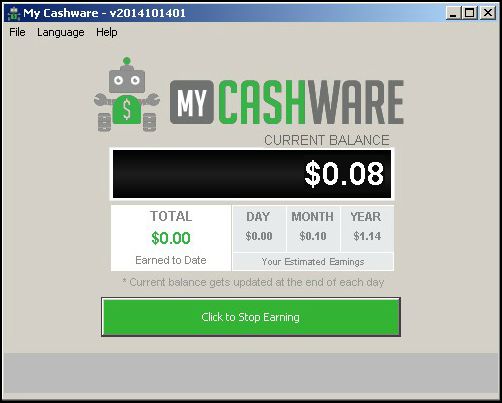 In return, they pay their users money, depending on the mining power they get from them and how many hours the software is turned on their computers.
They basically rent your computer to mine cryptocoins.
The better your computer is, the more money they will pay you every day. For example, if you have a computer like mine – which is 10 years old – then you will earn about $0.01 per day. On the other hand, ff your computer is a hardcore gaming machine then you can earn up to $1 per day.
As I said before, everything depends on your computer power and the time you will have it turned on along with the software.
In result, you end up earning money by just having your computer turned on. Isn't this a Make money doing nothing opportunity or what?
Why I Joined..
There are many reasons that "pushed" me to join mycashware.com
Here are my thoughts.
It is 100% Free to join, so I have absolutely nothing to lose.
There are no hidden upgrades, after you create an account with them, neither you'll have to buy threads or other B.S in order to earn more.
The guys behind the software seem legit as they answer all my questions when I contacted them through twitter.
@PavlosGiorkas That is weird. We already spoke using that e-mail. Did you get a bounce back of some sort?

— The Cash Software (@MyCashware) October 28, 2014
I liked the fact that they are openly saying – upfront – that they are using the power from my computer to mine cryptocoins.
Their software does not seem to make my computer slower. After checking my tasks manager I noticed that their software uses only 7.680 K of computer power.
I can install the software on as many computers as I want making me even more money. (Now I have it installed on my desktop computer, my laptop and my office desktop)
The paying threshold is only $5.
It has an affiliate program that you can use to refer your friends and earn 20% of what your referrals earn every day.
Again . . . . I have nothing to lose !!
How to Start  [Step-by-step Guide]
Here is your Make Money Doing Nothing, Step-By-Step Guide
Step #1: Create an account
First you need to go to www.mycashware.com and click on the register link on the top right corner.
Step #2: Download
Login to your newly created account and click on the download tab. Next, choose and download the software based on your computer's operating system.
TIP:
I recommend that you always save your downloads on your desktop. That way you will never "lose" your downloads.
Step #4: Install & Login to the software
Double click on the installer (the file you downloaded) and install the software. The installation process will take about 5 minutes.
Step #5: Login and earn
After you install the software, login with your email and your password you used when you registered your account. After you login, click the start earning button.
Congratulations you are now earning passive income with mycashware.com
Make money doing nothing opportunities are most of the time scams. This one seems different though. Although I wrote this post, I will not suggest joining at this point, simply because I have been a member to it for only two weeks.
I cannot recommend joining something that I have been a member for only two weeks. Heck I haven't even got paid to know if it actually pays..
I just have that feeling that everything is going to work just fine with them..
So what are your thoughts about this make money doing nothing opportunity? Are you going to join or what?
Do you think that this program will last long enough or better yet forever?
Place your comments below and let us start a conversation. ( I always answer back)
Make Money Doing Nothing: Complete Step By Step Guide